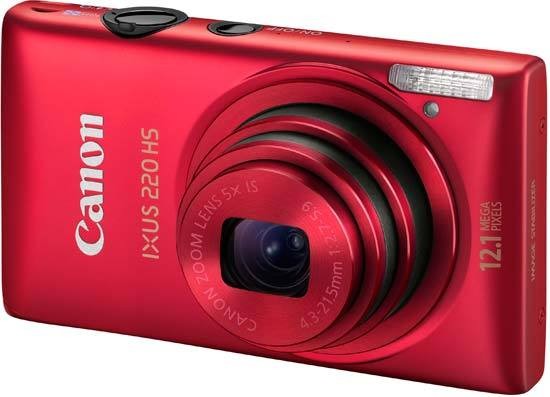 Introduction
The Canon IXUS 220 HS (also known as the PowerShot ELPH 300 HS) is a new sleek, slim and stylish compact digital camera. Key features of the IXUS 220 include a back-illuminated 12.1 megapixel CMOS sensor, 5x 24-120mm lens with an optical image stabiliser, 3.4 frames per second burst mode at full resolution, full 1080p HD movie recording with stereo sound and a HDMI port, and a 2.7 inch LCD screen. Available in silver, red and black, the Canon IXUS 220 HS costs £199.00 / €239.00 / $249.99.
Ease of Use
New for spring 2011, the 12.1 megapixel Canon IXUS 220 HS is another slender pocket zoom compact that goes up against the likes of the Nikon Coolpix S3100 in that respect, whilst offering a slightly better feature set for marginally more money. Just 19.3mm in depth and fashioned from stainless steel to its rival's 18.4mm, like the Nikon the point-and-shoot IXUS 220 HS is being sold in a range of vivid body colours, suggesting all ages and both sexes are being targeted: we had the eye catching scarlet option in for review. Expect to pay a street/online price of around £170 for the privilege.
As with the rest of the IXUS camera range, the 220 HS' glossy exterior disguises the fact that this could be classed as a budget compact option. The 'HS' suffix trumpets the camera's claimed 'High Sensitivity' capability. In terms of specification, this is highlighted via the inclusion of backlit 1/2.3-inch CMOS sensor and its integral Digic 4 processor enabling image noise levels up to 60% lower than its predecessors at higher ISOs (here ISO100 through ISO3200), claims its maker.
The Canon IXUS 220 HS betters the cheaper Coolpix in that its own 5x optical zoom boasts lens shift anti shake, rather than just the digital variety, in part enabling us to achieve consistently sharper results when shooting handheld at the telephoto end. Here the focal range on offer is equivalent to a wide angle 24mm to 120mm, so as adept at landscape shots and group portraits as it is (relatively close) candid photography and pulling objects from a couple of hundred yards away that much closer without actually having to take a couple of steps forward. That's not quite a spec that propels it into travel zoom territory but its diminutive size would suggest a travel companion nonetheless.
A dedicated video record button located in the top right hand corner of the back plate, in lieu of its own option on the shooting mode slider switch, signals the importance leant that facility, as does a mini HDMI port alongside a joint AV out/USB 2.0 port under a rubber flap at the camera's side.
| | |
| --- | --- |
| | |
| Front | Rear |
With the above allowing for instant, one-touch filming no matter what alternative stills shooting mode might have been in play at the time, here that's at a Full HD 1920x1080 pixels and a standard rate of 24 frames per second. Whilst finding Full HD on a budget model is both surprising and welcome, so too is the fact that stereo sound is offered, via two microphones lurking beneath adjacent pin pricks on the camera's top plate. Inevitably, this location means that they pick up the sound of fingers moving around the camera as framing is adjusted, and the low whirr of the zoom making any adjustments, but for this price such grumbles cannot be considered deal breakers.
The low cost also part excuses the fact that the back plate 4:3 aspect ratio LCD, utilized for composition and review in the absence of any separate viewfinder, is a relatively modest 2.7-inches in size on the IXUS 220 HS, and boasts a so-so resolution of 230k dots. It's adequate for purpose and that's about all we can hope for. When recording video the screen display narrows, black bands cropping it top and bottom to provide a 16:9 widescreen aspect.
Although this is very much a snapshot model, it does hold some appeal for action shooters. In terms of stills there's the ability to shoot at 3.4fps at 12 megapixels, or up this to 8fps with the caveat of a fall in resolution to three megapixels as a result. For videographers, there's the ability to record slow motion clips, by virtue of either filming at 320x240 pixels at 240fps, or standard definition 640x480 pixels at 120fps. Canon also throws in what it's terming a Movie Digest feature. With this option selected the camera records a short video burst at the point a still photo is taken. Stitched together these short clips form a little standalone 'movie' that, can, says Canon, tell the story of your day. Handy if you're spending the day sightseeing perhaps.
Held in the palm the Canon IUS 220 HS pulls off that trick of feeling at once lightweight yet reasonably sturdy with it, despite boasting dimensions barely larger than a credit card of 92.2x55.9x19.5m and a weight of 141g with battery and memory card (here SD, SDHC or SDXC).
| | |
| --- | --- |
| | |
| Side | Top |
Nobody will be surprised, least of all us, that there is no actual handgrip or rest of any sort provided on the 220 HS for a firmer grip. Whilst your fingers slide about the smooth, pebble-like faceplate, your thumb comes to rest over the video record button at the back. As this button is level with the body, accidental activation is largely prevented, though it is possible. Should you choose to steady the camera in both hands when taking a shot, the rear screen inevitably becomes smeared with finger and thumbprints. If you really want a small pocket camera, you also have to put up with such design compromises.
From the front the IXUS 220 HS appears friendly and approachable in its simplicity, its lens, retracted within the body when not in use, dominating proceedings, top right of which is a narrow window for the integral flash, with tiny AF assist/self timer lamp peeking out below. This positioning means that when holding the camera in both hands there's the danger of the forefinger of the left hand part obscuring the flash.
The top of the camera also appears fairly simple at first glance, the largest control being the shutter release button, here surrounded by a regulation-issue lever for operating the zoom for added convenience. A raised lip at the front is just large enough to catch the pad of the forefinger. Next to these controls and slightly sunk into the top plate to help prevent accidental activation when transporting the IXUS is the on/off button. Press this and provided time and date have been pre-set, the camera readies itself for the first shot in just over a second – which is fast for its class – lens extending to maximum wideangle setting and the LCD blinking into life with an audio flourish.
Give the shutter release button a half press and after a briefly visible moment of focus adjustment/exposure determining, AF points/s appear highlighted as green squares. Whilst the AF is not lightning fast, it's fast enough for the IXUS 220 HS' class. Press down fully to take the shot and the IXUS takes three seconds to four seconds to write a maximum resolution JPEG to memory, screen blanking out briefly before displaying the captured frame. Again this isn't the quickest we've experienced, but for its class and its price it's hard to justify spitting feathers.
The back of the camera continues the user-friendly ethos with larger buttons than we'd expect to find on a camera with overall dimensions this dinky, meaning that they can be accessed with a thumb press rather than requiring fingernail precision. We've already mentioned the video record button. Ranged parallel to this is a two-setting slider switch for alternating between Smart Auto, the default scene and subject recognizing option for pure point and shoot operation, and Program auto, via which a greater range of hands on control including effects filters can be accessed. Usefully Canon has here given playback a separate button rather than including it on the same switch. This means that if you're replaying a shot when a fresh photo opportunity presents itself, a mere half press of the shutter release button will throw the user back into capture mode.
| | |
| --- | --- |
| | |
| Memory Card Slot | Battery Compartment |
Beneath the shooting mode switch and record button is a familiar control pad. The options ranged around it are the usual suspects of exposure compensation (here +/- 2EV), flash, display and auto/macro focus mode settings. At the centre of the four-way pad is a 'func/set' button. Press this in either shooting mode and a toolbar appears at the left hand side of the screen, rather more densely populated with options when in Program as opposed to Smart Auto mode, which merely allows adjustment of image quality (Fine or Normal) and compression levels (Large, Medium or Small), image aspect ratio (the default 4:3, 3:2, 16:9, or most surprising of all 1:1), self timer, and video resolution (the full 1920x1080, dropping down incrementally to 320x240 pixels).
In Program mode we obviously get all of the above, plus metering options (evaluative, centre weighted average and spot), comprehensive 'My Colors' modes (with 'Vivid' getting the most use during our test period, though leaving this turned off and utilising the camera's default settings produces good results too if plenty of light is available), white balance, ISO, plus the chance to switch from Program to one of the built-in effects filters. Tabbing down the options here we find Movie Digest mode, dedicated portrait and kids and pets scene options, smile shutter, high speed burst shooting, best image selection (the camera choosing the best representation of a given scene from a sequence of shots), handheld night scene, Low Light (three megapixel resolution), plus fisheye, miniature effect, toy camera, monochrome, super vivid and poster effect. The slow motion movie clip option is also squeezed into this comprehensive menu of possibilities.
The last button we haven't yet mentioned on the camera back is the self-explanatory 'menu', tucked into the right hand corner near the base. Press this and we're presented with two folders; one governing image capture and the second the set up folder. In the first folder we have the usual options, including the ability to turn the digital zoom on/off, as well as Canon's i-Contrast mode, blink detection, the ability to call up on-screen grid lines and swap the image stabilization mode between continuous, shoot only (comes into effect when the shutter release button is pressed). The second set up folder allows sound and volume to be controlled LCD brightness adjusted and the memory card in use to be formatted. There's no integral memory offered as a back up.
Whilst the right hand side of the camera, if viewed from the back, features the output ports and a lug for attaching a strap, the opposite flank of the camera is devoid of features entirely. The base of the IXUS meanwhile features a screw thread for a tripod and a covered compartment housing both vacant memory card slot and rechargeable lithium ion cell, good for 220 shots (a coincidence given the model numder?) from a full charge.
Whilst one could criticize the IXUS 220 HS for not exactly being full of surprises, it does the job, doesn't cost a king's ransom and looks reasonably stylish with it. So what of the images it produces. Do they transcend its budget status, or remain in the gutter whilst other digital compacts are grasping at the stars?