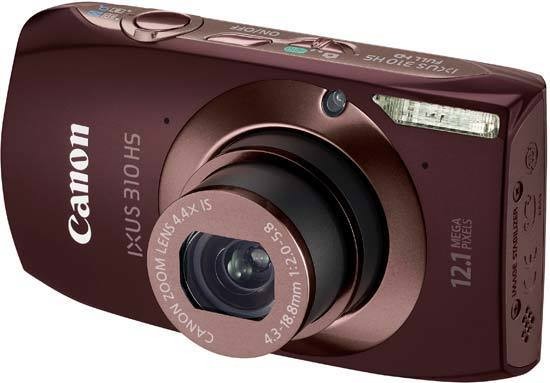 Introduction
The Canon IXUS 310 HS (also known as the PowerShot ELPH 500 HS) is a premium compact camera with a lot of advanced features that should grab the attention of any discerning photographer. These include a back-illuminated 12.1 megapixel CMOS sensor, a 4.4x, 24-105mm lens with a fastest aperture of f/2.0 and optical image stabiliser, 3.4 frames per second burst mode at full resolution, full 1080p HD movie recording with stereo sound and a HDMI port, Super Slow Motion 240fps movies, a 3.2 inch touchscreen LCD, and Aperture and Shutter Priority exposure modes. Available in silver, brown, gold and pink, the Canon IXUS 310 HS costs £299.00 / €359.00 / $299.99.
Ease of Use
Touch screens may not be to all photographers' tastes, particularly on pocket cameras where they tend to be necessarily small and as a result ever so slightly fiddly. But with most manufacturers now fielding at least one such model in their spring 2011 ranges, it looks like the technology is here to stay. One of the better implementations we've seen to date, and announced around about the same time as Panasonic's direct rival in the Lumix DMC-FX77 (also worth checking out), is Canon's latest point-and-shoot IXUS, the 310 HS.
Here the screen, which swallows up almost the entire backplate leaving room only for a small playback button in the bottom left hand corner, is a decent 3.2-inches in size. It has a more than respectable 461k-dot resolution to aid visibility and clarity, plus boasts a 16:9 widescreen aspect ratio. Unsurprisingly then the camera offers HD video capability alongside stills, and, like the Sony touch screen Cyber-shots, a dedicated red virtual record button is provided on the Canon's screen for instant filming.
Its location over at the right hand corner leaves a little to be desired however as our thumb occasionally wandered over the red dot in the process of generally handling the camera. When we came to download our shots we found that we had inadvertently shot a couple of short clips too. With the above allowing for one-touch filming no matter what alternative stills shooting mode might be in play at the time, here that's at a Full HD 1920x1080 pixels and a standard rate of 24 frames per second. When alternatively shooting regular 4:3 aspect ratio photos, the screen is cropped with black bands left and right onto which most of the touch screen options are overlaid so as not to obscure the main view. Video also looks good too, with natural colours and a fairly faithful rendition of the scene before the lens.
Like competing touch screen cameras, it takes a while to get used to the responsiveness of the IXUS 310 HS's touch screen when it comes to making function selections. And, should you chose to steady the camera in both hands when taking a shot, the rear screen inevitably becomes smeared with finger and thumbprints. Sometimes we found it rather easy to scroll past the setting we actually wanted in our haste to implement particular settings before a photo opportunity vanishes. By contrast at times we had to repeatedly stroke the screen to prompt it to respond a little faster. This occasionally had us wishing for a dedicated shooting mode dial purely as a time saver, or a Quick Menu button to catapult ourselves to key settings; again, as on the Panasonic FX77.
With a UK retail price just shy of £250 making it identical to that competitor and available in the usual array of colours typical of snapshot models these days, we had a chocolate brown IXUS 310 HS in for review that occasionally takes on a golden hue in the sunlight. With curved edges and a faceplate that bulges outward like a swollen belly, fittingly for spring the camera looks positively fecund. It's at once sturdy yet lightweight enough to carry around in a pocket, and in being fashioned from stainless steel should last the course. While there's nothing resembling a grip at the camera's front, a raised lip to the left hand side of the backplate at least to a modest extent prevents the thumb from slipping about in the same way the forefingers do at the front. Official dimensions are 100.6x55.4x25mm and it weighs 185g with battery and card.
Switch the camera on via its sloping on/off button located on the top plate and the IXUS 310 HS 'births' a 4.4x optical zoom, focal range equivalent to a wide angle 24mm to 105mm. This is hidden within the body when not in use and, in terms of expectant image quality, is married to the same back illuminated 1/2.3-inch CMOS sensor that features in the IXUS 220 HS. The 'HS' stands for high sensitivity, the camera also boasting a bright f/2.0 maximum aperture, light sensitivity topping out at ISO3200 with commendably little visible image noise and throws in a Low Light mode that drops resolution to three megapixels as a further aid to disguising grain.
| | |
| --- | --- |
| | |
| Front | Rear |
Added support for hand held low light snapping comes via the fact that the lens is optically stabilized, providing, claims Canon, a four stop equivalent. Also, there's a dedicated handheld night shooting mode that takes three shots in quick succession, again as an aid to avoiding image blur resulting from camera shake. The full extent of the optical zoom can be utilized for video as well as stills, though the speed of its response slows right down in video mode to better disguise the buzz of any adjustments. As the camera offers stereo sound capture via microphones placed either side of and bravely close to the lens, this is especially significant.
For amateur action photographers, the ability to shoot at 3.4 frames per second at maximum resolution will find favour, with the alternative to once again drop down to three megapixels in return for an improved capture rate of 8.2fps. As on its fellow IXUS 220 HS sibling, Canon has further introduced a Casio Exilim-like slow motion movie capture option here. Again there's the choice of either filming at 320x240 pixels at 240fps, or standard definition 640x480 pixels at 120fps. Canon also throws in what it's cosily terming a Movie Digest feature. With this option selected the camera records a short video burst at the point a still photo is taken. Stitched together these short clips form a little standalone 'movie' that, can, says Canon, tell the story of your day. Handy if you're spending the day sightseeing perhaps, or attending a friend's wedding. Mini HDMI output is featured alongside regular AV out and USB 2.0.
From the front then the Canon IXUS 310 HS looks attractively edible. A self-timer (two seconds, 10 seconds)/AF assist light is snuck into the top right hand edge of the concentric rings framing the retracted lens, whilst a narrow window for the built-in flash squeezes into a top corner. Here it is inevitably part obscured by the forefinger of your left hand if steadying the camera with both which of course you unselfconsciously find yourself doing.
The top plate finds the camera's few physical controls partly recessed into a central reservation. Here, in the style of the IXUS 220 HS, we get a switch for alternating between regular Auto (scene and subject recognizing Smart Auto) mode and Program Auto, the latter giving access to a much wider degree of hands on functionality and an extended array of shooting mode options. These include shutter and aperture priority modes plus, with a finger tap of the 'P' logo on screen, an array of virtual button-implemented digital effects filters.
Next to this shooting mode slider we find the aforementioned on/off button. Give this a press and the IXUS 310 HS readies itself for action in just over a second, provided time and date have been preset. Within that scant timeframe the lens barrel unfurls to arrive at its maximum 24mm equivalent wide-angle setting, and the rear LCD blinks into life to provide good visibility in the obvious absence of any optical viewfinder.
Adjacent to this button we have the shutter release button surrounded by a zoom lever, set stylishly level with the body but with protruding front lip to catch the pad of the forefinger. A half press of the shutter release and, after the briefest of pauses while focus and exposure are determined, the camera follows through with a cheery bleep signalling the shots ready for taking. Take the shot and a maximum resolution JPEG is committed to memory, here an optional SD, SDHC or SDXC card as no built-in capacity is provided, in two to three seconds.
| | |
| --- | --- |
| | |
| Top | Touch Screen |
Moving to the back of the camera and the screen itself, as on the Panasonic Lumix DMC-FX77, there is the ability to tap an on-screen subject for the IXUS 310 HS to bias focus toward, which Canon fittingly refers to as Touch AF. If subsequently altering framing, the AF point will perform its little dance across the screen as it attempts to keep tabs on the subject originally selected. Cute. Otherwise you can just point and shoot as normal, AF points appearing on screen in the form of green squares to signal which aspect of the subject the camera has itself picked out.
With function buttons shunted left and right of the screen display, top centre is an indication of remaining battery life, shot capacity, the video resolution selected and also the amount of footage than can fit on the remaining card capacity.
Top left of screen as mentioned earlier we have an indication of the shooting mode selected. In Program mode a press of this icon brings up six further shooting mode buttons sharing the screen at one time. The first screen offers Program, aperture priority and shutter priority as previously indicated, plus the movie digest function, dedicated pre-optimised portrait, plus kids and pets modes. A press of the left/right arrow key and the next screen of available options slides effortlessly into view. It's here we find smart shutter (utilising face detection to take photos automatically), high speed burst (3 megapixel mode), best image selection (selects the best shot from a quick fire sequence, again at three megapixels), handheld night scene, low light and self explanatory fish eye effect modes.
The next screen full of six options includes Canon's fun miniature effect mode that narrows focus to a central area of the screen to ape the effect of a tilt and shift lens, plus the pinhole-like toy camera effect, a cutes-y creative light effect (a bit like a starburst filter), monochrome, super vivid and poster effect settings. A further sextet of choices features Canon's usual colour accent and colour swap options typically found within its 'My Colors' mode on other IXUS and PowerShot models, and here we also get dedicated beach, foliage, snow and fireworks scene mode type options. Finally there's an iFrame compatible movie mode option, and it's on this final shooting mode screen containing just two options that we also find the super slow motion movie setting.
For a would be simple point and shoot camera, the impression given is that Canon has packed a lot of potentially fun creative options into this IXUS, heading off any potential implications of style over substance.
Also on the left hand of the touch screen we get a button for adjusting exposure compensation (a modest +/- 2EV), and also a virtual embodiment of Canon's familiar 'func' (function) button, a press of which brings up a toolbar along the left hand side of the screen.
Press this in either shooting mode and a toolbar appears at the left hand side of the screen, rather more densely populated with options when in Program as opposed to Smart Auto mode, which merely allows adjustment of image quality (Fine or Normal) and compression levels (Large, Medium or Small), image aspect ratio (the default 4:3, 3:2, 16:9, or most surprising of all 1:1), self timer, and video resolution (the full 1920x1080, dropping down incrementally to 320x240 pixels).
| | |
| --- | --- |
| | |
| Memory Card Slot | Battery Compartment |
In Program mode we obviously get all of the above, plus metering options (evaluative, centre weighted average and spot), comprehensive 'My Colors' modes (with 'Vivid' getting the most use during our test period, though leaving this turned off and utilising the camera's default settings produces good results too if plenty of light is available), white balance, plus ISO light sensitivity settings.
Slightly confusingly, it's only when this left hand 'function' toolbar has been called up that a menu button appears bottom right of the LCD display. It's not on the initial screen by default.
Give this a press and as on the IXUS 220 HS we were reviewing alongside this model we're presented with two folders; one governing image capture and the second the set up folder. In the first folder we have the usual options, including the ability to turn the digital zoom on/off, as well as Canon's i-Contrast mode, blink detection, the ability to call up on-screen grid lines and swap the image stabilization mode between continuous, shoot only (comes into effect when the shutter release button is pressed) and panning mode. The second set up folder is rather more prosaic in terms of the available user options, allowing sound and volume to be controlled, LCD brightness adjusted and the memory card in use to be formatted.
Finally, tabbing back to the main screen, and on the right hand side beneath the red video record button we have a flash mode button (red eye correction selected as an option from among the camera menus rather than given as a standalone choice here), plus self-timer mode button and display button.
Whilst the right hand side of the camera, if viewed from the back, features the output ports and a V-shaped lug for attaching a wrist strap, the opposite flank of the camera features just a built-in speaker. The base of the IXUS meanwhile features a screw thread for a tripod, located just off centre of the back screen but dead centre of the lens, plus a covered compartment housing both vacant memory card slot and rechargeable lithium ion cell. The latter is good for 180 shots from a full charge, not exactly the most stunning of performances with that touch screen obviously hovering up juice like a thirsty toddler.
So, with a screen that is at times a short cut to image taking and at others delays the process still its main talking point, what of the images that the IXUS 310 HS produces? Are they fit for recording the wedding breakfast, or only good for the dog's dinner? Read on to find out…