Canon PowerShot A3200 IS Review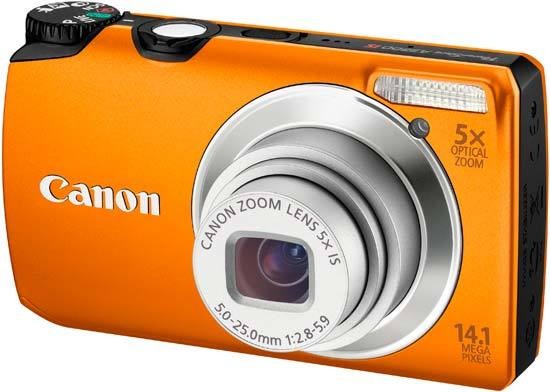 Image Quality
All of the sample images in this Review were taken using the 14 megapixel Fine JPEG setting, which gives an average image size of around 4Mb.
As you'd expect from a digital compact at this price point, image quality is good, but not phenomenal. All images were taken at the highest 14.1 megapixel fine setting. File sizes vary between 2Mb up to over 9Mb for the high ISO images. Interestingly, pictures taken with the special effects (fish eye, miniature etc) use a low file size.
The Canon Powershot A3200 IS handles natural colours well, such as sky blue or grass green and saturated colours are also rendered nicely. It copes nicely with skin tones and we were pleased with all the portrait shots we took.
Looking at the pictures with an everyday sensitivity of around ISO200, they look highly detailed and noise free at normal size on a computer screen. However cropping in to full size you can see the loss of detail, probably from compression and noise reduction.
Noise
The ISO range on the Canon Powershot A3200 IS starts at ISO80 and stops at ISO1600. At the lower end, there's no noise evident, and images look good. In fact, image quality doesn't really start to degrade until around ISO400 where noise reduction really starts to kick in. Colour noise is still low and that doesn't become really visible until around ISO800 where discolouration starts to appear. At the highest setting, colour noise is invasive with purple blobs appearing in the mid-range. For a camera at this level, noise control is good and I'm especially impressed with how the noise reduction works and to what level.
Here are some 100% crops which show the noise levels for each ISO setting:
| | |
| --- | --- |
| ISO 80 (100% Crop) | ISO 100 (100% Crop) |
| | |
|   |   |
| ISO 200 (100% Crop) | ISO 400 (100% Crop) |
| | |
|   |   |
| ISO 800 (100% Crop) | ISO 1600 (100% Crop) |
| | |
Sharpening
All the pictures taken with the Canon Powershot A3200 IS benefit from a little sharpening in an editing suite such as Photoshop. As the camera isn't for a user that will take a lot of time to edit pictures, using the standard sharpening setting in Photoshop will give a decent result meaning that anyone can do it. The sample images here were edited using Adobe Photoshop CS4.
| | |
| --- | --- |
| Original (100% Crop) | Sharpened (100% Crop) |
| | |
Focal Range
The Canon Powershot A3200 IS has a standard 5x optical zoom which starts at 28mm and caps at 140mm in 35mm terms. It's a good enough zoom range for everyday use but when subjects are quite a way away, you might find that it just can't get there. There's evidence of blurred edges at the 28mm wide setting although it's only really noticeable on macro shots (see macro section below). At 140mm the edge blurriness has disappeared.
| | |
| --- | --- |
| 28mm | 140mm |
| | |
File Quality
As well as being able to alter the amount of pixels used in the picture, you can also change the compression. There are two settings called high and normal and the normal setting compresses the images so much it doubles the amount of pictures available on the memory card.
| | |
| --- | --- |
| 14M Fine (100% Crop) | 14M Normal (100% Crop) |
| | |
Chromatic Aberrations
Chromatic aberration (chroma, colour fringing, chromatic distortion, purple fringing) is most evident on high contrast areas and is seen as a purple line down the side of the darker area. On our test shots, we couldn't detect any fringing at all which is a great result. However, it can be difficult to determine between fringing and lens flare which the camera sometimes suffered from. Saying that, in the scenarios that it did suffer, any other camera would've done too.
Example 1 (100% Crop)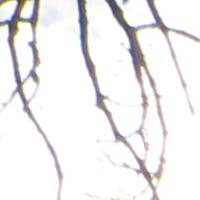 Macro
Despite a close focusing of 3cm, it appears a lot closer in real life but we did get occasions when the camera said it was focused, but it wasn't. In our test of a compact flash card, the image is dead sharp in the centre but starts to go blurred towards the edges.
| | |
| --- | --- |
| Macro Shot | 100% Crop |
| | |
Flash
Because the Canon Powershot A3200 IS is only a small digital compact camera, the flash doesn't need to be huge but it more than compensates for any pictures that need flash. There are four settings when you press the flash button on the back of the camera which are auto, on, slow synchro and off. For those of you who are unsure about the slow synchro option, it's designed for taking pictures of people in dark situations. It uses a burst of flash to light up the person and a slow shutter speed to light up a dark background. With that in mind, it's always best to rest the camera on a tripod or some kind of support.
| | |
| --- | --- |
| Auto Flash - Wide Angle (28mm) | Auto Flash - Telephoto (140mm) |
| | |
Light fall off at wide angle is pretty severe with harsh vignetting all around the frame. This disappears nicely at telephoto. Portraits are recorded well with flash although looking really closely, we discovered a slight amount of red-eye that remained when red-eye reduction was turned on. It appears that very slight amounts are too much for the camera to handle.
| | |
| --- | --- |
| Flash On | Flash On (100% Crop) |
| | |
|   |   |
| Red-eye Correction | Red-eye Correction (100% Crop) |
| | |
Night Shot
We had to set the sensitivity to ISO80 to get a long exposure because on the A3200, there's no shutter or aperture priority. Long exposures from the A3200 are super smooth with good noise reduction applied to the picture.
| | |
| --- | --- |
| Night Shot | Night Shot (100% Crop) |
| | |
Anti Shake
There are 3 types of image stabilisation on the Canon Powershot A3200 IS. They're located in the main menu at the bottom of the shooting tab. Scrolling through the options, you can choose from continuous which will show you the stabilisation on the screen as you compose the image, but this drains more of the battery. Shoot only mode will stabilise the picture as you take it but not show you on the preview monitor. There's also a panning mode for if you're taking pictures of cars or moving subjects and need to move with them. The camera only uses the stabilisation on the horizontal axis.
| | | |
| --- | --- | --- |
| Shutter Speed / Focal Length | Anti Shake Off (100% Crop) | Anti Shake On (100% Crop) |
| 1 sec / 28mm | | |
|   |   |   |
| 1/8 sec / 28mm | | |