Canon PowerShot A3300 IS Review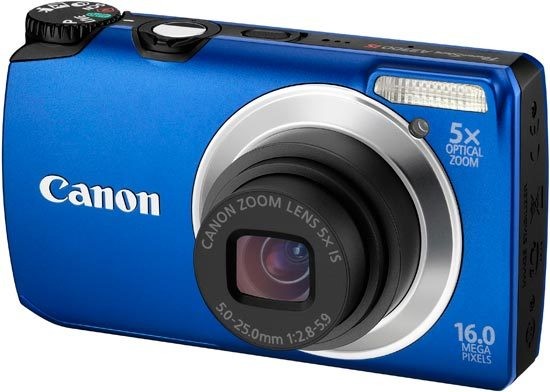 Image Quality
All of the sample images in this Review were taken using the 16 megapixel Fine JPEG setting, which gives an average image size of around 4Mb.
Generally speaking, the higher the resolution, the greater the noise problem. This is because they're all tightly packed in together and when you take a picture they generate heat which causes a form of noise on neighbouring pixels. The good news is that Canon told us that they're aware of this type and the noise reduction they fit to the A3300 is geared up to remove it.
Good news for people who enjoy taking pictures at night with no flash but the noise test will see if that rings true or not.
Image quality was pretty consistent with nice colours although a couple of times the multi metering had a problem and would over-expose by a stop. Dropping the exposure compensation down solved the error but it should have been unnecessary.
One area we were impressed with was the macro feature. It has a close focusing setting of 3cm but we managed to get in a bit closer than that, which was nice.
Noise
At low settings, noise is handled very well and normally with a camera it this level, noise would start to invade around ISO200 but with the Canon Powershot A3300 IS, we didn't detect any noise until ISO400. At this point it's pretty aggressive as though it's over powered the noise reduction software and left it tied to a chair in a locked room with a bag on its head. Purple discolouration is very noticeable at ISO800 and severe image degradation happens at ISO1600. After all this, it's still a better result than we were expecting and if you're looking to buy a camera like this, it's likely you're not interested in the high ISO performance anyway.
Here are some 100% crops which show the noise levels for each ISO setting:
| | |
| --- | --- |
| ISO 80 (100% Crop) | ISO 100 (100% Crop) |
| | |
|   |   |
| ISO 200 (100% Crop) | ISO 400 (100% Crop) |
| | |
|   |   |
| ISO 800 (100% Crop) | ISO 1600 (100% Crop) |
| | |
Sharpening
The pictures from the Canon Powershot A3300 IS are a little soft straight from camera and do benefit from the standard sharpening that you can perform in editing suites such as Adobe Photoshop. The sample pictures here were edited in Adobe Photoshop CS4. You can also change the in-camera sharpening level to suit your tastes via the My Colors menu option.
| | |
| --- | --- |
| Original (100% Crop) | Sharpened (100% Crop) |
| | |
|   |   |
| | |
Focal Range
The Canon Powershot A3300 IS has a modest 5x optical zoom. In general use, we didn't find any lens problems such as edge definition but we did find a lot of blurriness out to the edges when taking pictures in the macro mode.
| | |
| --- | --- |
| 28mm | 140mm |
| | |
File Quality
By pressing the function button on the back of the camera, you can change the the image size and compression. The two options are fine and normal and choosing normal over fine will double the amount of pictures you can store on the card but with little noticeable difference to the picture. Here are some 100% crops which show the quality of the various options, with the file size shown in brackets.
| | |
| --- | --- |
| 16M Fine (100% Crop) | 16M Normal (100% Crop) |
| | |
Chromatic Aberrations
It can be tricky trying to look for purple fringing because lens flare can sometimes give off similar attributes but in our tests, we didn't come across any problems with chroma which is a great result for a camera at this level.
| | |
| --- | --- |
| Example 1 (100% Crop) | Example 2 (100% Crop) |
| | |
Macro
The Canon Powershot A3300 IS has a close focusing distance of 3cm which is pretty good for a camera at this price as they tend to be sat at around the 5-10cm mark. Of course there are a few exceptions, this being one of them. We noticed that while we were trying to get the optimum focusing point, the camera would double beep focus lock but would actually be out of focus. Edge definition is distinctly lacking as well with only a small portion of the picture in focus at the centre. However, we did manage to get in a bit closer than 3 cm which is great.
| | |
| --- | --- |
| Macro Shot | 100% Crop |
| | |
Flash
There are four options in the flash menu on the back of the camera; auto flash, forced on, slow synchro and forced off. However, within the main menu is a sub menu called flash settings and this is where you can switch red eye correction on or off as well as the red eye lamp. Light fall off at the wide setting is pretty dramatic with dark vignetted edges while at full telephoto, it doesn't appear at all.
| | |
| --- | --- |
| Auto Flash - Wide Angle (35mm) | Auto Flash - Telephoto (140mm) |
| | |
Taking portraits, exposure using the flash leaves a natural result with no bleaching. However, with tiny amounts of red eye present, the red eye reduction struggles to get rid of it which is a problem in an otherwise flawless performance.
| | |
| --- | --- |
| Flash On | Flash On (100% Crop) |
| | |
|   |   |
| Red-eye Correction | Red-eye Correction (100% Crop) |
| | |
Night Shot
Being an entry level model, the A3300 doesn't have manual controls to adjust shutter speeds and apertures. The only way we could test a long exposure was to reduce the ISO but we only got down to 1 second even at ISO80 at night time.
There's a degree of noise reduction shown by some image distortion on sharp, contrasty edges. At a low ISO, it's likely that this is the predictable heat noise that's being removed.
| | |
| --- | --- |
| Night Shot | Night Shot (100% Crop) |
| | |
Anti Shake
The Canon Powershot A3300 IS boasts 3 different image stabilisation options which can be found in the main menu at the bottom of the shooting tab. Here you can choose from continuous, which drains the battery but shows you the stabilised image on screen. Shoot only mode will stabilise the picture as you take it but not show you on the preview monitor. Then there's the panning mode if you're shooting cars and need to move with them. During this type of image stabilisation, the camera only uses the stabilisation on the horizontal axis.
| | | |
| --- | --- | --- |
| Shutter Speed / Focal Length | Anti Shake Off (100% Crop) | Anti Shake On (100% Crop) |
| 0.8 sec / 28mm | | |