Canon PowerShot A480 Review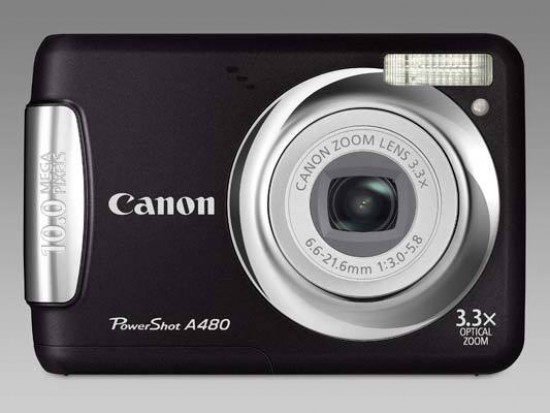 Introduction
The Canon PowerShot A480 is the cheapest model in Canon's extensive range of compact cameras, but don't let that put you off what is a well-featured and capable product for the money. The A480 is 25% smaller than its predecessor, the PowerShot A470, and offers a simplified button layout, bigger 10 megapixel sensor, a 3.3x optical zoom lens with a focal length of 37-122mm, DIGIC III image processing engine and a 2.5-inch LCD screen. The icing on the proverbial cake is a 1cm Macro mode, 15 different shooting modes, plus Face Detection, Motion Detection and Automatic Red-Eye Correction technologies. Available in silver, red, blue or black for $129.99 / £129.00 / €159.00, we find out if the Canon PowerShot A480 is worth considering in these times of economic turmoil.
Ease of Use
The Canon Powershot A480 certainly won't win any design awards, with a slightly boxy design and "toy-camera" styling. While it won't impress your friends with its looks, the A480 is undeniably a well-made, quite compact digital camera, with an understated metallic blue, silver and black plastic body and excellent overall finish, impressive considering its budget price-tag. It's easily small enough to fit into the palm of your hand, yet still fits in a 3.3x optical zoom lens that offers a versatile focal length of 37-122mm. Weighing 140g without the battery or memory card fitted and measuring 3cms thick when turned off, the A480 is ideally suited to either a trouser pocket or small camera bag.
As with most Canon cameras that we've reviewed before, the Powershot A480 is one of the better models around in terms of build quality when compared to other competitive products. Every aspect has a quality feel with nothing feeling flimsy or ill-thought out. Even the tripod mount is almost centrally located, although it uses a plastic mount rather than metal. The battery compartment also houses the memory card slot, which means that the AA batteries sometimes fall out when changing the memory card as they don't have a catch to keep them in place. Still, this is a fairly minor criticism of a quality product. The A480 even has a small silver hand-grip with room for two fingers, something that more expensive A-series models have omitted, although it is made from a rather smooth and shiny material. Overall the Canon Powershot A480 is well constructed and designed with no obvious signs of corners being cut.
| | |
| --- | --- |
| | |
| Front | Rear |
The Canon Powershot A480 has a simple design with few external controls, just 8 in total, which reflects the fact that this is a simple camera in functionality terms which is aimed firmly at the beginner market. Located on top of the A480 are the On/Off button and Shutter button, and on the bottom are the tripod mount and battery compartment, which also houses the SD memory card slot. On the rear of the A480 is the 2.5 inch LCD screen, with a number of controls to the right, including the zoom buttons. You can directly access the various focus and flash options by clicking left and right on the navigation pad, whilst up and down are respectively used to set the ISO speed and timer options. Located underneath the navigation pad are the Mode button, which allows you to select from Auto, Program, Scene and Movie modes, and the Menu button. The various buttons feel a little plasticky but are well-made and easy to operate.
The Function/Set button in the middle of the navigation pad opens a sub-menu, which allows you to set exposure compensation, white balance, colours, metering, continuous shooting, image quality and image size. This system is inherited from the more expensive A-series models and is a good compromise given the size of the camera's LCD screen and therefore the limited space for external controls. All 8 external controls are clearly labeled using industry-standard symbols and terminology. Overall the camera body feels very well-designed and not at all cluttered. The 2.5inch LCD screen has quite a wide viewing angle from left to right, but much less so from top to bottom, for example if you hold the camera above your head. It is visible in all but the brightest of sunlit conditions, although the low pixel count of 115,000 dots is disappointing by today's standards, resulting in a rather grainy display.
| | |
| --- | --- |
| | |
| Top | Side |
If you have never used a digital camera before, or you're upgrading from a more basic model, reading the comprehensive and fairly easy-to-follow manual before you start is a good idea. Unfortunately Canon have chosen to cut costs and only supply the full manual as a PDF on a CD, rather than in printed format (there's just a short printed guide to the camera's basic features). Not much use if you're taking pictures and need to find out what a particular option does. Battery life is a much better proposition at around 200 shots, outperforming the more expensive A1100 and A2100 cameras.
The menu system on the Canon Powershot A480 is extremely straight-forward to use and is accessed by a dedicated button underneath the navigation pad. Quite a lot of the camera's main settings, such as white balance, exposure compensation and ISO speed, are accessed elsewhere, so the main menu system isn't actually that complicated. A row of 2 icons along the top of the LCD screen represents the Camera and Setup sub-menus, with most of the options being the kind that you set once and then forget about. The various options are easy to access and use, especially as only 6 are shown onscreen at one time.
The Canon Powershot A480 offers Auto, Program and a comprehensive range of 15 different scene modes aimed at the user who just wants to point and shoot, making this camera quite well-suited to the beginner. There's no optical anti-shake system, but there is motion detection technology which identifies camera-shake or subject movement and then boosts the ISO to a level (between ISO 80-800) it considers will compensate without hopefully introducing too much noise. This is effectively what rivals would refer to as digital anti-shake. Face Detection is also available as one of the AF Frame options, detecting up to nine faces in a scene and adjusting the focus, exposure, flash settings and white balance to produce better-looking portraits. The Super Macro scene mode is very impressive, allowing you to focus on a subject that is just 1cm from the front of lens at the 37mm focal length.
| | |
| --- | --- |
| | |
| Memory Card Slot | Battery Compartment |
The start-up time from turning the Canon Powershot A480 on to being ready to take a photo is quite quick at around 1.5 seconds, and it takes about 2 seconds to zoom from the widest focal length to the longest. Focusing is very quick in good light and the camera happily achieves focus indoors or in low-light situations, helped by a powerful focus-assist lamp. The visibility and refresh rate of the 2.5 inch LCD screen are perfectly acceptable, although the low resolution of 115,000 pixels does produce a noticeably grainy image display. It takes about 0.5 second to store an image, allowing you to keep shooting as they are being recorded onto the memory card - there is a very quick LCD blackout between each image. In Continuous mode the camera takes 0.8 frames per second at the highest image quality, which is very slow, although the shooting rate is maintained until your memory card is full. The flash recycle time is a rather slow 4 seconds to recharge between shots - you'd better get used to the "Charging the flash" onscreen message.
Once you have captured a photo, the Canon Powershot A480 has a pretty good range of options when it comes to playing, reviewing and managing your images. You can instantly scroll through the images that you have taken, view up to 9 thumbnails, zoom in and out up to 10x magnification, view slideshows, delete, protect, resize and rotate an image. You can also set the print order and the transfer order. The Red-eye Correction options fixes red eye after you have taken a photo (useful if you forgot to activate it before). The Info Disp. menu option offers four choices - Off, Standard, Detailed and Focus Check. Detailed displays a wealth of information about each picture, including the ISO speed, white balance, shutter speed, aperture, and also a small brightness histogram which is helpful in evaluating the exposure. Focus Check shows the image alongside a small, magnified section, useful for quickly checking the sharpness.
In summary the Canon Powershot A480 is a cheap, well-made, straight-forward compact camera that's particularly suited to the beginner, also offering some useful features found on much more expensive A-series models.