Canon PowerShot A495 Review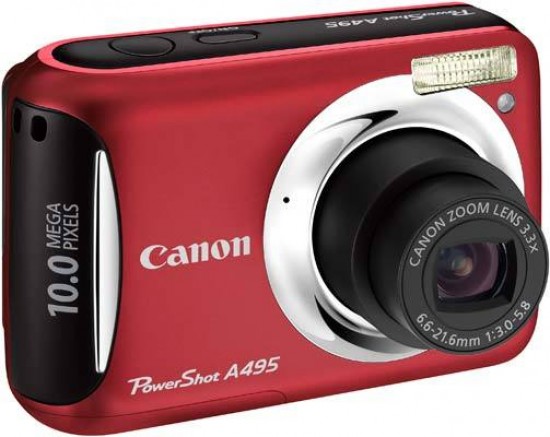 Introduction
The PowerShot A495 is the new entry-level model in Canon's extensive range of compact digital cameras. Priced at £119.99 / $129.99, the A495 features a 10 megapixel sensor, 3.3x optical zoom lens with a focal length of 37-122mm, DIGIC III image processing engine and a 2.5-inch LCD screen. Canon's new Smart Auto mode automatically recognises shooting conditions from 18 different shooting scenes and applies the optimum picture settings required to get the perfect shot, while the A495 also boasts i-Contrast technology to help ensure that lighter and darker areas are captured in equal detail. Low Light, Super Vivid & Poster Effect scene modes make their debut, plus Face Detection, Motion Detection and Automatic Red-Eye Correction technologies are included. Powered by AA batteries and compatible with SDHC and SDXC memory cards, the Canon Powershot A495 is available in silver, red and blue.
Ease of Use
Announced in tandem with the A490 model - an exclusive with the Argos retail chain in the UK - is the more widely available PowerShot A495, likewise an affordable snapshot option at a manufacturer's suggested £119.99. The budget price means that there's always the sense of 'bridesmaid but never the bride' about the lower end of the PowerShot range compared with the shinier, more stylish and inevitably pricier IXUS series, among which a similar feature set can be found for around £60 more, if that. Replacing the A480, Canon describes the A495 as an 'everyday' camera, which comes across as akin to describing someone's looks as 'ordinary' but really just means it's cheap and easy - and not in a bad way.
Though boxy of shape and feeling distinctly plastic of build when gripped in the palm, the physically chunkier A495 manages the trick of not looking embarrassingly throwaway next to its more glamorous IXUS cousins with subtly stylish touches such as a mirrored chrome surround to the lens and side 'grip'. It does however betray its 'economy' range tag slightly by being powered courtesy of two bog standard alkaline AAs - provided in the box - instead of a longer lasting rechargeable lithium ion battery now offered by most of Canon's rivals at this price point as standard.
The added bulk over its IXUS equivalent(s) does, on a positive note, mean that operational controls are larger than you'll find on most pocket cameras - as a help to both younger and elder users. Want a cheap camera for the mother in law or teenage relative? The A495 could well fit the bill, available as it is in a choice of silver, red or blue bodies.
The ordinariness yet solid-ness continues with a glance at the camera's headline features: 10 megapixel resolution, slightly broader than average 3.3x optical zoom lens (a 37-122mm equivalent in 35mm terms, hidden within the body when not in use) plus 115k dot resolution, 2.5-inch LCD for framing and reviewing shots in the expected absence of any optical viewfinder.
| | |
| --- | --- |
| | |
| Front | Rear |
However this otherwise humble PowerShot does match the IXUS range for the latest features governing ease of use, such as Smart Auto, here like the IXUS 105 referencing any given scene or subject with 18 on-board presets so all the user has to do is, hopefully, point and shoot and not have to worry about changing settings or scene modes. It's pretty much spot on. Among the available options is Smart Flash Exposure that will automatically trigger fill-in flash if it detects harsh shadows on a subject's face for example. Face detection, self portrait enabling Face Self Timer, plus automatic red eye correction (if first activated via the on-board menu screens) also combine to ensure that portraits come out looking the best they possibly can within the operational parameters of the camera itself.
Again, as with the latest generation IXUS models, the A495 features a new Low Light Mode for low light imagery, which, along with Motion Detection Technology, aims to prevent blurred shots when shooting handheld. Two new scene modes have however joined the A495 in the color saturation reducing 'Poster Effect', and, by contrast, saturation enhancing Super Vivid mode. Video recording too can be found here, though at a modest standard definition 640x480 pixels at 30fps, which even when coupled with the 10 megapixel headline resolution, doesn't really suggest much need for the camera's offered compatibility with extremely high capacity (up to 2TB) SDXC cards alongside the more commonly available SDHC (up to 32GB).
Of course you have to make some compromises for the cheaper price point and these go further than the plastic body and AA batteries. Generally the A495, equipped with a Digic III rather than IV processor like its IXUS counterparts, is slower, a case in point being that the user has to put up with occasional on-screen prompts informing them that they will have to wait to take a shot while the flash charges.
Also on a practical level, the A495's shutter release is very sensitive with little feel of a definite halfway 'bite' point at which the camera traditionally sets focus and exposure. In fact one could say it's over sensitive, with just a fraction harder press prompting the camera to take the shot while the user is in fact still framing up.
| | |
| --- | --- |
| | |
| Front | Top |
Looking like a polished pebble from the front in the silver incarnation we had in for review, the Canon A495's faceplate is dominated by the lens, left of which is a tiny pinprick housing the built in microphone and, to the right, a small porthole for the self timer lamp/ AF assist beam. Over to the left hand side, if viewing the camera lens-on, is a raised polished strip that acts as the camera's only concession to a grip, although, with batteries inserted lending a bit of weight and the camera's overall bulkier than usual proportions for its point and shoot class, this doesn't feel like a model that could suddenly slip from your grasp. As a back up, at the top of this 'grip' is a lug for attaching the customary wrist strap provided in the box.
The top of the camera is a similarly frill-free affair, featuring just the shutter release button - logically the biggest control here - plus tapering lozenge shaped on/off button. A press of the latter and the A495 powers up in just over a second, such speed in this case belying its budget status, rear LCD blinking into life whilst the zoom lens extends to its maximum not-very-wideangle setting. Press the shutter release button gently and the camera takes a moment to adjust focus and exposure, following it up with a bleep of confirmation as AF point/s are highlighted in green. Go on to take the shot and there's a wait of three seconds whilst a maximum resolution JPEG is committed to memory, screen briefly blanking out then freezing with a display of the captured image.
The rocker switch for operating the 3.3x optical zoom is meanwhile found top right of the camera back; hold this down and the lens travels through the range from maximum wide angle to extreme telephoto in all of two seconds, accompanied by a louder than usual but not overtly distracting mechanical buzz. Below this control is an obvious playback button. Press this, and then the zoom rocker again and you can crop into an image to check detail, or, by pressing the wideangle end of the zoom switch, call up recent shots as a series of thumbnails, each subsequent press bringing up an ever increasing number of thumbnails (and thus increasingly smaller ones).
Below this we find a set of directional cross keys with a function/set button at their centre that will be immediately familiar to any digital camera user. The layout of options here is identical to the flashier IXUS 105 model announced in tandem. So, at points north, south, east and west around this are, in that order, a means of leap-frogging bunches of images when in playback mode or adjusting exposure compensation (+/- 2EV) when in capture mode. Next, at the bottom of the pad, is a means of deleting duff images on the fly or selecting the self-timer options (two seconds, 10 seconds or custom option), whilst the ability to adjust the flash settings (off, slow synchro, on, auto) and switch focus from infinity to macro (and back) complete the package.
| | |
| --- | --- |
| | |
| Battery Compartment | Memory Card Slot |
Beneath the cross keys are two further buttons. There's no button marked 'display' as one might expect to find, but rather one that allows the user to alternately tab between still image and video capture. Press this and four shooting mode options are shown on a toolbar across the top of the screen. First is full auto - or Smart Auto - next is Program, which allows for a modest amount of manual tweaking, then scene mode(s) (here's where you'll find the poster mode, super vivid and low light options, the latter dropping resolution down to two megapixels, along with face self timer) and finally the video capture option. Press the aforementioned 'function/set' button when in this mode (or one of the still capture modes) and a second toolbar appears down the left hand side of the screen with further selectable shooting options. If staying in video mode users can manually tweak white balance settings or choose from the My Colors options, including Vivid, Neutral, Sepia, Black and White, plus Custom colour options. In regular auto mode, the wider range of options is disabled so all the user can adjust is image size and quality, while, if switching to Program mode, users have additional access to ISO (ISO80-1600), evaluative, centre weighted or spot metering, plus single shot or continuous capture options.
The button to the right of this is the self explanatory 'menu'. A thumb press of this brings up two folders on-screen with nice, clear type - the first containing the shooting menu, the second the more general purpose set up menu. The first folder contains the ability to activate the digital zoom, call up grid lines on screen, plus add a date stamp. What's missing here is built in user adjustable image stabilization, as found on the IXUS. The second featured folder of the two contains the set up menu, offering the ability to tweak various sound and start up options - there's no longer an extraneous separate menu folder within the Canon series for doing this - plus format the card in use or, lastly, reset all current settings.
Whilst the left hand side of the camera, if viewing it from the back, features a built-in speaker, to the right hand side we find a rubber flap, flipped open with the aid of your thumbnail, that protects three ports for, variously, mains power in, AV out and USB in. This rubber flap feels a little flimsy and we can see it tearing off following prolonged use, but then what else can one reasonably expect for the pocket money price?
The base of the camera is where the two AA batteries good for just 150 shots are inserted, sharing a compartment with the slot for the optional but essential media card. Just off centre is the customary screw thread for attaching the A495 to a tripod if so desired. So far, much as expected. So what of the images the camera produces. Do these transcend or betray its budget status in terms of quality? Read on to find out…