Canon PowerShot A495 Review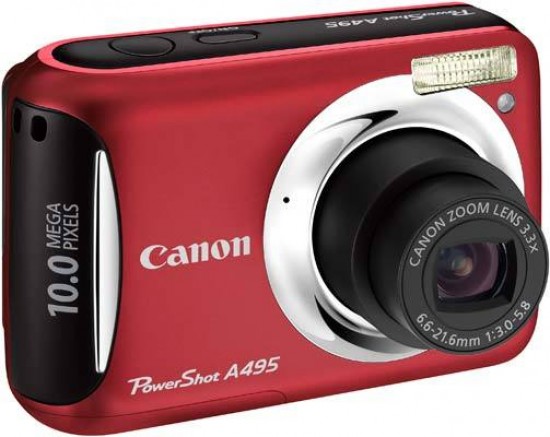 Image Quality
All of the sample images in this Review were taken using the 10 megapixel Fine JPEG setting, which gives an average image size of around 2.5Mb.
For an auto everything camera, and, especially given the price, the A495 puts in a commendably consistent performance, with even exposures and crisp, colourful shots when conditions are ideal (for which read: clear, blue skies). The Super Vivid and Poster Effect settings from among the scene modes are fun under such circumstances without being over the top, and do return surprisingly usable results. Even when left on default settings, red, greens and blues are nicely to the fore.
OK, so inevitably there are the usual bugbears for this class of camera present such as purple fringing between areas of high contrast, but this is no more in evidence than with compacts costing twice the A495's almost pocket money outlay. At least the fact that the lens doesn't go all that wide means that we don't suffer from barrel distortion at the extremities of the zoom, and such framing limitations also prompt the user to be a little more considered lining up their shots, which isn't always a bad thing.
And yes, images taken at maximum zoom are sometimes a little soft, but nothing unexpected here either. In fact, for general photography the results from the A495 are slightly better than the budget tag would suggest and on a par with the more expensive, outwardly more sophisticated pocket IXUS models.
In terms of low light photography without flash, the A495 gave a pretty similar performance to the IXUS 105 we tested alongside it, with a clean bill of health up to and including ISO 400, slight softening of detail at ISO 800 and then noise intruding more noticeably, but not ruinously, at ISO 1600 setting.
So, while the images the Canon Powershot A495 produces are not up there with the best we've ever seen, for its beginner market they're better than expected.
Noise
There are 6 ISO settings available on the Canon Powershot A495. Here are some 100% crops which show the noise levels for each ISO setting:
| | |
| --- | --- |
| ISO 80 (100% Crop) | ISO 100 (100% Crop) |
| | |
|   |   |
| ISO 200 (100% Crop) | ISO 400 (100% Crop) |
| | |
|   |   |
| ISO 800 (100% Crop) | ISO 1600 (100% Crop) |
| | |
Sharpening
Here are two 100% crops which have been Saved as Web - Quality 50 in Photoshop. The right-hand image has had some sharpening applied in Photoshop. The out-of-the camera images are a little soft at the default setting ideally and benefit from some further sharpening in a program like Adobe Photoshop. You can also change the in-camera sharpening level to suit your tastes via the My Colors menu option.
| | |
| --- | --- |
| Original (100% Crop) | Sharpened (100% Crop) |
| | |
|   |   |
| | |
Chromatic Aberrations
The Canon Powershot A495 handled chromatic aberrations well during the review, with some limited purple fringing present around the edges of objects in certain high-contrast situations, as shown in the examples below.
| | | |
| --- | --- | --- |
| Example 1 (100% Crop) | Example 2 (100% Crop) |   |
| | |   |
Macro
The Canon Powershot A495 offers a Macro setting that allows you to focus on a subject that is just 1cm away from the camera when the lens is set to wide-angle. The first image shows how close you can get to the subject (in this case a compact flash card). The second image is a 100% crop.
| | |
| --- | --- |
| Macro Shot | 100% Crop |
| | |
Flash
The flash settings on the Canon Powershot A495 are Auto, Flash On, Slow Synchro, and Flash Off, with Red-eye Correction and Red-Eye Lamp settings available via the Flash Settings main menu option. These shots of a white coloured wall were taken at a distance of 1.5m.
| | |
| --- | --- |
| Flash Off - Wide Angle (37mm) | Auto Flash - Wide Angle (37mm) |
| | |
|   |   |
| Flash Off - Telephoto (122mm) | Auto Flash - Telephoto (122mm) |
| | |
And here are some portrait shots. As you can see, neither the Flash On setting or the Red-Eye Correction option caused any amount of red-eye.
| | |
| --- | --- |
| Flash On | Flash On (100% Crop) |
| | |
|   |   |
| Red-eye Correction | Red-eye Correction (100% Crop) |
| | |
Night Shot
The Canon Powershot A495's maximum shutter speed is 15 seconds in the Long Shutter mode, which is good news if you're seriously interested in night photography. The shot below was taken using a shutter speed of 1/6th second at ISO 800. I've included a 100% crop of the image to show what the quality is like. The camera takes the same amount of time again to apply noise reduction, so for example at the 10 second setting the actual exposure takes 20 seconds.
| | |
| --- | --- |
| Night Shot | Night Shot (100% Crop) |
| | |