Canon PowerShot D20 Review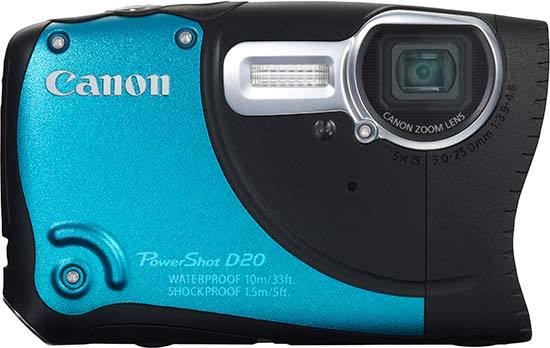 Image Quality
All of the sample images in this review were taken using the 12 megapixel Fine JPEG setting, which gives an average image size of around 3Mb.
Noise
We were looking forward to testing the ISO settings of the Canon PowerShot D20. The new HS technology should make it a lot better at noise control, as it will allow you to ramp up the ISO further than what was possible in the D10. However, we're not here to compare between the two, it's just useful to have a benchmark. Low ISO performance of the D20 is exceptional. At ISO 100, you can be mistaken for looking at a picture from a larger sensor camera. Edges are sharp and surfaces are smooth with not an iota of noise. ISO 200 and ISO 400 yield similar results although at full magnification it's possible to see an ever-so-slight drop in sharpness. Subjects out of the focus field appear rough as though affected by noise.
ISO 800 sees a surge in noise but nowhere near the scale that we're used to seeing on a digital compact camera. Again we had to go to full magnification to get an idea of the changes that are happening to the picture. There's a slight roughing of edges and noise is starting to creep in. Go to ISO 1600 and there's a definite increase in noise presence. Image quality starts to break down to intolerable levels. If you need to go to ISO 1600 or higher, use a flash in low light and keep the ISO down. Although noise has invaded all parts of the photograph at this stage, the picture isn't in a place where it can't be used. Colour is widespread through images at this setting and edge definition has been compromised but you can still see detail and colour.
There are 6 ISO settings available on the Canon PowerShot D20. Here are some 100% crops which show the noise levels for each ISO setting.
| | |
| --- | --- |
| ISO 100 (100% Crop) | ISO 200 (100% Crop) |
| | |
|   |   |
| ISO 400 (100% Crop) | ISO 800 (100% Crop) |
| | |
|   |   |
| ISO 1600 (100% Crop) | ISO 3200 (100% Crop) |
| | |
Sharpening
We used the Unsharp Mask tool to see if sharpening could benefit the Canon PowerShot D20 pictures. We're impressed with the sharpness but using a sharpness tool in an editing suite will benefit.
| | |
| --- | --- |
| Original (100% Crop) | Sharpened (100% Crop) |
| | |
Chromatic Aberrations
We think the 5x lens suffers quite a lot and this is especially evident in the chroma images. We found it present in nearly every photograph. It's the worst at the edges of the frame where all lenses decrease in quality.
| | |
| --- | --- |
| Example 1 (100% Crop) | Example 2 (100% Crop) |
| | |
|   |   |
| Example 2 (100% Crop) |   |
| |   |
Macro
The macro feature of the Canon PowerShot D20 is phenomenal. At wide-angle, the camera can focus at practically point blank range. This is most likely for the underwater macro mode.
| | |
| --- | --- |
| Macro Shot | 100% Crop |
| | |
Flash
With the flash off, the wide angle setting causes a definite vignette at the corners of the frame. The loss of light is even throughout. At full zoom, there's still faint darkness at the corners which is unfortunate. We put it down to the lens being more geared up for underwater photography. Adding flash exacerbates the vignetting at wide-angle but does eradicate it at full zoom.
| | |
| --- | --- |
| Flash Off - Wide Angle (28mm) | Flash On - Wide Angle (28mm) |
| | |
|   |   |
| Flash Off - Telephoto (140mm) | Flash On - Telephoto (140mm) |
| | |
There are two Red-Eye reduction options when flash with Red-Eye has been selected. They're accessed by pressing the menu button in flash with Red-Eye. Pressing menu brings up the Red-Eye correction and lamp. There are four combinations and all are as effective as each other. In fact we didn't get any Red-Eye in the first place. The inclusion of that menu at this point is brilliant. It prevents the need to scrawl through menu systems wasting time.
| | |
| --- | --- |
| Flash On | Flash On (100% Crop) |
| | |
|   |   |
| Red-eye Correction | Red-eye Correction (100% Crop) |
| | |
Night
The Canon PowerShot D20 has a proper night shot mode which goes on step further than traditional ones. Canon have named it Long Shutter mode and in the function menu it allows you to adjust the shutter speed from 1 second to 15 seconds. In Program mode, the camera won't allow long enough exposures for night shooting on a tripod.
| | |
| --- | --- |
| Night Shot | Night Shot (100% Crop) |
| | |