Canon PowerShot SX160 IS Review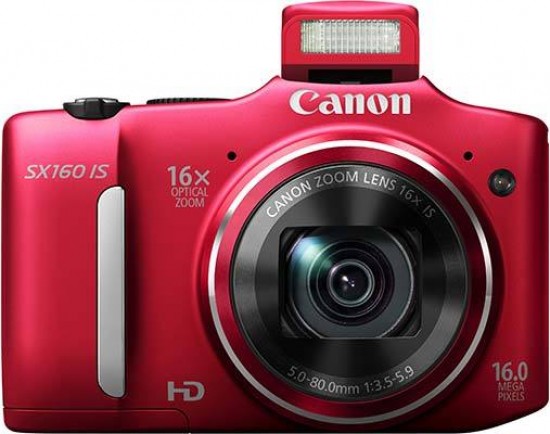 Image Quality
All images were taken at full resolution on the highest quality setting unless otherwise stated. File sizes range from 4.5Mb to 9Mb in size in Superfine quality.
Noise
At normal viewing distances, the noise performance of the Canon PowerShot SX160 IS looks good. Magnify to 100% and there's slight issues that can be seen in darker areas of images. Edge definition doesn't look as sharp as it could be and while there's no colour noise showing, there appears to be traces of salt and pepper noise. By ISO 200, noise is already showing through as slight amounts of green colouring. This is seen more detailed at full size magnification but slight casts of colour in particular areas can be seen too. As the stages start to increase, the noise to signal ratio closes and noise becomes even more evident. At ISO 400 there are artefacts visible and colour noise is starting to come through more forcefully.
ISO 800 and 1600 show a lot of noise and the image detail starts to suffer at the top setting. Mercifully, Canon have capped the ISO at 1600 on the SX160 – possibly another nod to the 160 designation along with the 16 megapixel resolution and 16x optical zoom. At ISO 1600, edge detail is still present but it would definitely go if there was another higher ISO 3200 option.
There are 5 ISO settings available on the Canon PowerShot SX160 IS. Here are some 100% crops which show the noise levels for each ISO setting.
| | |
| --- | --- |
| ISO 100 (100% Crop) | ISO 200 (100% Crop) |
| | |
|   |   |
| ISO 400 (100% Crop) | ISO 800 (100% Crop) |
| | |
|   |   |
| ISO 1600 (100% Crop) |   |
| |   |
Focal Range
The focal length of the Canon PowerShot SX160 IS is 16x optical which gives a 28-448mm equivalent in 35mm terms. If you're not sure what that means; if you had a full-frame digital camera or a film camera that takes standard 35mm film, the zoom would be 28-448mm. As the sensor is much smaller than 35mm, it works in a different way. The actual zoom range is 5.0-80.0mm and the 35mm equivalent is found by up-scaling.
| | |
| --- | --- |
| 28mm | 448mm |
| | |
Sharpening
Pictures from the Canon PowerShot SX160 IS are sharp enough without the need for additional help from an editing suite. Our sample shots sharpened in Adobe Photoshop CS4 looked worse afterwards.
| | |
| --- | --- |
| Original (100% Crop) | Sharpened (100% Crop) |
| | |
|   |   |
| | |
Chromatic Aberrations
We managed to find traces of chromatic aberration in areas that had a high contrast and definite edge. We did see evidence of it in bokeh areas too but couldn't confirm that it wasn't simply lens flare. It mostly appears at the edges of the frame as is usually the case. The best example of CA is the brickwork that shows purple and green lines on opposing sides of the bricks.
| | |
| --- | --- |
| Chromatic Aberrations 1 (100% Crop) | Chromatic Aberrations 2 (100% Crop) |
| | |
|   |   |
| Chromatic Aberrations 2 (100% Crop) |   |
| |   |
Macro
Close focusing of the Canon PowerShot SX160 IS is 1cm which is great. We couldn't get it that close, more like around 1.5 – 2cm. Centre sharpness is excellent but fall off happens very quickly with what looks like chromatic aberration appearing closer to the centre of the frame.
| | |
| --- | --- |
| Macro | Macro (100% Crop) |
| | |
Flash
The flash of the Canon PowerShot SX160 IS is sat over the centre of the camera and is a pop-up variety. The button to activate it is just above the screen. The black button makes it look like a traditional viewfinder. At wide-angle there's traces of vignetting at the corners of the frame. Using flash exacerbates the vignette instead of eradicating it. At full zoom, the flash is a more even spread.
| | |
| --- | --- |
| Flash Off - Wide Angle (28mm) | Flash On - Wide Angle (28mm) |
| | |
|   |   |
| Flash Off - Telephoto (448mm) | Flash On - Telephoto (448mm) |
| | |
After pressing the flash options button on the navigation wheel, you can press menu and a separate flash menu appears with four options: Flash exposure compensation, Red-eye correction, Red-eye lamp and Safety FE. We tested portraits with flash using the correction and lamp on their own and together. However, we didn't get any red-eye even with them both off so we couldn't test it's effectiveness.
| | |
| --- | --- |
| Flash On | Flash On (100% Crop) |
| | |
|   |   |
| Red-eye Reduction | Red-eye Reduction (100% Crop) |
| | |
Night
There are three options available on the Canon PowerShot SX160 IS to get night shots. The night scene will take away all control from you to get a balanced exposure at whatever cost. In our test shot taken just before sunrise, the camera pushed the ISO to 1600 giving a noisy result even with the aperture at f/3.5 and using a slow 1/20sec shutter speed.

We switched to program to control the ISO and got a more noiseless picture but the exposure was longer at just under a second. We also tried the Tv option. We ran an exposure for 15 seconds which looked balanced on the screen of the camera but is actually over exposed. Still, it gives an example of exactly what you can do with the SX160.
| | |
| --- | --- |
| Night Scene | Night Scene (100% Crop) |
| | |
|   |   |
| Night Program | Night Program (100% Crop) |
| | |
|   |   |
| Night Shutter-priority | Night Shutter-priority (100% Crop) |
| | |