Canon PowerShot SX200 IS Review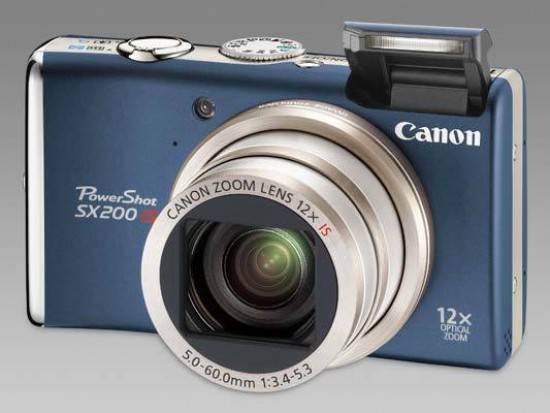 Introduction
The PowerShot SX200 IS represents Canon's first foray into the travel-zoom compact camera market, and it certainly offers a lot of features on paper. There's a 12x, 28-336mm optical zoom lens with built-in image stabilizer, 12 megapixel CCD sensor, 3 inch LCD screen, Digic 4 image processing engine, 720p HD Movie Mode, plus Smart Auto mode with Scene Detection Technology and Easy mode for beginners. The Canon SX200 IS also offers Face Select & Track, FaceSelf-Timer and Auto Red-Eye Correction to help you capture better-looking portraits, and there's a full range of manual exposure modes for more experienced photographers looking to take control. Priced at $349.99 / £359.00 / €429.00 and available in black, blue and red, can the Canon PowerShot SX200 IS challenge the current travel zoom king, the Panasonic Lumix SX200 IS? Carry on reading to find out...
Ease of Use
The Canon PowerShot SX200 IS camera just about fits in the palm of my medium sized man's hands, but it's definitely erring on the large, elongated and bulky side of compact. It's also a little bit heavier and bigger than its main competitor, the Panasonic Lumix DMC-TZ7, especially in depth, although there's only 5mm or so difference between the two. Canon have somehow squeezed in a 12x zoom lens, equivalent to a focal range 28-336mm on a 35mm camera, which provides a versatile focal range that will cover almost every photographic situation that you'll ever encounter. It's not quite as wide as the TZ7's 25-300mm lens, but you do get the additional telephoto range. The Canon PowerShot SX200 IS' lens is significantly bigger though - it extends by 3.75cms even when set to wide-angle, reaching nearly 6cms at maximum telephoto, making it a bit more conspicuous in a crowd.
The 28mm wide angle focal length provides an entirely new viewpoint that can only increase your creativity. Take it from me, you won't want to go back to a "standard" 35mm zoom after using the 28mm lens on the SX200 IS - it's much more appealing than the lenses that most other Canon compacts offer. The 12x zoom lens obviously makes this one of the most versatile compacts around in terms of focal range, especially as it is coupled with Canon's excellent Image Stabilizer, which helps to ensure that the majority of photos taken in good light are sharp, providing 4 stops of compensation. The SX200's lens isn't particularly fast at either the wide-angle or telephoto settings though, with maximum apertures of f/3.4 and f/5.3 respectively.
The Canon PowerShot SX200 IS is a well-built camera with a high quality metal body, with our review sample finished in an attractive metallic blue with silver accents. The design is dominated by the large 12x lens on the front and the large 3 inch LCD screen on the rear. There is no optical viewfinder, which follows a recent trend in digital cameras, and this does make the camera a little harder to keep steady at the telephoto end of the zoom than holding it up to your eye. The hand-grip on the SX200 is unfortunately of the shiny, smooth variety which doesn't make it particularly easy to hold, although there is a, indented thumb-rest on the rear.
The SX200 IS is well-made overall, although there are a couple of external controls that don't instill much confidence. The tripod socket is made of plastic and is inconveniently located in the left-corner of the bottom of the camera. Even more puzzling is the built-in flash, which inexplicably pops-up for every shot, regardless of whether you're using flash or not - and worse, it can't be pushed down again. This effectively means that it looks like you're always using the flash, even if you aren't, which will only cause unwanted attention in locations like museums and anywhere else that flash is prohibited. It's one of the most bizarre design decisions that I've seen in recent memory. Finally, the cheap plastic cover of the HDMI / AV Out ports seems out of keeping with the rest of the camera.
| | |
| --- | --- |
| | |
| Front | Rear |
Even though this is camera offer a full range of manual exposure modes, the Canon PowerShot SX200 IS is not overly complex in terms of the number of external controls that it has. The majority of the 10 controls are clearly labeled and common to most cameras, and are certainly instantly familiar if you've used any Canon compact from the last few years. There's a traditional dial on the top of the camera that lets you select the various shooting and scene modes. This dial is a typical feature of SLR cameras, and enables you to quickly change between the various modes, a sensible move given that there are 13 different modes to choose from. The shooting mode dial has a nice positive action with an audible click and isn't easily disturbed when stored in a pocket or bag. Also found on the top of the camera are the annoying pop-up flash, On/Off button, a large and responsive zoom lever, and the shutter button.
The rear of the camera is dominated by the 3 inch LCD screen. This is the only way of framing your shots, so if you have to have an optical viewfinder, look elsewhere now. I found that it coped well with the majority of lighting conditions, although the pixel count of 230k dots is a little on the low side for such a big screen, resulting in a slightly grainy display. You can directly access the various focus and flash options by clicking left and right on the navigation pad, whilst up and down are respectively used to set the exposure compensation and timer options. There is sadly no dedicated button for ISO speed, which is a commonly used feature, although you can work around this by optionally setting the Print Transfer button to one of 7 available options (which include ISO speed). The Function/Set button in the middle of the navigation pad opens a sub-menu, which allows you to set metering, colours, white balance, ISO speed, flash power, continuous shooting and image size/quality settings. This system is a good compromise given the size of the SX200's LCD screen and therefore the limited space for external controls.
The menu system on the Canon Powershot SX200 IS is extremely straight-forward to use and is accessed by a dedicated button underneath the navigation pad. Quite a lot of the camera's main settings, such as white balance, exposure compensation and ISO speed, are accessed elsewhere, so the main menu system isn't actually that complicated. A row of 2 icons along the top of the LCD screen represents the Camera and Setup sub-menus, with most of the options being the kind that you set once and then forget about. Due to the very large and bright LCD screen, the various options are easy to access and use, especially as only 6 are shown onscreen at one time. Image stabilisation can only be turned on through the SX200 IS's menu system, but this isn't really a problem in practice, as I left it turned on for 99% of the time without negatively affecting the battery life.
If you have never used a digital camera before, or you're upgrading from a more basic model, reading the comprehensive and fairly easy-to-follow manual before you start is a good idea. Unfortunately Canon have chosen to cut costs and only supply the full manual as a PDF on a CD, rather than in printed format (there's just a short printed guide to the camera's basic features). Not much use if you're taking pictures and need to find out what a particular option does.
| | |
| --- | --- |
| | |
| Front | Front |
The Canon Powershot SX200 IS offers Program and a comprehensive range of different scene modes aimed at the user who just wants to point and shoot, making this camera particularly well-suited to the beginner. The SX200 IS also offers Smart Auto Mode. Similar to Panasonic's Intelligent Auto, Smart Auto Mode automatically determines the subject's brightness, contrast, distance and overall hue, then selects the best scene setting from 18 possible modes, which is more than most competitors. The SX200 IS uncannily selected the right kind of scene mode for almost every environment that I tried it in. There's also the improved Easy Mode, where the camera automatically sets every shooting setting, preventing the inexperienced user from changing anything at all, apart from turning the flash on and off. In addition Easy Mode works in the same way as Smart Auto Mode - it really does turn the SX200 IS into a true point and shoot camera, perfect for use by children for example.
The SX200 also has a comprehensive Face Detection system that makes it easier to take great portraits. It detects up to 35 faces in a shot and adjusts the focus, exposure, flash settings and white balance automatically. The Face Select & Track feature allows a particular face to be chosen as the principal subject in a photo, and ensures that that face is always sharp and well exposed. FaceSelf-Timer is a novel idea that makes group photos much easier, automatically taking the shot when an extra face is detected in the frame, so that you can join in rather than be stuck behind the camera.
More experienced photographers will be delighted to hear that Aperture-priority, Shutter-priority and full Manual shooting modes are also available. With apertures ranging from f/3.4 to f/8 and shutter speeds from 15 - 1/3200 sec, this is a real advantage over the Panasonic Lumix DMX-TZ7, which doesn't offer any such controls. The navigation pad on the rear of the camera is surrounded by a thin control wheel that's used to set the aperture and shutter speed, either by moving it anti-clockwise to choose a lower value, or clockwise to choose a higher one. It's reminiscent of the much larger control wheels found on the back of most Canon DSLRs, but due to its tiny dimensions on the SX200, it is more difficult to control than I'd like (although still more welcome than repeatedly pressing either up/down or left-right on the navigation pad).
The HD video capability of the SX200 IS is one of the major features of this camera. The SX200 IS can record 720p video at 1280x720 pixels at 30 or 15 fps in the Quicktime .MOV format. Unfortunately this format choice results in some massive file sizes that quickly fill up your memory cards, which doesn't compare well to the Panasonic Lumix DMC-TZ7's more frugal AVCHD Lite and Motion JPEG formats. Sound quality is also less impressive on the SX200 IS, with the usual background noise that accompanies movies shot with cameras that only have mono sound. Even worse, you can't use the optical zoom at all during movie recording (there's an optional 32x digital zoom setting instead), and areas of the video will be blurred before becoming sharp again as the camera tries to refocus. The HDMI port allows you to connect the SX200 IS to a high-def TV set, but only if you purchase the optional HDMI mini-cable. The SX200 is certainly no replacement for a dedicated camcorder, and doesn't compare well to its main competitor.
| | |
| --- | --- |
| | |
| Memory Card Slot | Battery Compartment |
The Canon Powershot SX200 IS has an anti-shake system, dubbed IS Mode - turn it on in the menu system and the SX200 IS automatically compensates for camera shake, which is a slight blurring of the image that typically occurs at slow shutter speeds. There are three different modes. Continuous is on all the time including image composition, Shoot Only is only on when you press the shutter button, and Panning as the name suggests is best when using the camera to track a moving subject. In practice I found that it does make a noticeable difference, as shown in the examples on the Image Quality page. You don't notice that the camera is actually doing anything different when anti-shake is turned on, just that you can use slower shutter speeds than normal and still take sharp photos. As part of a belt and braces approach, the anti-shake system is also newly backed up by motion detection technology that assesses camera or subject movement. The latter is effectively what rivals would refer to as digital anti-shake, as, activated in high ISO auto mode, it boosts ISO to a level (between ISO 80-800) it considers will compensate without hopefully introducing too much noise. Still, you do get both in the same camera.
The start-up time from turning the Canon PowerShot SX200 IS on to being ready to take a photo is quick at around 2 seconds. Zooming from the widest focal length to the longest is very slow at around 4 seconds, but focusing is quick in good light and the camera achieves focus most of the time indoors or in low-light situations, even at the tele-photo end of the lens in low-light situations, helped by the focus-assist lamp. It takes about 1 second to store an image, allowing you to keep shooting as they are being recorded onto the memory card - there is a very brief LCD blackout between each image. The Canon PowerShot SX200 IS has a much slower continuous shooting mode than the Panasonic Lumix DMC-TZ7, which enables you to take just 0.8 frames per second at the highest JPEG image quality for an unlimited number of frames (the TZ7 offers 1.8fps for unlimited shots or 2.3fps for up to 3 Fine JPEG images).
Once you have captured a photo, the Canon Powershot SX200 IS has a good range of options when it comes to playing, reviewing and managing your images. You can instantly scroll through the images that you have taken, view up to 100 thumbnails, zoom in and out up to 10x magnification and filter images by date, category. folder and file type. You can also view slideshows, delete, protect, resize, trim and rotate an image, and set the print order and the transfer order. The Red-eye Correction options fixes red eye after you have taken a photo (useful if you forgot to activate it before) and i-Contrast improves the shadow/brightness areas, with Auto and Low, Medium and High settings (if you select i-Contrast before taking a photo, only Auto and Off settings are available). MyColors allows you to apply any of the 10 different effects on offer to a photo. The Display button toggles detailed settings information about each picture on and off, such as the ISO rating and white balance, and there is a small histogram available during playback which is helpful in evaluating the exposure. A third press of the Display button shows the image alongside a small, magnified section, useful for quickly checking the sharpness.
The Canon PowerShot SX200 IS is a fairly compact camera that offer an incredibly versatile focal range, intuitive handling a range of shooting modes that will suit both beginner and keen shutterbug alike. The flawed HD movies, slow burst shooting rate, and curious pop-up flash are somewhat less impressive though.