Canon PowerShot SX210 IS Review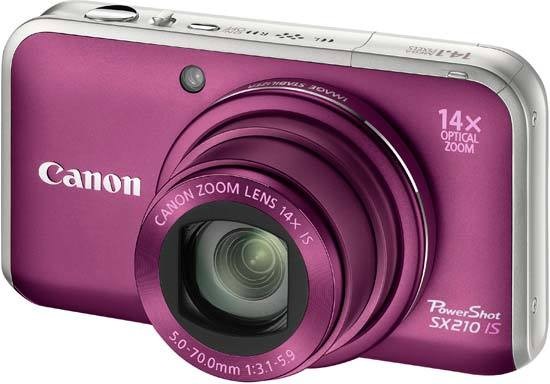 Image Quality
All of the sample images in this Review were taken using the 14 megapixel Fine JPEG setting, which gives an average image size of around 3.5Mb.
With images appearing warm and colourful in the main, without at any point looking unnatural, and displaying a good level of sharpness to boot, we found it hard to find fault with the SX210 IS' results when used for a general selection of subject matter; if anything the pixel count-diminishing (and so image softening) low light mode being less successful than the other recording mode options. The miniature and fisheye effects are a welcome addition to Canon's, er, cannon in adding a fun element, and we found our test attempts when utilising such modes were largely successful.
As our white wall test shots demonstrate there is visible barrel distortion when examining images taken at maximum wideangle setting, though Canon claimed to us that the make up of the lens has ensured such aberrations are kept as subtle as possible. They're at a level that we can live with certainly, in that busier scenes hide anything 'wrong'.
For the asking price the ISO range we're presented with via the SX210 IS (IS O80-1600) is modest. But a larger pixel count can mean more danger of image noise ruining a shot at the higher settings, and by capping proceedings at ISO 1600 Canon has played it safe. As on competing models, here we get a clean bill of health in terms of intrusive noise up until ISO 800 at full resolution, and even though detail is softening at ISO 1600, we were able to achieve pictures that were still useable.
In aiming to appeal to as broad a customer base as possible, the SX210 IS works best when viewed as a general-purpose snapper. This then allows room for one to occasionally be pleasantly surprised with the results - which indeed we were.
Noise
There are 6 ISO settings available on the Canon Powershot SX210 IS. Here are some 100% crops which show the noise levels for each ISO setting:
| | |
| --- | --- |
| ISO 80 (100% Crop) | ISO 100 (100% Crop) |
| | |
|   |   |
| ISO 200 (100% Crop) | ISO 400 (100% Crop) |
| | |
|   |   |
| ISO 800 (100% Crop) | ISO 1600 (100% Crop) |
| | |
Sharpening
Here are two 100% crops which have been Saved as Web - Quality 50 in Photoshop. The right-hand image has had some sharpening applied in Photoshop. The out-of-the camera images are a little soft at the default setting ideally and benefit from some further sharpening in a program like Adobe Photoshop. You can also change the in-camera sharpening level to suit your tastes via the My Colors menu option.
| | |
| --- | --- |
| Original (100% Crop) | Sharpened (100% Crop) |
| | |
|   |   |
| | |
Chromatic Aberrations
The Canon Powershot SX210 IS handled chromatic aberrations excellently during the review, with very limited purple fringing present around the edges of objects in certain high-contrast situations, as shown in the example below.
Example 1 (100% Crop)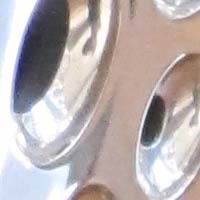 Macro
The Canon Powershot SX210 IS offers a Macro setting that allows you to focus on a subject that is 5cms away from the camera when the lens is set to wide-angle. The first image shows how close you can get to the subject (in this case a compact flash card). The second image is a 100% crop.
| | |
| --- | --- |
| Macro Shot | 100% Crop |
| | |
Flash
The flash settings on the Canon Powershot SX210 IS are Auto, Flash On, Slow Synchro, and Flash Off, with Red-eye Correction and Red-Eye Lamp settings available via the Flash Settings main menu option. These shots of a white coloured wall were taken at a distance of 1.5m.
| | |
| --- | --- |
| Flash Off - Wide Angle (28mm) | Auto Flash - Wide Angle (28mm) |
| | |
|   |   |
| Flash Off - Telephoto (392mm) | Auto Flash - Telephoto (392mm) |
| | |
And here are some portrait shots. As you can see, neither the Flash On setting or the Red-Eye Correction option caused any red-eye.
| | |
| --- | --- |
| Flash On | Flash On (100% Crop) |
| | |
|   |   |
| Red-eye Correction | Red-eye Correction (100% Crop) |
| | |
Night Shot
The Canon Powershot SX210 IS's maximum shutter speed is 15 seconds in the Long Shutter mode, which is good news if you're seriously interested in night photography. The shot below was taken using a shutter speed of 1/15th second at ISO 400. I've included a 100% crop of the image to show what the quality is like. The camera takes the same amount of time again to apply noise reduction, so for example at the 10 second setting the actual exposure takes 20 seconds.
| | |
| --- | --- |
| Night Shot | Night Shot (100% Crop) |
| | |