Canon PowerShot SX500 IS Review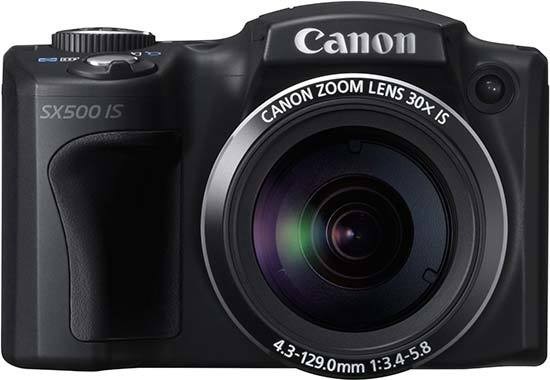 Introduction
The Canon PowerShot SX500 IS is a super-zoom bridge type camera that sports a 30x, 24mm wide-angle zoom, lens, 16 megapixel resolution, 3 inch LCD screen, 720p movies, full manual controls and a Digic 4 processor. Other standout features include a Smart Auto mode that detects 32 scenes, ISO 100-1600, Zoom Framing Assist, and a range of Creative Filters. Priced at the £279 / $329.99 mark, the Canon SX500 is available in any colour as long as it's black.
Ease of Use
The design of the Canon PowerShot SX500 IS will instantly put some people off. Those looking for something pocketable or - at the opposite end of the spectrum - those wanting something big and chunky won't like it. The camera seems to be able to take the rough shape of a cube while not being very big. It's certainly not a camera for the pocket. The 30x optical zoom lens has seen to that. Jutting proudly out of the body like a Peacock displaying it's feathers, the lens comes with it's own lens cap. As you switch the Canon PowerShot SX500 IS on, the lens will poke out by around 1cm and get much longer as the camera zooms in.
The top end of the zoom doesn't actually end there either. There's a 60x smart zoom on top of the 30x optical zoom. Now the great thing about that is it uses the same resolution as the smaller zoom. However, the compression is much lower recording roughly half the information. There's also a digital zoom that crops into the sensor and enlarges it. Effectively pixels are then enlarged and the image quality suffers.
| | |
| --- | --- |
| | |
| Front | Rear |
A pop up flash sits on top of the lens barrel and the flash options on the back of the Canon PowerShot SX500 IS won't come on until the flash has been lifted. It's a mechanical action, not electronic. To the right is a deep grip for single hand shooting; which is entirely possible. The small power button is located next to the large command dial. The latter holds all shooting commands for  immediate changes to your photography.  There are manual programmable modes such as Manual, Aperture priority, Shutter priority and Program as well as preset modes such as Live, Auto, Scenes, Digital effects and Discreet. There's also a video mode but you can have direct access to video recording by pressing the red button on the back of the camera.
All these features are found on other digital bridge type cameras such as this Canon PowerShot SX500 IS. There is a mode of note that really helps with framing and composition. On the left of the lens barrel is a button with a square that has four arrows shooting out of each corner on it. If you want to zoom out a little just to miss out a bit of overhanging building or crop a person out, you can hold this button and zoom as normal. The Zoom Framing Assist will retain the wide-angle screen but show a virtual zoomed in square on the screen. You can then decide what to zoom in and crop out before releasing the button. Upon releasing, the camera will zoom to the point that you decided on.
| | |
| --- | --- |
| | |
| Front | Side |
By today's standards, the Canon PowerShot SX500 IS's 16 megapixel resolution is relatively modest. It's fair to say that there's nothing wrong with this and more people are starting to understand this. More importantly, manufacturers have realised that resolution doesn't sell anymore.
The Canon PowerShot SX500 IS is very well made. It's on the underside of high priced so has all the usual bits and bobs you'd expect to see on a camera at this price such as a metal tripod bush and a metal body. The battery is lithium-ion which is located under the camera. The door to the battery compartment has a lock but just has to be pulled harder with your thumb and it will open. It would be nice to see a more physical lock. Metal has been used under the battery door to keep it rigid which is great.
Speaking of rigid, the Canon PowerShot SX500 IS's lens is something else! It's rock solid in the body and even at full zoom we couldn't detect any play. The rest of the buttons are firm to press while the menu wheel on the back is pleasantly spirited as it zooms through modes. The command dial is a bit too tough for our tastes, but it could loosen up over time. The smallness of the body can make it a bit odd to hold if you have large hands. The general way of holding a camera with a large lens is to scoop the left hand under the lens barrel. This will ensure more steadiness when zooming. However, with a small camera such as the SX500, hands have to overlap hands and it all feels a bit awkward.
| | |
| --- | --- |
| | |
| Top | Pop-up Flash |
Then menu is extremely easy to use. As with all Canon digital compact cameras the user interface is intuitive and nicely coloured so it's easy to work out where you are and where you need to go next. The menu system will change depending on the level you set the camera at. For example, if you have the camera in Auto, the number of options available to you are vastly smaller than if the camera is in Program. These two modes do pretty much the same thing but in Program you get to choose advanced features such as ISO, white-balance and metering.
Start-up time is as fast as to be expected. We got times that we're used to seeing which is around 2.5 seconds.  The Canon PowerShot SX500 IS shares the same sensor and processor as the PowerShot SX160 IS which we recently reviewed. That has a slow continuous shooting speed of around 0.5fps (frames per second) and we thought maybe the SX500 may have some tweaking done to speed it up a bit. Unfortunately not as it gives the same performance.
| | |
| --- | --- |
| | |
| Memory Card Slot | Battery Compartment |
There are a number of ways to view the pictures you've already taken. You can look at the whole picture, view it with information, with detailed shooting information including a histogram, or a pixel peep option which we ended up using more than any other. It shows the picture in the top left corner with a zoomed in version in the bottom right. You can then crop into this and view the sharpness of the picture.
Delving into the menu, it's simple enough to follow. All features have been put on one screen with just only a print menu as an addition. You can do some basic editing here, erase pictures, protect and rotate them. Emphasis isn't so much on sharing pictures as it is on some other cameras. There's a slide-show option but that's pretty much it. In the print menu, you can preset pictures that you want printing if you use the Pictbridge facility. Pictbridge is a universal connection for printers and cameras. It means that if you have a Canon printer, you don't necessarily need a Canon camera to direct print.
In the box, there's the usual bag of mashings such as the camera, lithium ion battery and a charger with a figure eight lead. There's no memory card and it won't take pictures without one. There's a neck strap, USB cable and a lens cap. The manual has been put on a CD for convenience although there is a paper based start up guide. A Canon viewing program is on the CD too, called Solutions v.119.0.