Capture One Pro 10 Review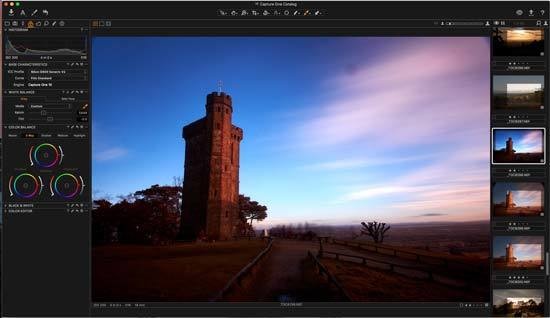 Ease of Use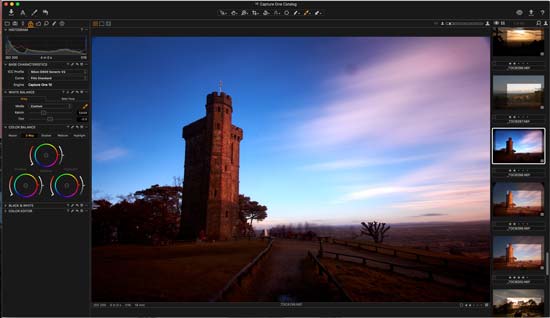 Great results straight from the camera is an encouraging promise from Phase One - Capture One Pro 10 should be easy to use. Thankfully, to a degree it really is. But there is the obvious caveat - to get the most out of the software especially with workflow, a bit of time is needed to explore just what is on offer. 
There are numerous video tutorials, adjustment guides and webinars available through the Phase One website, which should help get you started or familiar with various techniques and workflows. 
At a first glance, the default interface is laid out really well. A selected image is displayed in the middle of the screen, a filmstrip of images from the same folder on the right and a control panel on the left. Put simply, the layout is intuitive - items are placed where they need to be. 
To import new pictures, one can simply click on the import icon which can be found in the top left of the screen or in the middle of the screen for a catalogue import (or file>import) and then select from a folder. Memory cards are automatically detected.
There is a (mandatory) choice of placing the images in a 'session' based or 'catalogue' based workflow. Session workflows are geared more towards tethered shooting and smaller groups of images, while catalogue workflows serve to host one's entire image library. 
Catalogue workflows enable greater control over organisation than session workflows. For example, images can be placed into 'user collection' albums that are organised in the way you like, such as by theme or date. Handily, these folders are independent from the source location of the images. 
In both workflow types, capture images (that is, tethered shooting) and imported images are stored in separate folders. During import, photo filters can be batch applied for creative effects.
By determining the way you organise catalogues and folders in Capture One Pro 10 from the beginning, it is possible to navigate your way through years of images with relative ease.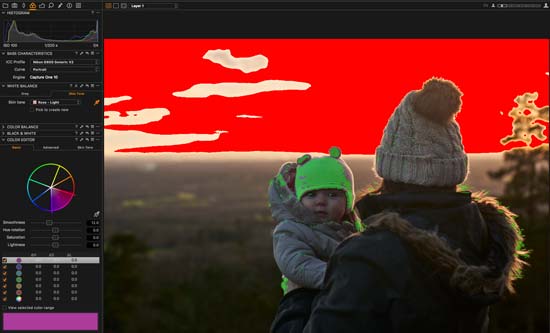 On the left hand side of the interface is the tool area, divided into several tool tabs; library (picture folders), capture (tethered capture options), lens (for lens corrections), colour (ICC profiles), exposure (adjustments), details (sharpening and noise reduction), local adjustments (adjustments for masks) and metadata (image information and keywords). 
Most of the individual tools, be it curves and sharpening, can be placed in a separate box for quick access using the 'Create Floating tool' option.
There is a second bar of tools that includes the crop, loupe, move and select functions among others. All tools are, or can be, close to hand for quick access. All in all the layout is great, with options for customising it how you like.
Overall, the user interface and layout is not too dissimilar to Adobe Lightroom, but at a push I prefer the layout of Capture One Pro plus there appears to be further variety for customisation.
In use, focus mask and exposure warning are handy tools for speedy primary checks over multiple images. Activate 'focus mask' and (by default) the areas in focus on all the pictures are highlighted green - out of focus shots can be discounted quickly. Likewise, the exposure warning tool shows blown highlights in red. 
Local adjustments can be made, with up to 16 layers on a single image, each of which can be manually named. For example, draw mask and gradient mask create a new layer.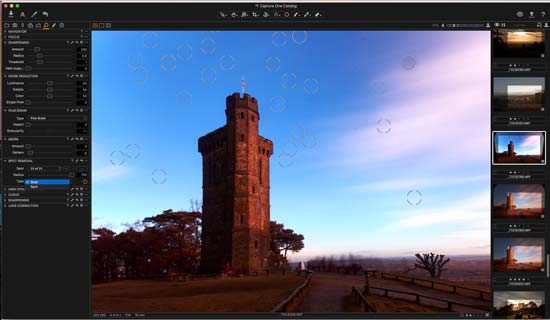 The fill mask function is superb - one can draw an outline with the draw mask tool and then click the fill mask option to instantly fill inside the outline. No holes remain, which is always a risk with solely manually drawing a mask. 
There is an omission of the equivalent to Lightroom's 'radial filter' which is a particularly handy tool for a quick mask application to large areas in an image. Using a large brush size in the draw mask tool is an acceptable alternative. 
Tethered capture is excellent and superior to the same function in Adobe Lightroom. With Capture One Pro there is compatibility with an extensive number of cameras (For a full list of compatible cameras see here: https://www.phaseone.com/en/Products/Software/Capture-One-Pro/Supported-Cameras.aspx). 
Once a camera is connected to the computer it is automatically detected. There is a comprehensive menu for making adjustments to camera controls and live view can be activated via the Window menu. 
In most cases tethered live view is supported (which for many is a useful if not essential feature for tethered shooting), plus control of most of the camera settings. Depending on the camera, there may be one or two camera settings that can only be selected in camera, such as drive mode. 
If tethered shooting is your thing, then Capture One Pro 10 is a delight. 
All in all, for basic operation it does not take long to get to grips with Capture Pro One, while there is more to explore as you continue to use the software. 
Your Comments