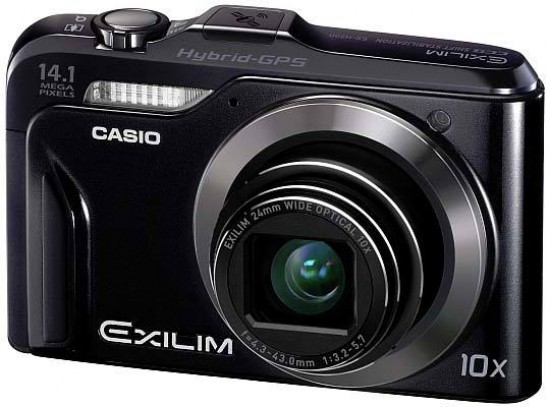 Introduction
The Casio EX-H20G is a new travel-zoom camera offering a 10x wide-angle zoom lens with a focal length of 24-240mm and CCD-shift image stabilization mechanism. The 14 megapixel H20G is the first Casio compact to feature GPS technology, complete with motion-sensor driven positioning, which makes it possible to track the camera's position even when there is no satellite signal. The camera is also pre-loaded with world atlas data and information on 10,000 landmarks around the globe. The EX-H20G additionally offers a large 3.0-inch LCD monitor with a resolution of 460,000 dots, 720p HD movies, 600-shot battery life and a fully automatic Premium Auto function for beginners. Available in black or silver/black, the Casio EX-H20G retails at £329 in the UK and $349.99 in the USA.
Ease of Use
Casio arguably pioneered the wafer-thin digital pocket camera we've come to know and love today, with the launch of its Exilim series almost a decade ago. But, as others have muscled in on that act over the last few years, most notably Sony with its T-series Cyber-shots, Casio has been looking to broaden its appeal further. Whether that be via ridiculously fast shooting speeds, its ever increasing zoom series or increasingly long battery life, with even its basic compact models now offering up to 1000 shots from a single charge - when the average from a competing compact brand is around 250.
So where does the brand turn now, and how does the Casio Exilim EX-H20G fit into the range? Well, it is a step up from the EX-H10 yet otherwise is very similar to the EX-H15 'high zoom' pocket model we reviewed last year. Like that camera this is a 10x optical zoom-sporting snapshot, with a focal range starting out at a wideangle 24mm in 35mm film terms and running up to 240mm at the telephoto end. In doing so it's as useful for shooting landscapes as it is for snapping group portraits as candid close ups from afar. Less welcome news is that the EX-H20G is expensive for a Casio compact, possessing a suggested retail price of £329. But it has a extra trick up its sleeve, more on which later.
The two cameras share very, very similar blocky styling and design, with the EX-H20G marginally taller. Like its close relative, the shoehorning in of a larger-than-average internally stacked zoom mechanism has necessitated a wider-than-average body design. This has also had the knock-on effect of causing this Casio to outwardly resemble a 'toughened' camera, when the EX-H20G is actually neither waterproof nor shockproof. With a high degree of metal detailing in the build however, it does feel very solid when held, and as if it would withstand the occasional drop or whack nevertheless. Official proportions are 102.5x67.5x28.8mm and the camera weighs 216g (marginally up on the EX-H15's 206g) with battery and card loaded, so whilst you'll certainly notice it in your pocket, it's in no way a heavy load. The solid feel also, to a degree, helps one to hold the EX-H20G steady when shooting handheld toward the extremities of the zoom. There's a gentle curve and raised edge to the bottom right hand corner of the faceplate, which forms the only concession to a handgrip of any sort.
So what else is different this time around? Well, the 'G' suffix added to the model name/number here subtly alludes to the fact that the camera includes a GPS facility - or rather something Casio is calling 'hybrid GPS' which it claims twins GPS positioning with a motion sensor. The latter is there so that the camera can still continue to determine the photographer's position if there is no GPS signal available - should you suddenly enter a cave or dungeon for example. The EX-H20G cleverly 'counts' your steps since your last known GPS position, while an integral compass provides an indication of direction. Clever stuff - potentially - and particularly useful if you're going potholing perhaps, but at the very least it's a point of difference from the other myriad point and shoots out there.
In its most basic terms this functionality boils down to the camera automatically revealing the photographer's location via a slender 'bulletin board' at the bottom of the LCD screen display when framing up a shot. But that's not all; the camera also functions as what Casio is calling a mini travel guide of sorts thanks to photos of 10,000 popular destinations - or 'photo opportunities' - having been pre-uploaded and stored, as a way of directing indecisive snappers to where their next visual masterpiece could potentially be shot.
So could the EX-H20G finally be the ultimate travel zoom compact that we at Photography Blog have long been searching for? Well, initial investigation of the GPS functionality led to the camera informing us that we lived in the neighbouring borough, but as the boundary line is a mere handful of streets away, we couldn't judge this slight miscalculation too harshly.
The other headline features ensure the rest of the must-have boxes are ticked. Whilst zoom power has remained the same as the earlier EX-H15, so has pixel power at 14.1 effective megapixels from a 1/2.3-inch CCD, both being an improvement on the 12.1 megapixel EX-H10. But whereas that earlier model made great play of being able to take users 'around the world' with a battery life of 1,000 shots, on the EX-H20G this drops to a less impressive (if still very respectable) 600, according to CIPA testing. So pack the charger - provided in the box with a mains lead - on this latest world trip.
Once again images are written to a choice of removable media, as long as it's SD, SDHC or SDXC card format. We've lost some of the EX-H15's 73.8MB internal capacity here, the EX-H20G managing a piffling 14.5MB by way of concession.
AS well as retaining the EX-H15's CCD shift stabilization to help prevent blur when shooting handheld at longer focal lengths or in low light, the EX-H20G also offers a large 3-inch LCD with better than expected 460,800-dot resolution screen. Added to the mix, there's also - but of course - 1280x720 pixels HD movie recording, here at a decent 30 frames per second (fps) and in H.264 compression format.
| | |
| --- | --- |
| | |
| Front | Rear |
One thing we did notice during our period with the EX-H20G was that, compared with most latest generation compacts and the 15x zoom Fuji FinePix S2800HD we had in at the same time, it was slightly sluggish to power up and down. Which, as this is conceivably a travel accomplice you'd want to whip out at a moment's notice in an unfamiliar location and have it ready for shooting as soon as possible, was slightly disappointing.
With a paucity of manual adjustments meaning that operation is mainly of the point and shoot variety, the Casio provides auto tracking AF, plus its own take on intelligent and smart auto functionality via the image enhancing Premium Auto function. This is secreted among its 27-strong 'Best Shot' scene and subject shooting modes, covering most common bases but here omitting the 'Art Shot' effects (watercolour, oil painting and the ilk) that were fun and surprisingly effective on the EX-H15; a shame if not a major loss.
What we do get here instead is a panorama function which impresses in operation mainly due to the machine gun-like noise of the camera taking a rapid sequence of shots as you pan with the camera in an arc - very similar in feel in that respect to shooting Sweep Panorama with a latest generation Sony Cyber-shot. Also like the Sony, the Casio stitches together the sequence in-camera automatically, so you're left with one elongated image. For photographers possibly wanting to include themselves in the picture, the Casio can further cope with shooting the full circular 360°.
Whilst it may be packing some new technology inside, like the EX-H15 from the front the EX-H20G looks smart if somewhat conventionally 'Exilim' in its square-ish design, an impression compounded by the regulation issue silver/grey of our test sample.
Whilst it's not without some style, the bulked-up appearance slightly reminiscent of the company's own G-Shock watches, the only thing initially marking this one out as a little different is an almost hotshoe-like hump above - and to the left of - the lens, upon which Casio has inscribed 'hybrid GPS'. This is where, according to the manual, the GPS antenna is housed. A couple of extra function buttons have been added to the top plate to implement the GPS feature further, and more on which in a moment.
The EX-H20G's dominates proceedings at the front of the camera. As expected it's retracted away within the body when the unit is inactive, helping to maintain as compact-as-possible dimensions for portability. Top right of this is a small window for the built-in self-timer lamp/AF assist.
Located at the other side of the lens is a small pinprick housing the built-in microphone and, adjacent to this, a narrow window housing the integral flash. This is exactly the same layout as provided on the EX-H15. As mentioned at the outset there's a slight concession to a grip provided bottom left of the faceplate, with a raised edge providing a purchase point for a couple of fingers as your thumb comes to rest on a pad or four small raised nodules at the rear, leaving forefinger free to hover over the shutter release button.
In truth though you'll want to use both hands to hold the camera as steady as possible when shooting, whereupon the thumb of your left hand inevitably smudges the back screen.
Moving to examine the camera's top plate, the shutter release button is in turn encircled by a lever for operating the zoom, the front lip of which extends sufficiently far into a recess at the front of the camera for your forefinger to effect a convincing purchase.
Over the hump for the GPS antennae we find a recessed, small, on/off button. Press this and the model powers up from cold in just under three seconds, lens extending to maximum wideangle setting from its storage position within the body. This activity is sound tracked by a mechanical buzz and bird-like chirp as the rear screen blinks into existence.
| | |
| --- | --- |
| | |
| Front | Top |
By contrast, with a half press of the shutter release button there's barely a moment's pause while the camera determines focus and exposure, AF point/s being highlighted in green accompanied by a bleep of affirmation. Go on to take the shot and with a barely discernable shutter delay, maximum 14MP resolution JPEG images are committed to memory in just two seconds, screen momentarily blanking out and then presenting a preview of the capture shot. Can't grumble about that.
Though audibly quite noisy in operation, the EX-H20's zoom is fast to respond, powering audibly through its 24-240mm equivalent focal range in just less than two seconds if you keep a finger on the 'trigger'.
As on the EX-H15, the fact that the zoom is located on the top plate has another advantage: it leaves room here at the top right of a camera back (where a zoom rocker switch might otherwise be located) for a dedicated video record button. A press of this begins the recording of a clip whichever Best Shot stills shooting mode might have been user-selected at the time. There's no mode wheel on the camera back to otherwise distract or even a button actually marked 'mode' to direct unsuspecting users - just the Casio regular of the 'BS' button.
The final two controls on the camera's top plate relate back to its globetrotting faculty. Press the first, denoted by the 'squished' globe icon - in other words the 'map' button - and you're presented with a miniaturised map of the world, with a crosshair and flashing indicator beacon hovering over your location, which in our experience he camera was near instantaneous in deciding upon. Furthermore, if you're playing back a pre-captured image, you get the positional cooardinates given as part of that images' capture information. It transpires then that the map mode has two 'sub modes'.
In the 'user image' mode photographers can display images, the locations where they were taken, and also the direction the camera was pointed when they were shot, with the ability to even track movement on the map. A subsequent button press takes you into the second active 'map' mode, which is the Photogenic Spot mode touched on earlier. This allows users to pinpoint photogenic locations on the map around the world, and is arguably more of a gimmick.
To change the scale of the map, you simply use the camera's zoom lever to enlarge a section, which is nicely intuitive and admittedly quite cool. Though you can't quite get right down to your road and house - like on Google Maps - the map will reach to within a couple of miles, naming any famous local landmarks (Heathrow Airport and Kew Botanic Gardens in our case) as it does so.
If you lose yourself, the button next to it, marked with the inverted spinning top icon is the 'current location' button. It would be useful to have a bit more information on getting up and running with these more unusual features out of the box, but Casio has just provided merely a cursory quick start manual in printed form. This does the confusing Casio thing of featuring instructions in three different languages printed across each page, so you have to pick your way through to find the relevant text with the care of navigating a minefield.
Thankfully subsequent back plate controls are a little more obvious. We get a large-ish 3-inch LCD, which, in the absence of an optical viewfinder is bright and clear as regards visibility. Swallowing up four fifths of the available space at the rear, remaining controls are ranged in a row to the right hand side. We've already mentioned the convenience of the one touch video record button - although, scandalously, the optical zoom isn't accessible in this mode, merely staying put at the point it was left when recording commenced - beneath which is a further pair of buttons, one above the other, for stills capture and playback. The user is able to swap between such modes with a single press of each, or jump back into capture mode with a half squeeze of the shutter release button.
Under this again is a familiar control pad, with 'set' button at the centre for implementing chosen menu options. With the pad marked 'display' at its 12 o'clock setting and featuring delete and flash control options at six o'clock, operation is again straightforward. As on the EX-H15, users get a choice of the usual on/off flash settings, including a red eye reducing option, plus a further softened flash.
| | |
| --- | --- |
| | |
| Memory Card Slot | Battery Compartment |
Press that central 'set' button meanwhile and a toolbar of essential shooting functions appears on the right hand side of the screen, running top to bottom. Again, this is identical to the EX-H15. So, as a time saver, this conveniently avoids having to dip into the menu folders proper and search for basic options.
From the top we have the ability to determine image quality and pixel count, flash (again) and focus options (AF, macro focus, infinity focus and even a manual option: the latter presenting a histogram and an adjustable focus distance of between 15cm and infinity). AF modes are further adjustable between intelligent AF, spot, multiple area and AF tracking. Next down the toolbar are the selectable light sensitivity offerings of between ISO80 and ISO3200, and, down one option again, choices of self timer between 10 and two seconds and a further kind of self timer bracketing option that fires three consecutive shots with an interval of a second between each. It's here too that face detection can be turned on or off, and exposure compensation adjusted between -/+ 2EV.
Beneath the EX-H20G's basic control pad is, finally, another stacked pair of buttons, for the self-explanatory menu mode and as we've previously noted, the less immediately obvious 'BS' (BestShot) scene and subject modes. So here too the photo thumbnail illustrated Best Shot modes govern all the familiar subjects from portraits and self-portraits through autumn leaves, fireworks, flowers and food, plus, more unusually, splashing water and soft flowing water.
A press of the 'menu' button meanwhile and EX-H20G owners are presented with three menu sub folders that can be tabbed between: record, quality and set up.
Within the record menu photographers can switch continuous AF, face detection and anti shake on or off, call up a nine zone compositional grid to practice the 'rule of thirds'. Within the quality folder as expected resolution of both stills (Fine or Normal) and video (HD or standard def 640x480 pixels) can be adjusted to suit the intended end purpose. It's under the 'quality' heading that we also find an alternative means of amanually adjusting exposure (+/- 2EV), white balance, ISO (ISO80-3200), metering (multi zone, centre weighted or spot) plus applying a palette of colour filters to variously warm or dampen the image. Sharpness, saturation, contrast and the intensity of the flash can further be tweaked, whilst further 'make up' and landscape effects filters can be activated for application.
In Set Up mode meanwhile, users have the ability to turn Eye-Fi and/or GPS connectivity on. Otherwise operational sounds, start up visuals and time stamps can be governed in this mode as expected, though like us you're probably most likely to access it to format the card in use and quickly delete all the images contained therein.
While operationally, that's about it for the robust and reasonably responsive EX-H20G, on the camera's right hand flank next to a lug for attaching a wrist strap we find a protected port for a single yet dual purpose AV/USB output. Unlike the EX-H15, the EX-H20G adds a further mini HDMI option for hooking the camera directly up to a flat panel TV and enjoying your movie clips on a larger wide screen display. When shooting video the screen display ratio automatically narrows to ape 16:9 aspect.
The base of the camera meanwhile features a slightly off-centre screw thread for attaching a tripod, just next to a shared compartment for battery and card. Whilst we didn't get close to the 600 images the company promises in terms of battery life, but with that sort of option here is a camera you could take away on holiday for at least a weekend - five days at a push - and conceivably not have to worry about packing a charger and compatible plug too.
Whilst the GPS-equipped EX-H20G performs ably as general purpose travel snapper, albeit noisily and a little sluggishly at times, do its images signal a move in the right direction? Do they point the way to photographic greatness, or merely lead the user into a creative cul-de-sac? Read on to find out…