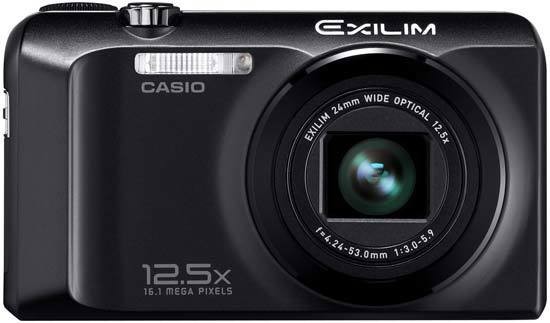 Introduction
The Casio EX-H30 is a new travel-zoom camera offering a 12.5x wide-angle zoom lens with a focal length of 24-300mm and CCD-shift image stabilization. The 16 megapixel H30 additionally offers a large 3.0-inch LCD monitor with a resolution of 460,000 dots, 720p HD movies, remarkable 1,000-shot battery life, shutter speed priority and aperture priority modes for experienced photographers, and a fully automatic Premium Auto function for beginners. Available in four colors, including sliver, black, red, and gold, the Casio EX-H30 retails at £229 in the UK and $249.99 in the USA.
Ease of Use
Available in four body colours including the classic black we had in for review, the Casio Exilim EX-H30 joins a swelling number of one-lens-fits-all 'travel zooms' this year, each vying for your purse strings and patronage. And it arrives in timely fashion too, what with the summer holiday/travel season approaching.
Not to be confused with the Exilim EX-H30G model, which adds GPS, this camera features a 12.5x optical zoom and 16.1 effective megapixel maximum resolution, a headline spec which exactly matches the competing if marginally cheaper Olympus SZ-20. However, from the outside the Casio's a closer match in looks and styling for another zoom rival in the Coolpix S9100, whilst featuring a greater deal of hands on manual control than that 12 megapixel, 18x zoom Nikon offering.
Other most recent travel zoom contenders clashing with this Casio include the feature-packed Panasonic Lumix DMC-TZ20, Canon PowerShot SX220HS and SX230HS, Fuji FinePix F550EXR, plus Samsung WB600 and Samsung WB650.
Like the Olympus SZ-20, pictures and video are composed and reviewed courtesy of a 3-inch, 460k dot resolution LCD screen on the backplate in the predictable absence of an optical viewfinder. Aspect ratio is once again standard 4:3 rather than widescreen 16:9.
Because it is a travel zoom model and shoehorns in a folded lens mechanism, the EX-H30 is not the slenderest Exilim ever at just under an inch thick, but it'll still fit snugly in a trouser pocket with a body only weight of 161g. Of course, the need to nevertheless deliver compact proportions has resulted in the lack of a decent handgrip; there is a raised side edge but it's more of a concession than solution. But more positively once you've tried a 10x+ zoom you'll find it frustrating to go back to anything that falls short in terms of focal range, here the 35mm equivalent of an ultra wide 24mm to 300mm. The camera is fast to move through its available range, powering from extreme wide angle to maximum telephoto in all of two seconds when in stills shooting mode. While the manufacturer's original suggested retail price was a fairly average £299, we were able to find street prices just over £200 at the time of writing, for which we may suggest you can't really go wrong.
| | |
| --- | --- |
| | |
| Front | Rear |
Supported by sensor shift image stabilization, the focal range on offer on the Casio here is as adept as pulling the faraway close to enable candid portraits as it is squeezing expansive landscapes into the available frame - swapping between differing set ups in a matter of seconds without the photographer having to actually step forward or back.
Whilst that much is true of any travel zoom, helping the EX-H30 stand out from the crowd is the Casio special feature of a 1,000 shot battery life - according to CIPA testing and in that respect more than three/four times the lifespan offered by most rivals.
Users even get a top plate button to place the camera in power saving 'eco' mode. Furthermore, mirroring the Panasonic Lumix DMC-TZ20's Extra Optical Zoom facility, the EX-H30's zoom can be further extended by a factor of 1.5x, to an equivalent 18.8x.
The EX-H30 looks both austere and sophisticated from the front, at least in its black incarnation, lens dominating proceedings and a narrow lozenge of a built-in flash featuring top left of it. Unusually there's no AF assist or self-timer lamp provided.
On the top plate operational buttons are set into a narrow yet attractively mirrored control strip. Set flush with this are the aforementioned eco button plus the on/off button.
A press of the top plate on/off button and the Casio Exilim EX-H30 powers up in just over a second. A mechanical whirr acts as a sound track to the lens as it extends from flush to the body to maximum wideangle setting.
| | |
| --- | --- |
| | |
| Top | Front |
Press the shutter release button down halfway and the camera responds more or less instantly, central AF point highlighted in green with a beep of affirmation that the user is free to go ahead and take the shot. Do so and a full resolution JPEG is committed to memory in less than two seconds - which is swift for this class of camera.
Raised slightly on the top plate are the shutter release button encircled by a lever for controlling the zoom, forward protruding lip providing a point of purchase for the forefinger. Set back from these controls and indeed sloping towards the backplate for more convenient control betwixt thumb and forefinger is a model dial, not over burdened with just eight settings and what looks like room to spare. It is however one of the physically smallest dials we've seen, being the approximate size of a dime or halfpenny. Still, as a time saver it avoids the need to drill down into screen menus, which here are needlessly busy and occasionally puzzling - compounded by the fact that they are overlaid on the LCD image.
On said dial we get not one but two auto modes: Premium Auto that automatically 'enhances' shots in camera to save recourse to Photoshop alongside regular auto, along with plentiful 'Best Shot' scene modes, a silent mode for surreptitious snappers, plus, more unusually at this level, aperture priority, shutter priority and manual shooting options.
Also worth pointing out is the EX-H30's easy to use Slide Panorama mode selected via the top plate dial. Press down on the shutter release button and pan in the direction indicated through a maximum arc of 260° to the sound of the shutter rapidly firing. Within seconds the seamless elongated result appears. Casio claims the camera can recognize moving subjects and omit them from overlapping images. While the resultant image appears low res, it's a fun feature that travellers may well find a use for.
Not included here is a video option, as movie recording gets its own dedicated camcorder-style instant record button on the backplate. Not quite up there with the best of them, video resolution is a 'mere' High Def 1280x720 pixels at 24fps with mono sound, and Casio also curiously omits HDMI output, just including the standard AV and USB outputs.
| | |
| --- | --- |
| | |
| Memory Card Slot | Battery Compartment |
Also on the backplate the EX-H30's attendant controls are simply what one would expect to find on a pocket model, with separate buttons for capture or review modes (capture being the default setting, unless that is you've activated the camera from its dormant state by pressing the review button), plus control pad for tabbing through menu options plus central 'set' button for effecting them, along with a dedicated menu button.
In capture mode a range of function options are automatically presented in a loose toolbar running down the right hand side of the Casio's screen. From the top moving down we get the ability to adjust image resolution and aspect ratio (a choice of default 4:3, 3:2 or 16:9), alter flash settings (auto flash forced off, forced on or red eye reduction mode), or switch from auto focus through macro focus and infinity and - surprisingly - onto a manual focus option, controlled by tabbing left or right on the control pad with a measurement slider presented at the bottom of the screen. Next stop down on the toolbar is a selective AF option, with the choice of switching between 'intelligent AF' that automatically detects an optimum focus point, spot AF, multi area AF, and finally, activating AF tracking. The following options provide control over light sensitivity, with incremental ISO options ranging from ISO80 up to a maximum ISO3200, plus we also get the ability to switch on the self timer, face detection technology, adjust exposure compensation (between +/- 2EV), and even change the display time if warranted.
Alternatively, if the shooting mode dial has been twisted to arrive at Best Shot (scenes) mode, then this is displayed as the bottom option. Press the central 'set' button in the midst of the control pad and the options are presented as we'd normally expect to find them on a Casio - as a series of photo-led icons. Here the 'BS' modes number 36 in total - a pretty comprehensive selection by any standards, and encompass everything from day-lit portraits to twilight shots. While there's the option to point and shoot on regular or premium auto if you want to, the pre-optimised options are more comprehensive than you'd normally expect to find on a point and shoot.
As noted earlier, a press of the camera's menu button and options are overlaid on the screen's background. Here we get three folders - record, quality and set up, which is pretty self-explanatory.
At one side of the camera we can a lug for attaching a wrist strap plus a covered port for AV out and USB out (no HDMI here as noted), whilst the other flank is devoid of any features whatsoever. The base of the camera features a roughly centrally placed screw thread for the attachment of a tripod, and a sliding cover protecting the joint SD card and rechargeable battery slot.
The Casio is as quick to respond to each button press and dial twist as we'd want, the feature set is commendably comprehensive for a point and shoot, and the build quality feels solid for the price. Whilst it doesn't particularly excel in any one area, overall it's a solid buy. But, as our final test, does the EX-H30 impress as much when it comes to image quality? Read on to discover more…