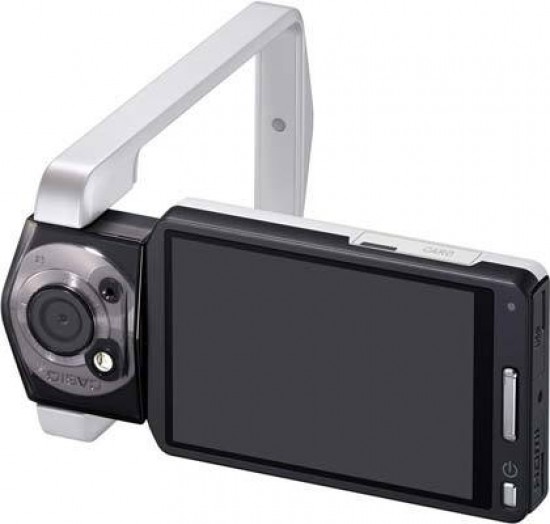 Image Quality
All of the sample images in this Review were taken using the 12 megapixel Fine JPEG setting, which gives an average image size of around 3.5Mb.
Though the Tryx is capable of delivering bright and realistic colours, on occasion stills do have the look of high quality video grabs, with pixel fringing between areas of high contrast being readily visible as a pronounced purple outline. Though this can be overlooked on moving footage, it's less easy to do so when it's staring you in the face even without viewing an image at 100%. In general, blue skies in an image have a distinctly purplish hue, though we did get some quite usable results with perseverance.
The wide-angle 21mm lens inevitably leads to leaning verticals and a slight fisheye effect to any close ups, but this is something we can live with and less of a deal breaker; indeed it can be used as an advantage when you want to add drama to a scene or subject. And yet in terms of variety we probably wouldn't want the EX-TR100 as our one and only digital camera.
If you've a steady surface - or simply use the frame as a steadying 'handle' - it is possible to get usable night shots when selecting the dedicated High Speed Night Scene from among this Casio's handful of BestShot scene modes. But again these have the overly digitized appearance of video grabs.
Matters improve slightly when we come to the available ISO100-3200 light sensitivity range, with, as we found with the numerically similar EX-ZR100, usable results provided up to and including ISO1600. The picture quality only really begins to soften when we get to top whack ISO3200, and even then noise is kept well under control, so that back lit sensor at least seems capable of proving its value. A mixed bag of results then from the Casio, which is pretty much what we expected when we first set eyes on its funky design.
Noise
There are 6 ISO settings available on the Casio EX-TR100. Here are some 100% crops which show the noise levels for each ISO setting:
| | |
| --- | --- |
| ISO 100 (100% Crop) | ISO 200 (100% Crop) |
| | |
|   |   |
| ISO 400 (100% Crop) | ISO 800 (100% Crop) |
| | |
|   |   |
| ISO 1600 (100% Crop) | ISO 3200 (100% Crop) |
| | |
Sharpening
Here are two 100% crops which have been Saved as Web - Quality 50 in Photoshop. The right-hand image has had some sharpening applied in Photoshop. The out-of-the camera images are a little soft at the default sharpening setting and benefit from some further sharpening in a program like Adobe Photoshop.
| | |
| --- | --- |
| Original (100% Crop) | Sharpened (100% Crop) |
| | |
|   |   |
| | |
Chromatic Aberrations
The Casio EX-TR100 suffered from obvious chromatic aberrations, with purple fringing present around the edges of objects in high-contrast situations, as shown in the examples below.
| | |
| --- | --- |
| Example 1 (100% Crop) | Example 2 (100% Crop) |
| | |
Macro
The Casio EX-TR100 offers a Macro setting that allows you to focus on a subject that is 8cms away from the camera when the lens is set to wide-angle. The first image shows how close you can get to the subject (in this case a compact flash card). The second image is a 100% crop.
| | |
| --- | --- |
| Macro Shot | 100% Crop |
| | |
Night
The Casio EX-TR100's maximum shutter speed is 1/8th second, which is bad news if you're seriously interested in night photography. The shot below was taken using a shutter speed of 1/10th second at ISO 1600.
| | |
| --- | --- |
| Night Shot | Night Shot (100% Crop) |
| | |