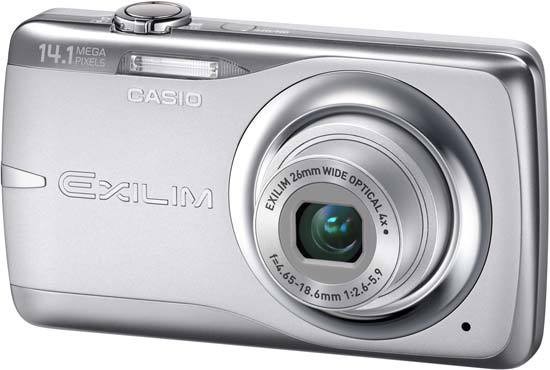 Introduction
The Casio EX-Z550 compact camera offers 14 megapixels and a 4x wide-angle zoom lens with a focal length of 26-104mm with CCD-shift image stabilization mechanism. The EX-Z550 also boasts a 2.7-inch LCD monitor, 720p high-definition movies and creative Dynamic Photo and Art Shot modes. The new Engine 5.0 image processor increases operational speed by 30%, while the Premium Auto mode automatically optimises settings for exposure, ISO speed, focus, blur correction, tonal range, colour balance, and even noise reduction. Available in black, red, blue and pink, the Casio EX-Z550 retails at £149 in the UK and $169.99 in the USA.
Ease of Use
Casio cameras from its ever extending and regenerating EX ('Exilim') range often eschew the tried and tested, the flexibility to try something a little different - and yes at times gimmicky - a by-product of its non traditional photographic heritage.
We recently likened the flint-like EX-G1 from Casio to a Swiss Army knife, and the same manufacturer's new 14.1 effective megapixel (from a 14.48MP 1/2.3-inch CCD), 4x optical zoom EX-Z550 comes similarly festooned with the latest gadgetry. This includes the Photoshop-like ability to cut and paste elements from one still image (or even HD video clip) to another, courtesy of the Dynamic Photo function squirreled away among the Best Shot scene/subject modes. Casio has always targeted the younger audience, so there's also a dedicated video mode (again among the Best Shot options) pre-optimised for uploading to YouTube.
For a suggested retail price of an exceedingly reasonable sounding £149, and available in a quintet of colours including the sober black we had in for review, this snapshot model is also very small at 21.1mm in depth. A centimetre or so longer than a business card, you can almost lose the EX-Z550 in a clenched palm, never mind a pocket. Despite this it feels reasonably solid even at 137g when gripped and lithium ion battery and optional SD/SDHC card inserted. A 24.5MB internal capacity is otherwise offered.
The diminutive dimensions are due in part to folded optics; the 26mm equivalent wide-angle zoom lens is protected within the body when not in use. To avoid blur when shooting handheld at the telephoto end of the zoom, the camera comes with proper CCD-shift image stabilisation. Pictures are composed and reviewed via a 2.7-inch LCD screen that like most suffers in sunlight and isn't the sharpest we've ever seen, but remains usable nonetheless and matches that expected at this end of the market.
As well as the full auto functionality you'd expect from what is at its heart an easy to use point-and-shooter, Casio has added its own Premium Auto function that purportedly optimizes the look of images - correcting for blur for example or exposure errors. As a result images shot when the camera is in this mode take a moment or two longer to process than non-optimized shots. In truth we noticed little difference between results taken when this mode was selected and in regular auto - not a black mark, but a way of saying this little camera achieves an impressive consistency.
| | |
| --- | --- |
| | |
| Front | Rear |
Like Olympus' Pen range with its effective and fun Art Filters, Casio has additionally squeezed in an Art Shot function among its numerous 'BS' modes. Whilst the crayon etching, 'retro' and watercolour effects are familiar, less well traveled is an eye-catching oil painting effect. So if a 'friend' has ever remarked: 'you're no oil painting', now's the opportunity to prove them wrong with the Z550; and in a style closely reminiscent of Van Gogh no less.
Whilst the camera appears unassumingly conventional from the front - especially when compared to the same manufacturer's EX-G1 model, which we reviewed at the start of this year - it's not without a dash of style, epitomized by subtle details adding a touch of drama such as the chrome lug for a wrist strap at one side tapering around to the faceplate.
In terms of achieving a steady hold when shooting handheld, there's nothing in the way of a grip provided however, with just four small raised plastic nodules aiding purchase for your thumb at the rear. Otherwise it's obviously the lens that draws the lion's share of attention, with its own attractive mirrored surround, beneath which is a small hole for the built in microphone, and top left of the optic an tapering window housing the built-in flash. Positioned just below the shutter release button, it's easy for fingers to stray in front of the bulb when shooting handheld - in fairness something most diminutive compacts have in common due to space restrictions.
The Z550's top plate continues the minimalist design ethos. Featured here are just the essentials: a springy shutter release button with definite determinable halfway point and the largest control on the camera so you can't miss it, conveniently encircled by a rocker switch with protruding lip for controlling the zoom that likewise falls under the user's forefinger.
While to the right of this is an obtrusive indicator light, adjacent on the left is an on/off button, recessed into the bodywork so it doesn't break the visual 'flow'. As a result it requires fingertip operation to activate, the Z550 powering up in just over two seconds, lens barrel extending to maximum wideangle setting with low mechanical buzz and rear LCD simultaneously blinking into life with a bright 'beep'.
Go on to attempt a shot and, with a half press of the shutter release button, focus and exposure are determined near instantly, AF point highlighted in green with an accompanying beep of confirmation. Take the picture and a full resolution image is committed to memory in around two seconds, again more than adequate for this class of camera. Everything here falls to hand and response times are swift enough to allow the user to concentrate fully on image taking without worrying what the camera is or isn't doing.
| | |
| --- | --- |
| | |
| Side | Top |
The Z550's back plate sports a similarly unfussy layout with clearly marked and well-spaced controls, plus the LCD screen swallowing up nearly two thirds of the backplate 'real estate'. Top right is a dedicated video recording button, the advantage of which is that user can quickly switch from shooting stills to filming movies and back again, not having to alternatively fiddle with a mode dial (here there isn't one, the BS button does that job) to first select the correct mode.
Beneath this are an opposing pair of small buttons, with on the left a means of playing back images and on the right, one to select still photo capture mode. Yes, this is the default setting anyway so at first glance appears a little unnecessary, but in practice enables the switch back from video to photo mode with a single press.
While that much is straightforward, so too is the inclusion of a four-way directional control pad just below, where it again falls conveniently under the thumb. With the letters 'disp' displayed at 12 o'clock on the pad, a press of this edge either adds a live histogram to the collective display of current settings detailed down the right hand side of the screen, or turns any distracting information off entirely so the user is merely left with a central AF point indicator.
At six o'clock on the pad is a dual use means of adjusting the various flash settings - including a 'soft flash' option among the usual red eye preventing suspects - if in capture mode, or deleting unwanted images when in review/playback mode. Although the other two edges are unmarked, users press left or right on the dial to tab through images and menu options if in those respective modes, or, if in capture mode, swap from Auto Picture mode to Premium Auto and back again.
The final two controls on the back of the Z550 are a 'menu' button bottom left and aforementioned 'BS' button to the right. A press of the former when in capture mode and the user is presented with three menu sub folders that can be tabbed between: record, quality and set up. Within the record menu photographers can switch between auto and manual focus, with macro and infinity options listed in between. Displaying a more comprehensive variety of options than your standard point and shoot, Z550 owners can further adjust AF points, and call up a nine zone compositional grid to practice the 'rule of thirds'.
Within the quality folder as expected resolution of both stills and video can be adjusted to suit the intended end purpose, as well as blemish smoothing 'make up' and vivid landscape digital filters applied if so wished - on other Casio compacts, such as the EX-H15 for example, these last two get their own button. It's under the 'quality' heading that we also find a means of manually adjusting exposure (+/- 2EV), white balance, ISO (ISO64-3200), metering (multi zone, centre weighted or spot) plus applying a palette of colour filters to variously warm or dampen the image. Sharpness, saturation, contrast and the intensity of the flash can further be tweaked. Again, this is more than we expected at this beginner friendly level and price point.
| | |
| --- | --- |
| | |
| Battery Compartment | Memory Card Slot |
In Set Up mode meanwhile, users have the ability to turn Eye-Fi connectivity on, should they have a suitable Eye-Fi media card loaded that will provide automatic wireless uploading whenever they come within reach of their desktop PC or laptop. Otherwise operational sounds, start up visuals and time stamps can be governed in this mode as expected, though like us you're probably most likely to access it to format the card in use and quickly delete all the images contained therein.
The final button/control on the EX-Z550's back is marked 'BS' for 'Best Shot' mode - Casio's umbrella term for its collective per-optimised scene and subject modes. Most of the nigh on 40 options are illustrated with a photo thumbnail, and, if the user operates the zoom with their forefinger as they alight on each one a brief text description of each is additionally provided to save beginners reaching for the manual. Here a hard copy quick start guide is provided out of the box along with a CD Rom - but here Casio is up to its old (dodgy) trick of printing instructions in three different languages on the same page, which doesn't make for the easiest perusal.
The Best Shot modes govern all the familiar subjects from portraits and self-portraits through pictures of autumn leaves, fireworks, flowers and food, plus backlight and high sensitivity modes joining the yet-more-creative Art Shot modes mentioned at the outset of our review. We even get help here with taking ID photos for passports, photographing business cards and presentation boards, along with a pre-record movie function for anticipating action sequences. You get the impression Casio has packed a lot into its little palm sized point and shooter.
What the camera does lack however is HDMI output to make the most of its 1280x720 HD movie option - something rivals are increasingly including even at this relatively simplistic level. As expected we do get a shared port hidden under a plastic flap at one side for combined AV and USB output (and relevant cabling in the box), whilst the opposite side of the camera is devoid of features entirely.
The base of the Casio EX-Z550 meanwhile features a narrow catch-operated door hiding the combined battery good for 250 shots from a full charge which is average for its class and media card ports, plus, slightly off-centre, a screw thread for mounting a tripod.
And that's basically it for this outwardly unassuming snapper, with the exception of taking a closer look at the images produced and drawing our conclusions. Like any compact boasting a 14MP resolution, the question has to be asked as to whether its manufacturer has over egged the pudding to the effect that, yes, occasionally you can have too many pixels on too small a chip. So let's take a closer look then at image quality and find out if this is an area in which the Casio delivers more than expected...