Casio EX-ZR100 Review
October 12, 2011
|
Gavin Stoker
|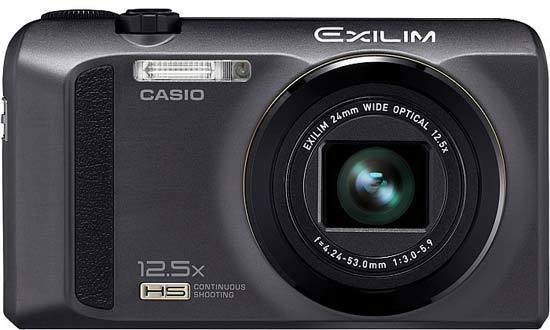 Image Quality
All of the sample images in this Review were taken using the 12 megapixel Fine JPEG setting, which gives an average image size of around 4Mb.
As our test images hopefully show, we tested the Casio across a wide variety of shooting conditions and scenarios; under natural light and daylight without flash and at extreme wide angle and maximum telephoto under such circumstances. Image wise, like any compact camera the EX-ZR100 offers good and bad, yet here we're pleased to report image quality is weighted in the favour of the good.
Yes, familiar bugbears such as purple pixel fringing creep in between areas of high contrast; such as where tree leaves meet the sky, and some highlight detail is occasionally lost in strong sunlight with images taking on a more washed out appearance, but these are common concerns with any digital camera. This being a Casio camera, in general terms pictures are bold and bright in terms of colour and exposure as with its predecessors, and when the camera does get it right detail is almost too sharp, so has a distinctly digital look and feel.
Edge to edge sharpness is pretty well maintained, though handheld in lower light conditions and at anywhere near the telephoto extremity of the zoom we did struggle to avoid blur, which is a shame a regards the latter as the bigger than average focal range here is a real selling point. Still, this is also true of many rivals so we can't single out the Casio lone for its failings.
In terms of low light ISO performance, if you have a steady surface at your disposal the EX-ZR100 is actually pretty impressive, with the back illuminated sensor showing its mettle. There's not a pronounced difference in terms of loss of detail or increased image noise between ISO800 and ISO1600, so the latter remains a usable option if you want to retain 'best' quality. At top manually selectable ISO3200 option, detail does noticeably soften, but not to an extent that we'd consider an image taken at this setting unusable. At both settings noise is surprisingly well controlled, and the image bright and clear.
Overall not perfect, but certainly pretty good nonetheless, plus the HDR effects are fun when you get bored with merely pointing and shooting.
Noise
There are 6 ISO settings available on the Casio EX-ZR100. Here are some 100% crops which show the noise levels for each ISO setting:
| | |
| --- | --- |
| ISO 100 (100% Crop) | ISO 200 (100% Crop) |
| | |
|   |   |
| ISO 400 (100% Crop) | ISO 800 (100% Crop) |
| | |
|   |   |
| ISO 1600 (100% Crop) | ISO 3200 (100% Crop) |
| | |
Sharpening
Here are two 100% crops which have been Saved as Web - Quality 50 in Photoshop. The right-hand image has had some sharpening applied in Photoshop. The out-of-the camera images are a little soft at the default sharpening setting and benefit from some further sharpening in a program like Adobe Photoshop.
| | |
| --- | --- |
| Original (100% Crop) | Sharpened (100% Crop) |
| | |
|   |   |
| | |
Chromatic Aberrations
The Casio EX-ZR100 kept chromatic aberrations largely under control during the review, with some purple fringing present around the edges of objects in high-contrast situations, as shown in the examples below.
| | |
| --- | --- |
| Example 1 (100% Crop) | Example 2 (100% Crop) |
| | |
Macro
The Casio EX-ZR100 offers a Super Macro setting that allows you to focus on a subject that is 1cm away from the camera when the lens is set to wide-angle. The first image shows how close you can get to the subject (in this case a compact flash card). The second image is a 100% crop.
| | |
| --- | --- |
| Macro Shot | 100% Crop |
| | |
Night
The Casio EX-ZR100's maximum shutter speed is 15 seconds, which is very good news if you're seriously interested in night photography. The shot below was taken using a shutter speed of 1/60th second at ISO 640.
| | |
| --- | --- |
| Night Shot | Night Shot (100% Crop) |
| | |