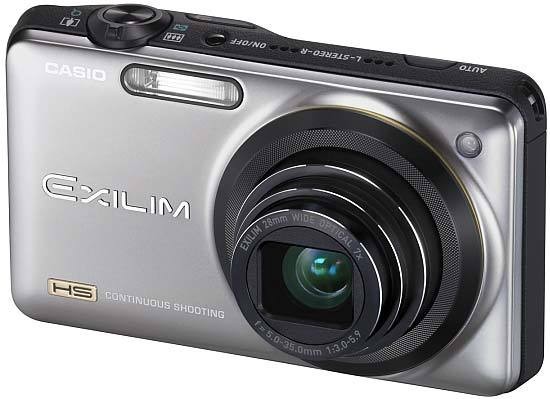 Introduction
The Casio EX-ZR10 is a new travel-zoom camera offering a 7x wide-angle zoom lens with a focal length of 28-196mm and CCD-shift image stabilization mechanism. The 12 megapixel ZR10 also offers a back-illuminated CMOS sensor, full 1080p HD movies, HDR function which combines multiple frames, a fully automatic Premium Auto mode for beginners, and a Slide Panorama option for creating 360° panoramic images. Available in silver, grey and purple, the Casio EX-ZR10 retails at £249 in the UK and $249.99 in the USA.
Ease of Use
Yet another contender for your next 'travel zoom' camera, the 12.1 megapixel Casio EX-ZR10, announced at last September's Photokina and not to be confused with the recently launched EX-ZR100 or EX-ZS10 (or even Pentax's Optio RZ10), is one of its more sophisticated looking Exilim compacts to date. It has a classy feel that the matt black finish of our review sample accentuates, and is one of the first fruits of the company's attempt to market the Exilim range under the umbrella term 'Amazing Gear'.
In fact the ZR10 resembles a Sony Cyber-shot in size and form, specifically the previously reviewed WX5, complete with its top mounted stereo microphone. And in that respect it's slightly more conventional in its rectangular design than other Exilims of recent months, which is no bad thing. As held in the palm, build quality feels high and the blend of metal and plastic reassures that the camera is rugged enough to feel like it would withstand the odd knock despite its fairly diminutive, pocket-sized proportions. It's not a great deal wider than the average business card. Official dimensions are 102x69x27mm and it weighs a manageable 176g with battery and card inserted, so another candidate for whipping out from the trouser pocket or handbag when that photo opportunity presents itself.
Once again though there's nothing at all resembling a handgrip on this model. Your forefingers slide about on the smooth surface of the faceplate with only the raised 'Exilim' logo providing scant purchase. At the back there's similarly nothing, the thumb of the right hand seeking to squeeze into a small vacant space between the LCD screen and a dedicated video record button top right, and avoid pressing on it accidentally. Another gripe is that Casio is up to its usual tricks with the EX-ZR10's quick reference manual, printing instructions in three languages on each page which slows down the ability to find what you require in a hurry.
So much for what makes this camera, with a UK asking price of £299, similar to what has gone before - what about what makes it different?
| | |
| --- | --- |
| | |
| Front | Rear |
Well, in spite of its model number the ZR10 has seen fit to shoehorn in not a 10x but rather a 7x optical zoom starting out a wide-angle 28mm equivalent into its relatively slender frame. There's the opportunity however to boost this further to an equivalent 14x, thanks to what Casio is terming its 'Multi Frame SR Zoom', which, as it sounds, combines a number of images to produce one clear shot. Also combining several frames in the hope of an even exposure, and in the manner of similar features on Canon (iContrast), Nikon (Active D-Lighting) and Sony models, is the Casio's own high dynamic range (HDR) technology. Found among the Best Shot modes, there are both standard HDR settings and the grandly named HDR Art setting - as they sound the first provides a subtle treatment of blending different exposures, with the latter providing a more weird and wonderful, at times psychedelic-looking effect. Each to their own, but at least the inclusion provides a point of difference and is a change from the now ubiquitous miniature and fisheye lens style effects on rival compacts.
Also of note are a 3-inch, 460k-dot LCD displaying little in the way of lag or ghosting whilst utilising indoors, albeit requiring the usual cupping of hands around the screen when outside, plus Full HD 1920x1080 'movies' capability with side-mounted HDMI output and the option to use the optical zoom when recording. There are three further options to shoot in slow motion - albeit at lower res - and get that walking-through-treacle effect thanks to selectable capture speeds of up to 480 frames per second. Unsurprisingly then most of its BestShot scene modes, whether aimed at video or stills photography, also revolve around action photography.
Indeed Casio is calling this a high speed rather than high zoom model, with the ability to capture 40 frames a second at 10 megapixels, or 10 frames a second at full resolution 12 megapixels - either way pretty impressive specification for those looking to capture some action snaps, and courtesy of the camera incorporating dual image processors as well as a new 'HS' engine, to reduce shot-to-shot time. One advantage of this is that it's possible to shoot the sequence of shots that comprise its HDR images on this Casio handheld, whereas others require tripods to do such settings justice. The Casio's burst of shots is so rapid that there's little chance of image blur creeping in even if your hand does wobble slightly between exposures.
Also improving image quality/sensitivity, which here extends from a manually selectable ISO100 up to ISO3200, is a back-illuminated CMOS sensor, whilst the picture enhancing Premium Auto option exists among the standard Casio Best Shot' scene and subject modes, here - rather mystifyingly - better hidden than on previous iterations of Exilim. Never mind the lack of a traditional mode wheel, they don't even get their own dedicated button.
But if you can find them, you can, er, 'hire' them, and here they include the impressive 360° 'slide' panoramic shooting option we recently saw on the Exilim EX-H20G. Again it's a near match in terms of feature set for the Sony Cyber-shots' own Sweep Panorama function, and in fact betters it in our eyes (if you don't need the WX5's added 3D capability) for the ability to sweep in a full circle.
| | |
| --- | --- |
| | |
| Front | Top |
With the above setting the scene, let's take a tour of the camera, examining more closely its feature set, responsiveness and general handling. From the front, as we've noted, the EX-ZR10 is pretty much a textbook point and shooter, lens mechanism folded and barrel retracted within the body when the camera is switched off. Top right of the lens we get a tiny porthole for the AF assist/self timer lamp, and over at the other side of the lens we find a narrow lozenge shaped window for the built in flash. So much so standard issue.
The camera's top plate is marginally more unusual. Here, as mentioned, we find stereo microphone slots, not unheard of on a point and shoot, but more often than not mono instead. Like Panasonic Lumix point and shoots which feature top-mounted intelligent Auto mode buttons, here the Casio also features its own one-touch auto capture button, a press of which lets users quickly swap between regular auto and premium auto capture. Also on the top plate is a further capture mode button, this time marked with 'HS' indicating high-speed continuous capture. However a press brings up not only this option on screen but the rest of the formerly hidden Best Shot modes, of which there are 17 in total and in addition to the two previously indicated auto modes.
There's no mistaking the other two controls on the top plate; the springy shutter release button, here slightly raised and encircled by a lever for operating the optical zoom, the lip of which juts out to falls beneath the forefinger whilst not extending beyond the rim of the camera body itself, plus a small and marginally recessed on/off button that requires fingertip activation. Give this a press and the EX-ZR10 powers up in just over a second - zoom near instantly shooting outward from the body with the briefest of mechanical whirrs to maximum wideangle setting, whilst the rear screen blinks into life with a cheery bleep a moment later. Whilst still not quite a match for a DSLR, it almost is, which is pretty darn fast for a humble compact.
Press the shutter release button down halfway and after the briefest of pauses the Casio picks out its target, AF point highlighted in green with a cheery bleep of affirmation that the user is free to press down fully and take the shot. Do this and a full resolution JPEG image in single shot mode is committed to memory - here removable SD/SDHC/SDXC media card with modest internal capacity used up mainly by a pre-loaded demo video - in possibly quicker a time than it takes you to blink. The Casio EX-RZ10 is certainly no slouch for those who want to be up and moving on to the next shot without a second thought, and in this respect is very impressive for a sub-£300 compact. Previous settings aren't retained when the camera is switched off though - so say you had HDR Art mode selected before you turned it off, you'd find the camera had switched back to regular Auto mode when you activated it again.
The back of the camera is where the rest of the EX-ZR10's controls fall and it's a fairly minimalist layout, which at least makes for a certainly clarity even if as expected some of the buttons - notably for recording video and accessing menu, are on the small side. What isn't modest is the LCD screen, brazenly takes up four fifths of available real estate in the predictable absence of any optical viewfinder. This means the five attendant buttons plus usual four-way control pad are shunted to the camera's right hand edge, and the thumb of your left hand comes to rest on the screen itself if steadying the model with both hands. That said, fingerprints are hidden reasonably well by the screen's finish.
| | |
| --- | --- |
| | |
| Memory Card Slot | Battery Compartment |
The button layout at the back is simple as well as minimal. From the top we get the aforementioned one touch video record button, beneath which is a larger but also red button - this time with camera icon - for switching to stills capture mode. Immediately below is the multi directional control pad with familiar set button at its centre for effecting any functional changes. At 12 o'clock on the pad is a means of adjusting the display - with the option of either dropping all information from the screen or adding a live histogram to what's already there with subsequent presses. At six o'clock on the dial is a means of adjusting the camera's flash settings - on, off, red eye reduction, auto - or deleting duff images on the fly, indicated by the familiar trashcan icon.
A press of the central 'set' button when changes aren't otherwise being made also brings up a Canon IXUS a-like tool bar of key settings that runs down the right hand side of the screen. Options here include the ability to adjust image quality /resolution and aspect ratio (with 3:2 and 16:9 being the alternatives), as well as control exposure (+/- 2EV), and, like the top plate 'HS' control, dip into the camera's BestShot settings. All pretty intuitive and familiar stuff.
Bottom right of the camera back, right near the base, are the last pair of controls - for playback/review and menu. A press of 'menu' when in playback and the user is presented with the usual slideshow and image trimming options, plus, via the 'dynamic photo' option, add little animated drop-ins to your stills, like fluttering doves bursting out of a cone. All a bit unusual. In capture mode a press of menu brings up the usual ability to turn the AF assist light on or off, activate the digital zoom or call up a nine zone compositional grid, as well as make more detailed quality adjustments and dip into the set up folder. There are three folders in all to choose from, and all are logically presented with legible white type on black background, overlaying whatever image is in front of the lens at that time.
With both sides of the camera featuring alternative lugs for attaching a wrist strap, and the right hand side (if viewed from the back) a plastic flap protecting adjacent ports for combined AV/USB and separate HDMI output, the ZR10 is pretty much as you'd expect to find it. That includes a shared compartment for the battery and removable SD media at the base and a slightly off-centre screw thread for attaching a tripod, next to which is, rather more unusually, the built-in speaker.
So what of the Casio's image quality? Are its quick on the draw qualities conducive to high art, or are we left feeling that it's all a bit of a flash in the pan (or cam), and that a little less haste may in fact be called for?