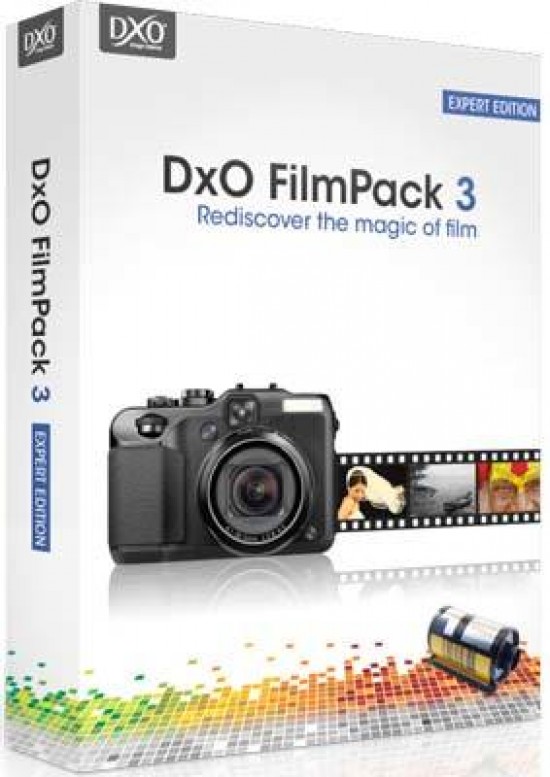 If over 60 film simulations aren't enough for you, there's the option to create your own effect in the Expert version of DxO Filmpack 3. You can establish your own specifications of contrast, grain or intensity and save them in the custom area before applying them to any picture you want.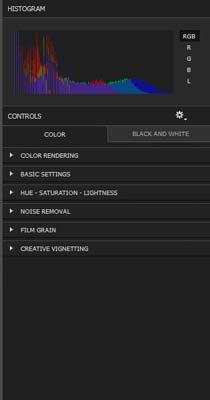 Controls
In the top right of the window on the same toolbar line as the preview options, there's a button called Show Controls which, when clicked on, opens manual control of the picture to fine tune the settings that you want. An RGB histogram is provided which splits down to the individual colours as well as luminance.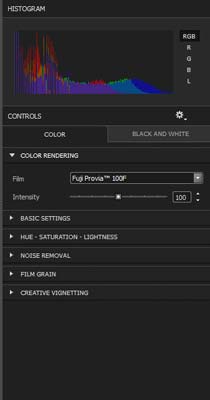 Colour Rendering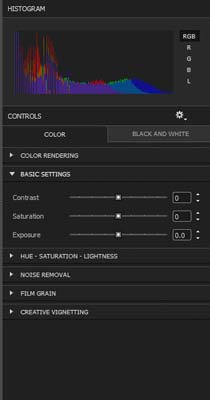 Basic Settings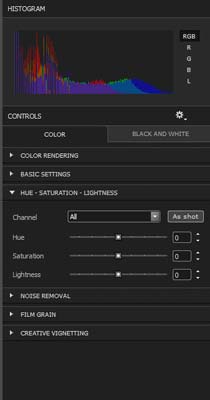 Hue - Saturation - Lightness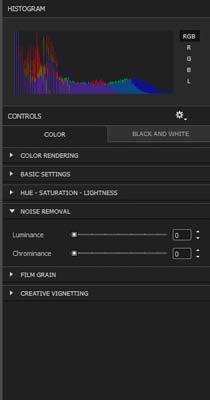 Noise Removal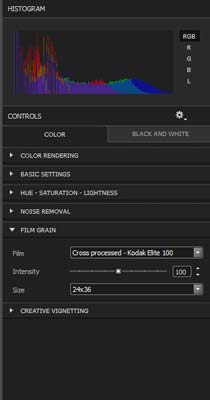 Film Grain
Creative Vignetting
The options below the histogram will change depending on whether you have a black & white or colour effect selected. There are some common features though for adjusting the intensity of the filters, removing noise and adding a vignette. We found it easier to zip through the effects using the thumbnails at the bottom while fine tuning adjustments using the toolbar on the right. The adjustments that you can make are extensive if not limitless and we started to get some great effects on our pictures straight away.
But let's look at the science and preparation behind the films. DxO have gone to a lot of trouble to create them and worked with Picto in Paris and Duggal in New York, to get the most precise simulations they could, although brands such as Kodachrome were developed in Kodak's own professional lab. As well as this, DxO also worked with professional photographers who have extensive knowledge of film to ensure that they were producing the most realistic results. DxO claim that other film simulation programs generate an artificial Gaussian noise and then manipulate the results to imitate a film type. They say that they've extracted the precise film grain matrices from test images taken of calibrated test patterns and real-life subjects.
Once we'd found the settings we wanted and made our adjustments, we clicked save. Working in Photoshop, this will close down Filmpack 3 and place the edited image on the workspace and logged in the history. Using the program as a standalone, the picture is saved using the Save As option in the file tab. The program acts similar to Photoshop at this stage by asking you what file quality you'd like to save the picture in.
It's possible to batch process a selection of pictures by clicking on the Batch Process button in the file tab. A small window opens up where you can select the pictures to process, choose the film simulation, choose the file format and quality and select the save destination. You can also add your own suffix to the pictures which is a neat touch.
Conclusion
OK, so there's no denying that DxO Filmpack 3 is a good program if you enjoy giving the look of film to your pictures. It's obvious that a lot of time and energy has gone into recreating film types from the past. However, programs like this one begs a few questions: Are we stuck in the past? What's wrong with a clean digital image? Why do we spend hundreds or thousands of pounds on superior sensors only to cover the results up with grain? One important point to remember is that as time goes on, less people will use film and even remember it, so does it warrant this amount of investment?
But let's look to the present. and as it stands DxO Filmpack 3 produces lovely results. It's very extensive giving you a lot of bang for your buck. The workflow is intuitive and easy to use. We like the speed of the application although working through Photoshop, we found that starting the program and processing took a bit longer than using it as a standalone.
If you've invested in a lot of digital equipment but want to hold on to the glory days of film or you think that your pictures need that little bit extra, DxO Filmpack 3 could be exactly what you're looking for. There are extras that can warrant upgrading for current users of Filmpack 2, notably the film grain, custom settings and batch processing. For the price, you may consider having DxO Filmpack 3 as something different to try on your pictures, especially if you have one that needs a little something but the usual channels simply aren't working.
Ratings (out of 5)
Features
4
Ease-of-use
4
Value for money
4.5
Your Comments