Epson Artisan 1430 Review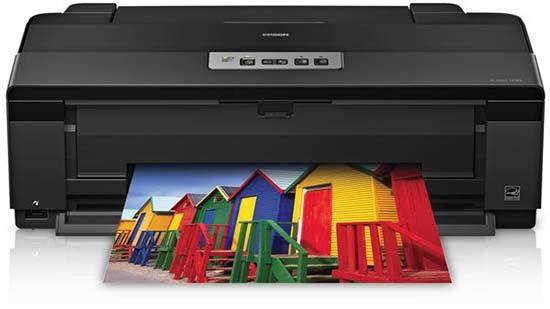 The Epson Artisan 1430 can handle paper sizes from 4"x6" up to 13"x44" (there is no roll adapter with the 1430, so you would need to precut longer sheets). Borderless printing is supported in common photo sizes from 4"x6" up to 13"x13", including scrapbook size of 12"x12". The supported paper types are plain, glossy, luster, semi-gloss, matte, and double sided matte. If you're printing to plain paper the tray will hold up to 100 sheets, and up to 20 sheets of glossy photo paper.
Actual printing is very straight forward. Within most applications, like Photoshop, Lightroom, and Aperture, you have the option to let the application control color management or let the printer manage the color. Depending on which you choose, you'll have a different set of features available in the print driver. I typically look at the more pro oriented printers and was pleased at how well Epson laid out the driver options with the 1430.
Regardless of which way you go, you'll need to select paper type and print quality under the Print Settings panel (Figure 7). If you elect to have the printer manage color, you'll have options available in the Color Settings panel well. Here you can select what type of image you're printing to have the driver compensate and make adjustments to the print automatically with the Fix Photo settings (Figure 8), or fine tune the color by selecting Manual Settings (Figure 9). If your operating system doesn't automatically turn off the color management in the driver when the application manages color, you would do this here by selecting Off (No Color Adjustment).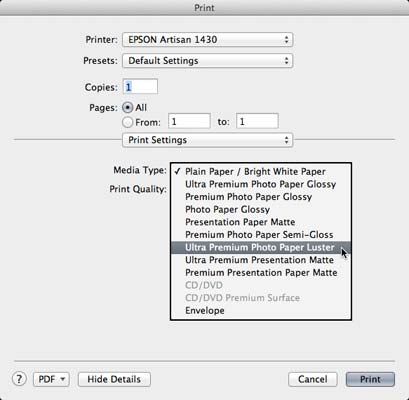 Figure 7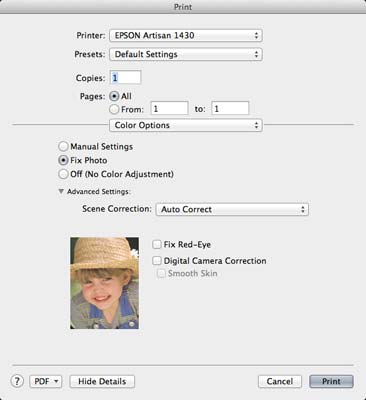 Figure 8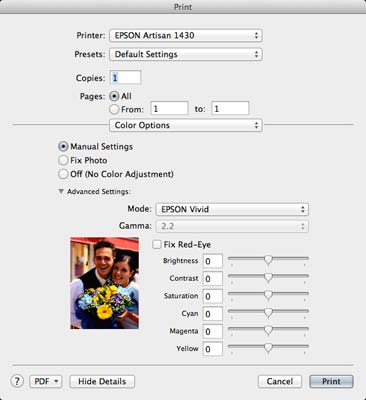 Figure 9
The Auto Photo Correction features do a nice job of correcting for common problems with images, particularly those taken with point and shoot cameras, but for the best results you are still going to want to make the appropriate adjustments in your image editing software and have the software manage color. But, for the casual user that doesn't know about color adjustment, and really doesn't care to learn either, these auto adjustments can make a huge difference in overall image quality, reducing the frustration that many people experience when getting started with their own printing.
The Artisan 1430 does a nice job on a range of media types, including matte papers, but the best results were seen with Epson's own Premium Glossy paper. Colors are rich and vibrant, and skin tones are reproduced beautifully. There is no straight feed path for thick media though, so heavy fine art materials are not going to be usable with this printer.
If you want to print directly onto inkjet coated CD/DVD media, the included tray and software will handle the job pretty easily. Epson Print CD, included with the printer, lets you create custom labels with images and text. It has a number of features, but the interface feels a little clunky and takes some experimenting to get the results you want (Figure 10)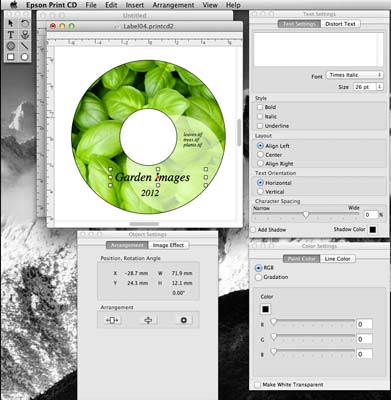 Figure 10
If you're using the Artisan 1430 wirelessly, you can also download Epson's iPrint software for iOS and Android devices to print directly from your mobile device. I printed a couple of photos from my iPad with good results, as well as a document from EverNote.
Conclusion
The Epson Artisan 1430 is a solid entry level wide format printer. Supporting WiFi, printing on a range of media types, including CD/DVD, and offering borderless printing up to 13"x19", it's hard to find fault with the printer at the suggested $299 price. At the time I'm writing this review, it's available directly from Epson for $219, making it an even better value. If you're printing in higher volumes, or you need to print on heavier fine art media, you should look into the Epson R2000 instead.
Ratings (out of 5)
Design
4
Features
4
Ease-of-use
4
Value for money
4.5
Your Comments