Epson SureColor SC-P400 Review
Introduction
Whilst multi function or All-in-one printers are popular for the home user, they are not necessarily the best choice for photographic prints. For the keen photographer who wants the best possible photo quality, a single function printer should be the first choice. Epson has been producing high quality photo printers for 15 years and have just added the SureColor SC-P400 A3+, single function printer, to their portfolio.

The SureColor SC-P400 uses seven colour Epson UltraChrome HiGloss 2 pigment inks, and an enhanced gloss optimiser. Pigment inks ensure that prints will have greater light fastness than dye based inks. The seven inks include; Photo Black, Cyan, Magenta , Red, Matte Black, Orange and Gloss Optimiser. Each cartridge contains 14.0 ml of ink. The printer prints on media sizes from 3.5" x 5" up to A3+ plus CD/DVD Labels and 13 inch wide roll media. There is also a rear loading fine art media paper path for thicker specialty media up to 1.3mm thick. On first impressions this may be the ideal printer for the enthusiast, so let's put the SC-P400 to the test.
Installation
Setting up the Epson SureColor SC-P400 is straight forward, just follow the illustrated quick start guide. Plug in the power cable and turn the printer on, then install the ink cartridges.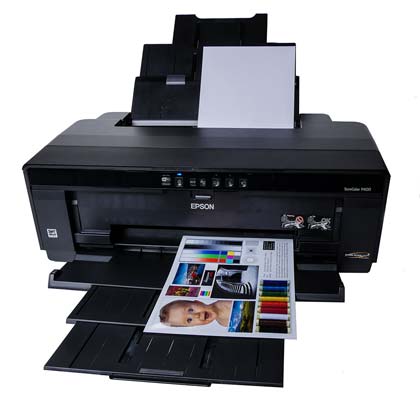 The SC-P400 is supplied with a set of primer inks, these are used to prime the print head and should only be used the first time you use the printer, they can't be used at a later date or once the printer has been primed. The supplied starter set of inks are not a true indication of how many prints can be obtained from a normal set of ink cartridges. Shake each cartridge before fitting, this ensures that the heavy pigment ink particles are circulated.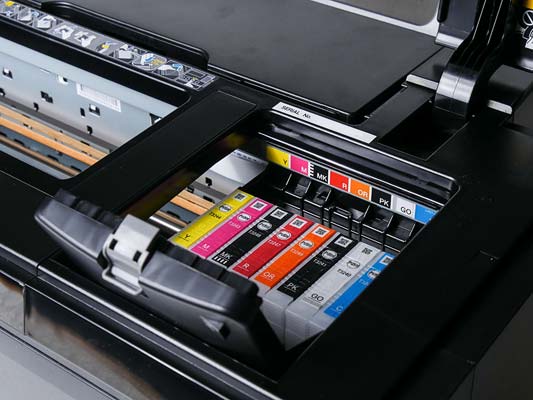 Each ink slot is colour coded and each cartridge has its own moulding so there is no chance of accidentally fitting it in the wrong slot. The initialization process takes about four minutes. Once done you can install the printer drivers and software and connect the printer via USB or Ethernet when prompted. The bundled software includes Epson Print CD and Epson Easy Photo print, you have the option to select the items you want installed. The USB 2.0, Ethernet points and power connection are located at the rear of the printer.
Features
The Epson SureColor SC-P400 features include; auto feeder for media sizes from 3.5" x 5" through to Super B (A3+) 13" x 19", roll paper printing on 13" width rolls with a 2 inch core. A rear manual feed guide is also supplied for single sheets of fine art paper. A front manual feed tray provides a straight paper path for media up to 1.3mm thick. CD/DVD label printing is possible with the included tray. Connectivity is via High Speed USB 2.0 port or Ethernet, as well as Wi-Fi Direct. Wi-fi enables you to transmit photos directly from a Wi-Fi enabled camera or mobile device, this is supported by Epson's free iPrint App. Although Wi-Fi is handy for quick photos, most photo-graphers will no doubt want to print from their PC using an image editing application.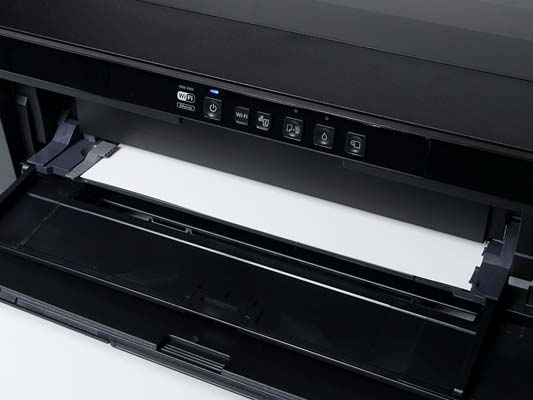 The top loading media tray holds up to 30 sheets of photo quality paper or 120 sheets of plain paper. This is a three section telescopic gravity feeder tray with two rubberised grips to avoid paper slippage, when using large A3 media. When collapsed it also forms the top cover to prevent dust and other objects falling into the works. A smooth action paper guide is used the keep the paper from skewing, media size markings are engraved to the rear.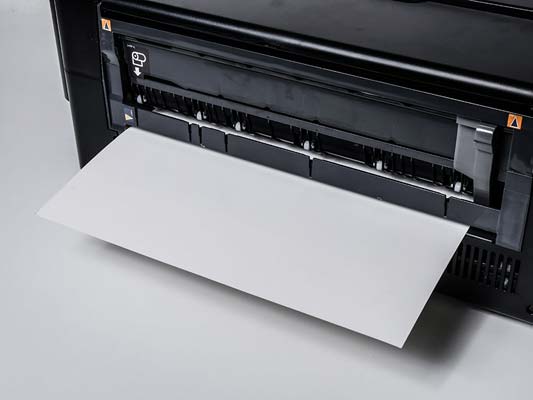 Also at the rear there are slots for attaching the two supplied roll media holders. This enables you to print on 13" wide roll media, ideal for printing panoramic photos or banners. From past experience, I have found it hard to uncurl this media, especially with prints that are made from near the end of the roll, this is due to the tight curl of the paper, however, mounting the prints onto board cures the problem. A three section media catcher is at the front of the printer, this also folds away to form the front cover.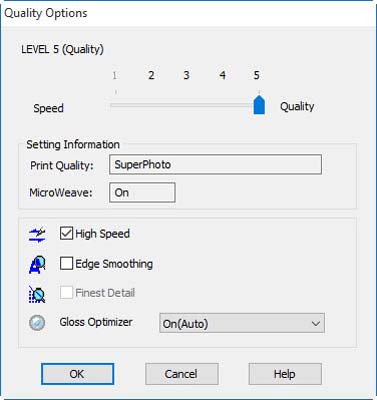 The Epson SureColor SC-P400 has a printing resolution of 5760 x 1440 dpi. There are three quality settings to chose from within the Printer Properties; Speed, Quality and Quality options which include - SuperPhoto, SuperFine and Fine. For our test prints we used the Quality setting.
Your Comments