Fujifilm FinePix F300EXR Review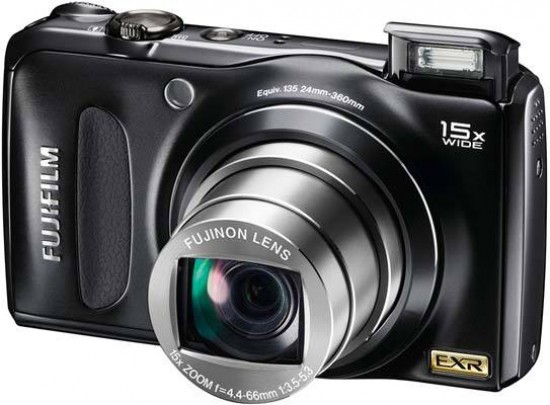 Introduction
The Fujifilm Finepix F300EXR is a new 12 megapixel compact camera with a 24-360mm, 15x zoom lens. Featuring Fujifilm's next generation EXR technology with hybrid high-speed autofocus, the F300 EXR switches between phase detection AF and contrast AF depending on subject and light levels, promising DSLR-like focusing speed. Other highlights of the successor to the F200EXR include an EXR sensor, improved image stabilisation system, high-resolution 3 inch LCD screen, 360° Motion Panoramas, and 720p HD movie. The Fujifilm Finepix F300EXR is available in black at a retail price of $329.95, and will be available in the UK from October 2010 for £329.99.
Ease of Use
Pleasingly Fujifilm appears to have, of late, regained the sense of purpose it displayed at the start of the decade, before being overtaken by those whose heritage lay in consumer electronics rather than film. Not a million miles away from the glossy curves of its recent F80EXR compact, with the matt black F300EXR naturally sporting the same 2nd generation triple-action EXR sensor, it appears to be pushing its boat out with regard to the burgeoning 'travel zoom' sector.
The new 12-megapixel model additionally shoehorns a class leading 15x optical zoom (24-360mm equivalent in 35mm terms) into a slender, handbag or pocket friendly chassis, just 22.9mm in depth at its thinnest point. The lens is neatly folded away when not in use.
Yet even in its inactive state, the camera's optics look like they're ready to burst forth from the body, Alien style. For the lens is barrel surrounded by what resembles a pregnant bulge, its rounded edges and controls avoiding this Fujifilm looking like the usual rectangular box so many other compacts resemble. Apart from that, the camera presents a clean and sophisticated faceplate, the only feature apart from said lens being a window for the self-timer/AF assist lamp top left.
The back of this camera also impresses, in sporting a 3-inch, wide view 460k-dot resolution LCD. So in practice we didn't miss that the camera omits an optical viewfinder of any kind; the screen is perfectly adequate for outdoor use. The F300EXR competes directly with Canon's 14x zoom PowerShot SX210IS, which, design wise, now seems lacking finesse in comparison. Pricing is nigh identical to its close contender, the Fujifilm having a high-ish suggested pricing of £329 in the UK. Out of the box you get a basic quick start manual, with the rest on a supplied CD ROM. This also includes the usual basic software, here FinePix Studio Version 1.0 for Windows PCs and FinePix Viewer Version 3.5 for Macs.
Since this is a point and shoot camera first and foremost, Fujifilm has thoughtfully ramped up the performance of its auto focus features, with phase detection auto focus (as on Sony's newest A33 and A55 DSLRs) for near instantaneous (officially 0.158 seconds) captures, plus a new hybrid auto focus system to measure light and contrast. Other key features include a new 360° motion panorama mode for sweeping landscapes, the ubiquitous face detection/recognition (now extending to dogs and cats), tracking auto focus, the DSLR-like background blurring Pro Focus mode seen on other EXR compacts, plus 'intelligent' flash and gyro sensor image stabilisation.
Film modes showing off Fujifilm's 'wet' heritage also make a re-appearance, the choice once again being the well-saturated colours of 'Velvia' mode, the default natural-looking setting of 'Provia', or the soft and gentle 'Astia' for portraiture. Likely to get more use by those with families is an auto release mode that fires the shutter when the camera detects the subject is looking directly at the lens. Fujifilm suggests this is ideal for photographing never-sit-still children and babies. We also get 1280x720 HD movie clips, with usefully a dedicated video mode button on the backplate that falls readily under the thumb, and mini HDMI output alongside regular AV and USB output at one side. Plus, in playback mode, there's a chance to sort through images faster with a new Photobook feature, as well as rate your favourites by allocating stars to them. Everyone's a critic!
| | |
| --- | --- |
| | |
| Front | Rear |
The Fujifilm F300EXR comes across then as fairly feature packed, but at the end of the day if you just want to point and shoot you can. The camera is as intuitive as you'd expect a consumer model from Fujifilm to be.
For those not already up to speed re: the properties of Fujifilm's Super CCD EXR sensor meanwhile, it can be utilized in one of three ways by the photographer. There's a choice between shooting at full 12MP resolution in High Resolution (HR) mode, alternatively choosing wide Dynamic Range (DR) mode to achieve optimal balance between shadows and highlights, or Low Noise (SN) mode for shooting without flash in low light conditions. If you can't decide which is best for a chosen scene or subject, then leave the camera on scene-detecting EXR Automatic Mode and let it choose for itself, comparing the subject before the lens with pre-optimised settings, here these govern landscapes, portraits, macro, night time, night portrait and backlit portrait settings in particular.
Overall dimensions are 103.5x59.2x32.6mm and the camera weighs 215g with battery and optional SD/SDHC memory card inserted. xD-Picture Card now seems to be a thing of the past for Fujifilm.
Like most of its travel zoom ilk it's made for the pocket, there's not much of the actual camera to get a firm grip on. There's a gentle curve and rubber patch to the left hand edge at the front while at the back the F300EXR Fujifilm has introduced possibly the first 'booty' on a digital camera. A bulge top right provides a resting place for the thumb, a backward slanted shooting mode dial (thus echoing the FinePix HS10) topping it off; an unusual move that Fujifilm suggests makes for easier control access and so faster operation. It looks at once like that portion of the camera is melting, and at the same time very cool indeed.
Switch the camera on via the recessed top plate button that sits alongside the shutter release, once again encircled by a zoom lever, and there's an immediate irritation however. The integral flash, prior to this neatly sunk within the top plate, rises automatically, and without request. Much the same in fact as the flash does on the aforementioned Canon PowerShot SX210 IS; however, unlike on the Canon where its flash could immediately be clicked back down into place and scolded like a naughty child, the Fujifilm's own remains raised and somewhat in the way of your fingers when holding the camera in both hands.
The F300EXR takes roughly two seconds from being activated before you can fire off the first shot, rear LCD bursting into life and lens extending to maximum wideangle with an audible mechanical whirr. A half press of the shutter release button and AF is not quite instantaneous; it feels like there's a good second between a half press and a beep of affirmation that the camera has picked out a target, with the lens again audibly adjusting. Fujifilm by contrast suggests it's a mere blink of an eye. But hey, we can certainly live with that. Though it's neither here nor there, the on/off switch glows with a cool blue light, which recalls the same feature incorporated on Samsung's compact range.
| | |
| --- | --- |
| | |
| Front | Top |
Also on the top plate is the camera's built-in mono microphone, with a speaker located on the camera's left hand flank, if viewing it from the back. Both the power button and shutter release fall readily under the forefinger when gripping the camera in your right hand, and the zoom lever is similarly ergonomically located. Nudge the latter and said zoom veritably powers through its broad focal range, zipping from maximum wideangle to extreme telephoto in actually under three seconds; shame then that it sounds like a wasp buzzing your ear as it does so.
Surprisingly then the zoom function can also be used when shooting movies, but in this mode it is altogether smoother, steadier and any operational noise - though still audible if filming in quieter environs - is nevertheless dampened down. However our review sample took an age to store the memory hungry video once we'd recorded it, all functionality frozen whilst it did so. A maximum resolution JPEG takes around 3-4 seconds to write to memory.
As previously mentioned, top right of the backplate, and appearing to be sliding backwards off the top plate, is the Fujifilm's shooting mode dial. It's here that there's the suggestion of the F300EXR being a bit more than your average point and shoot by virtue of it including the creative quartet of Program, Shutter Priority, Aperture Priority and Manual settings, plus four further options. Here the four are regular point and shoot Auto mode, the much trumpeted 'EXR' mode, SP or 'Scene Position' - basically the Fujifilm's pre-optimised scene/subject modes - plus 'Adv' or Advanced mode. It's with the latter selected that you'll have access to the otherwise unmarked 360° panorama option, which, with a press of the menu button and a further tab of the four way control pad or its surrounding scroll wheel, can be swapped instead for Pro Focus or Pro Low light focus modes, the latter to enhance the clarity of still subjects in very low light, according to the explanatory text that pops up on-screen as a guide. Since these involve firing off and combining more than one image, a steady surface or tripod is a must.
With video not represented among the other shooting modes on the dial, as mentioned at the outset this thoughtfully has its own button just below, a press of which kicks off recording whichever alternative mode had previously been in use. This means that movie quality needs to be adjusted separately by delving into the camera's shooting menu via the main 'menu' button. Do so and the choice is limited between 1280x720 pixels HD shooting at 24 frames per second or standard definition 640x480 pixels at 30fps. Not quite as sophisticated as the options to be found on today's Panasonic Lumix models then.
One thing we'd take issue with on the Fujifilm however is battery life. Provided here is a NP-50 lithium ion cell which is claimed to be good for a modest 250 shots from a single charge, but on our sample suddenly dropped from showing two thirds full on its indicator to glowing red when we were nowhere near that; even if we had admittedly been turning it on and off a lot to check features and functionality.
To the left of the video record button is the familiar playback button. Press this and as well as reviewing images the user is invited to have access to all the camera's extensive photobook features.
| | |
| --- | --- |
| | |
| Memory Card Slot | Battery Compartment |
Beneath this again Fujifilm has implemented the aforementioned Canon-like scroll wheel and central control pad combo, the latter itself encircling a central menu/OK button - for calling up said menu folders, always clear, concise and to the point with Fujifilm, and then executing any functional changes.
Ranged around this scroll wheel/pad are a means of adjusting exposure when in one of the capture modes, or deleting duff images in playback. We also get access to the camera's flash settings (oddly disabled if you've switched the camera to silent mode), self timer options and the ability to switch from infinity to macro focus - here close ups are offered down to 5cm. Perfectly acceptable, but no match for the 1cm capability of the recent Ricoh CX4, to take just one competing example.
Also doubling up, in terms of control, is a 'display' and 'back' button - the latter very useful if, in your keenness for exploration of the F300EXR's Pandora's box of features, you've stumbled onto a setting you didn't actually want and want to retrace your steps.
Last but no means least, tucked into the right hand corner of the F300EXR's backplate is an 'F' (for 'Foto') button which, as regular Fujifilm users will know, provides a short cut to the likes of image quality and the film simulation modes. Operation pared down to the bare essentials for quick and easy access then, and very useful it is too.
The right hand flank of the camera features the cover for the mini HDMI port and AV/USB output, with lug for attaching a wrist strap just above. At the camera's base meanwhile we find a centrally located screw thread and, to its side, a sliding door hiding the shared compartment for optional media card and battery.
Ultimately then there's nothing about the F300EXR, despite its sophisticated exterior trappings, to fox even the uninitiated. The broad focal range, as we find with any camera of its 'travel/high zoom' ilk, is hugely beneficial in terms of throwing open your options for seizing the moment and capturing that shot that you probably would have missed if you had to walk - or run - closer instead with a less generously equipped compact.
But the above doesn't count for much if the actual images aren't up to scratch. So how does the F300EXR fare when images are downloaded and scrutinized in detail? Read on and find out…