Fujifilm FinePix F550 EXR Review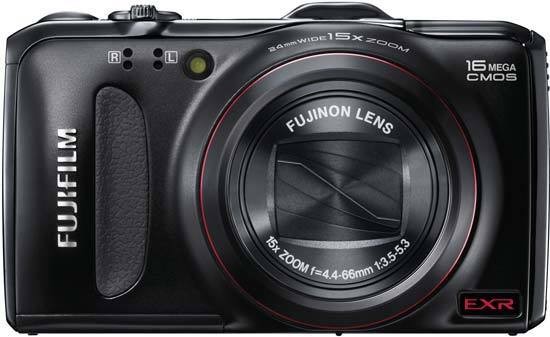 Conclusion
The Fujifilm FinePix F550 EXR builds on the success of the previous F300 model with a new 16 megapixel EXR sensor, which expands the ISO range up to 12,800, offers fast continuous shooting speeds and slow-motion movies, and adds full 1080p HD movies. GPS functionality is the icing on a very rich cake, working well in both rural and built-up areas, something that most cameras with this feature struggle with, although it does adversely affect the battery life. It's not all good news, however, as the 16 megapixel sensor also results in more noise and loss of fine detail than on the 12 megapixel F300, first appearing at the slow speed of ISO 200 and becoming all too obvious at ISO 400. The F550 EXR also suffers from the same slow RAW processing speeds and high price tag that adversely affected its predecessor.

Just like its sister model, the HS20 EXR, the F550 EXR suffers from pedestrian writing speeds for RAW files and poorer image quality once you get above ISO 200. Having to wait more than 5 seconds between every RAW image quickly becomes annoying, despite the headline-grabbing 8fps burst mode, and noise quickly rears its ugly head at ISO 400, becoming progressively worse throughout the rest of the ISO range. The flash automatically popping up when you turn the camera on, rather than just when you've actually selected to use a flash mode, is also annoying, though like a partner's annoying habit it's a quirk that you gradually find yourself putting up with over time. The final bugbear is price. More expensive in the UK than the F300 EXR was on launch, £329 / $329 feels like a lot to pay for a compact camera, however well-specified it is.

The Fujifilm Finepix F550 EXR is a stylish, full-featured and likeable compact camera, with the 15x zoom opening up a wealth of framing possibilities, but the move to a 16 megapixel sensor and the resulting drop in image quality rather spoils the party. The F550 EXR is still a good camera, with a long list of stand-out features and a logical, well-thought-out interface, but as with the HS20 EXR that we reviewed recently, we can't help feeling that the model that the F550 replaces actually produces better photos.
Ratings (out of 5)
Design
4
Features
5
Ease-of-use
4
Image quality
3.5
Value for money
3.5