Fujifilm FinePix F770EXR Review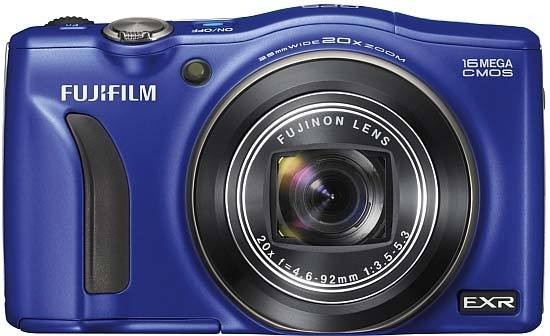 Introduction
The Fujifilm Finepix F770EXR is a new 16 megapixel travel-zoom compact camera with a 20x, 25-500mm zoom lens. Capable of auto-focusing in as little as 0.16 seconds, other highlights of the successor to the F600EXR include a new EXR Back-side Illuminated CMOS sensor, 8fps continuous shooting, RAW image capture, full 1080p HD movies and High Speed movie capture at 320 fps. New features include enhanced GPS functionality, a high-contrast 3 inch LCD screen, an intelligent digital zoom mode which doubles the telephoto range to up to 40x, faster start-up and shot-to-shot times, new hand-grip, a customisable Function button and a more powerful built-in flash. The Fujifilm Finepix F770EXR is available now in black, red, blue or white for $379.95 / £329.95.
Ease of Use
In terms of its design the new Fujifilm FinePix F770EXR is virtually identical to the F600EXR model that it replaces. Therefore a lot of the comments that we made about that model apply equally to the F770, which has similar glossy curves as its predecessor. This new 16-megapixel model somehow shoehorns an even longer 20x optical zoom (25-500mm equivalent in 35mm terms) into a slender, handbag or pocket friendly chassis which measures just 24.9mm in depth at its thinnest point, only 2mm thicker than the 15x zoom F600EXR. The lens is neatly folded away when not in use, making the F770EXR eminently pocketable, with overall dimensions of 105.1x63.3x36.0 mm and weighing 234g with the battery and an SD/SDHC/SDXC memory card inserted.
Even in its inactive state, the camera's optics look like they're ready to burst forth from the body. The lens barrel is surrounded by what resembles a pregnant bulge, its rounded edges and controls avoiding looking like the usual rectangular box that so many other compacts resemble. Apart from that, the F770EXR presents a clean and sophisticated faceplate, the only features apart from the lens being a much improved hand-grip that is more prominent and has a rubber insert to aid grip, a small window for the self-timer/AF assist lamp and two small holes for the stereo microphone.
The back of the F770EXR also impresses, sporting a higher contrast 3-inch, wide-view 460k-dot resolution LCD. The new Monitor Sunlight Mode does what its name suggests, making the LCD screen easier to use in very bright sunlight (this can be assigned to the new Function button for ease of access). Out of the box you get a basic quick start manual, with the rest on a supplied CD ROM. This also includes the usual basic software, here FinePix Studio for Windows PCs and FinePix Viewer for Macs.
Fujifilm has thoughtfully ramped up the performance of its auto focus features, with a claimed focusing speed of just 0.16 seconds. Other key features include a 360° motion panorama mode for sweeping landscapes, the ubiquitous face detection/recognition (including dogs and cats), tracking auto focus, the DSLR-like background blurring Pro Focus mode seen on other EXR compacts, plus 'intelligent' flash and gyro sensor image stabilisation.
To help avoid blur resulting from camera shake when shooting in low light or hand-holding the camera at the telephoto extremity of the zoom, Fujifilm have added a 'belt and braces' solution of high ISO sensitivity, stretching up to ISO 3200 at full resolution, a built-in mechanical stabilizer with Continuous or Shooting Only modes, and digital image stabilisation too if required. Activated via the IS Mode menu option, you can set the system to Continuous, Shooting Only, either mode with the addition of digital stabilisation, or Off. Note that the camera will only automatically adjust the ISO speed when using the Auto shooting mode - in the other modes the ISO speed that you select will always be used, so only the mechanical CCD-shift part of the system is used.
Film simulation modes show off Fujifilm's heritage, the choice once again being the well-saturated colours of 'Velvia' mode, the default natural-looking setting of 'Provia', or the soft and gentle 'Astia' for portraiture, plus black & white and sepia. Likely to get more use by those with families is an auto release mode that fires the shutter when the camera detects the subject is looking directly at the lens. Fujifilm suggests this is ideal for photographing never-sit-still children and babies.
| | |
| --- | --- |
| | |
| Front | Rear |
We also get full 1080p HD movie clips, with usefully a dedicated video mode button on the backplate that falls readily under the thumb, and a mini HDMI output alongside the regular AV and USB output at one side. Plus, in playback mode, there's a chance to sort through images faster with the Photobook feature, as well as rate your favourites by allocating stars to them.
Like most of its travel zoom rivals the F770EXR is made for the pocket, so there's not much of the actual camera to get a firm grip on. There's a pronounced curve and a vertical rubber strip to the left hand edge at the front while at the back the F770EXR Fujifilm has introduced possibly the first 'booty' on a digital camera. A bulge top right provides a resting place for the thumb, a backward slanted shooting mode dial topping it off, an unusual move that Fujifilm suggests makes for easier control access and so faster operation. It looks at once like that portion of the camera is melting, and at the same time very cool indeed.
Switch the camera on via the recessed top plate button that sits alongside the shutter release, once again encircled by a zoom lever. The F770EXR takes less than two seconds from being activated before you can fire off the first shot, rear LCD bursting into life and lens extending to maximum wideangle with an audible mechanical whirr. A half press of the shutter release button and autofocus system is virtually instantaneous, in keeping with Fujifilm's claimed 0.16 second speed. Though it's neither here nor there, the on/off switch glows with a cool blue light, which recalls the same feature incorporated on Samsung's compact range.
Also on the top plate directly above the lens is a smoothed-out lump housing one of the F770EXR's main features, built-in GPS. The camera quickly recognises your location and displays the longitude and latitude co-ordinates or the place name if recognised thanks to the new high sensitivity antenna. You can then search for an image by place name and create a photobook using the Photobook Assist function.
The F770EXR can also navigate you to where a specific photo was taken, acting like an iPhone-lite by providing the distance and direction from your existing location, and the Landmark Navigator option alerts you to nearby landmarks and tags them in your photos and can also act as a compass by pointing the camera down. The new MY Landmark function allows you to choose your favourite places in the camera. Finally, the camera can join the dots between your photos and create an illustrated map via the Route Log option (although turning this on drains the battery quite quickly), while the Photo Navigation mode shows the distance from and direction to a previous location.
GPS can be manually turned off or on, either permanently on or just when the F770EXR is switched on. The first option is useful if you quickly move from one area to another and don't want to wait for the camera to lock onto a signal again, although it does drain the battery more quickly. The F770EXR's GPS receiver works a lot better than most other GPS-capable cameras that we've reviewed, saving accurate positioning information for the majority of the images that we shot in built-up central London, making this camera useful for urban as well as rural photographers. The main downside of the GPS is the subsequent drain on battery life, with the camera only managing just over 175 shots with GPS turned on instead of the 300 that it can manage without.
| | |
| --- | --- |
| | |
| Top | Front |
A new customisable Fn button has been added to the F770EXR's top-plate. This can be set to one of 11 different options, including ISO, RAW, Dynamic Range and AF Mode. As the camera lacks a dedicated ISO button, this is perhaps the most logical choice for the Fn button.
Somewhat strangely, there's no external control for another of the F770EXR's star turns, its fast continuous shooting speed. Instead the Continuous menu option brings up four options - Off, Top 4, Best Frame Capture and three different kinds of bracketing (exposure, film simulation mode and dynamic range). Choosing Top 4 allows you to take 8 full-resolution photos at 8 frames per second, which is faster than most compact cameras and indeed most DSLRs too. The only fly in the ointment are that only 4 out of the 8 are actually saved to the memory card.
Choosing Best Frame Capture shoots at 11fps at 8 megapixel resolution from the moment that you focus and then saves up to 16 images including pre-recorded frames. Once the burst is completed, it takes over fifteen seconds for the camera to clear the buffer, during which you cannot take another picture. There is also another continuous shooting speed where the Fujifilm F770EXR shoots at a faster speed 11fps at at 4 megapixel resolution for up to 32 frames.
Although JPEGs are quickly committed to memory in single-shot mode with only the briefest pause between each one, unfortunately after just a couple of shots there's a very noticeable 5 second delay between the capture of one RAW file and the next during which you can't take another picture, which rather slows down the shooting experience unless you stick to the JPEG format.
Both the power button and shutter release fall readily under the forefinger when gripping the camera in your right hand, and the zoom lever is similarly ergonomically located. Nudge the latter and said zoom veritably powers through its broad focal range, quietly zipping from maximum wideangle to extreme telephoto in under three seconds.
Looking at the rear of the F770EXR there's a clearly labeled and logically laid out control set, with a chunky, ridged shooting mode dial which is reminiscent of those found on DSLR cameras. Ranged around the dial, which turns with just the right amount of resistance for it to lock firmly into place at each setting, are a range of shooting options, such as full auto, program, shutter priority, aperture priority and manual modes, along with a scene position mode (SP) that's pre-optimised for common subjects. Note that there are only three available apertures in A mode, rather limiting your control, although there is a full range of shutter speeds on offer.
| | |
| --- | --- |
| | |
| Side | Pop-up Flash |
There are two more shooting modes that are particularly noteworthy. First up is the EXR Auto mode (one of the four EXR modes), which is an 'auto everything' scene recognition mode that's the equivalent of Panasonic's Intelligent Auto mode. Although far from infallible - if you're not paying close attention and it's presented with a busy scene it will call up landscape when macro is needed and vice versa – it instantly makes the F770EXR more beginner friendly, instantly recognising no less than 103 basic scenes and then applying one of the three other EXR modes too. It also includes a a Motion Detection capability, which makes the camera increase the ISO speed to help capture a sharper picture in low-light when it detects movement.
Fujifilm's EXR sensor can be utilized in one of three ways by the photographer. There's a choice between shooting at full 16 megapixel resolution in High Resolution (HR) mode, or an 8 megapixel image in the Low Noise (SN) mode for shooting without flash in low light conditions, or the Dynamic Range (DR) mode to achieve an optimal balance between shadows and highlights. The latter offers five strengths ranging from 100-1600%. If you can't decide which is best for a chosen scene or subject, then just leave the camera on the scene-detecting EXR Automatic Mode and let it choose for itself.
The second shooting mode of particular interest is the rather misleadingly named Advanced mode, which actually has five options that are well suited to all experience levels. The first shooting mode is the Motion Panorama option, clearly inspired by Sony's popular Sweep Panorama function. This lets you capture a 360 degree panoramic image very easily without the use of a tripod. All you need to decide is whether you would like to start from left or right, top or bottom, then press and hold down the shutter release while doing a "sweep" with the camera in hand. Exposure compensation is available before you start the sweep, with the exposure fixed once you depress the shutter button. After you are done with the sweeping, the camera does all the processing required, and presents you with a finished panoramic image.
Although undoubtedly fun, there are a few catches. The final panorama is of relatively low resolution, and if you do the sweeping too slowly, or you let go of the shutter release button too early, the panorama will be truncated. If the exposure varies throughout the scene, then some areas will be over or under exposed, depending upon the exposure value that was chosen as the panorama was started. Finally, people and indeed anything that moves in the frame are recorded as several ghost outlines, which means that you can really only record static, empty scenes, something that Sony have solved in the latest iteration of their Sweep Panorama feature.
The Pro Low-light mode uses multi-bracketing technology, taking a series of four high sensitivity/low-noise shots in quick succession and combining them into an image with less noise than the single exposures. You can see examples of this shooting mode on the Image Quality page. The Pro Focus mode makes it easier to achieve a blurred background, perfect for portraits where compact digicams traditionally struggle. In the new Multiple Exposure advanced mode the Fujifilm FinePix F770EXR can combine two seperate images into one, while the 3D mode automatically creates a realisitic 3D image in-camera that's composited from two individual photos that are taken from different positions.
With video not represented among the other shooting modes on the dial, as mentioned at the outset this thoughtfully has its own button just below, a press of which kicks off recording whichever alternative mode had previously been in use. This means that movie quality needs to be adjusted separately by delving into the camera's shooting menu via the main 'menu' button. Happily the zoom function can also be used when shooting movies, but in this mode it is altogether smoother, steadier and any operational noise - though still audible if filming in quieter environs - is nevertheless dampened down.
| | |
| --- | --- |
| | |
| Memory Card Slot | Battery Compartment |
The F770EXR offers full 1920x1080 pixel footage at 30 frames per second with constantly adjusting auto exposure and focus with stereo sound. It can record video clips up to 29 minutes long for the 1920x1080 and 1280x720 pixel formats, with longer times available for VGA and SVGA modes. The dedicated Movie button on the rear makes it quick and easy to shoot a movie without missing the start of the action, and there's a mini-HDMI port for connection to a HDTV (cable not supplied). You can select one of the Film Simulation modes to give your footage a more creative look, and there's the option to take a still photo at any time during movie recording. The new Face Tracking Auto Focus mode ensures that faces stay sharp and correctly exposed during movie and still image recording, even if the subject moves.
In addition to these "normal" movie modes, the F770EXR also offers several high-speed modes, a feature that was first pioneered by Casio. There are three different speeds on offer - 320, 160 and 80fps, with the file size varying from 320x112 to 640x400 pixels respectively. This slow-motion effect is initially very appealing and sure to impress your friends, but there are some drawbacks to be aware of. Sound isn't recorded at all, horizontal bands can appear as the lighting fluctuates, and the actual sizes of the recorded movies are pretty small.
To the left of the video record button is the familiar playback button. Press this and as well as reviewing images the user is invited to have access to all the camera's extensive photobook features. Beneath this again Fujifilm has implemented the aforementioned Canon-like scroll wheel and central control pad combo, the latter itself encircling a central menu/OK button - for calling up said menu folders, always clear, concise and to the point with Fujifilm, and then executing any functional changes.
Ranged around this scroll wheel/pad are a means of adjusting exposure when in one of the capture modes, or deleting duff images in playback. We also get access to the camera's flash settings (oddly disabled if you've switched the camera to silent mode), self timer options and the ability to switch from infinity to macro focus - here close ups are offered down to 5cm.
Also doubling up, in terms of control, is a 'display' and 'back' button - the latter very useful if, in your keenness for exploration of the F770EXR's Pandora's box of features, you've stumbled onto a setting you didn't actually want and want to retrace your steps. Last but no means least, tucked into the right hand corner of the F770EXR's backplate is an 'F' (for 'Foto') button which, as regular Fujifilm users will know, provides a short cut to the likes of image quality and the film simulation modes. Operation pared down to the bare essentials for quick and easy access then, and very useful it is too.
The right hand flank of the camera features the cover for the mini HDMI port and AV/USB output, with a metal lug for attaching a wrist strap just above. At the camera's base meanwhile we find a centrally located metal screw thread and, to its side, a sliding door hiding the shared compartment for the optional media card and battery.