Fujifilm FinePix F80EXR Review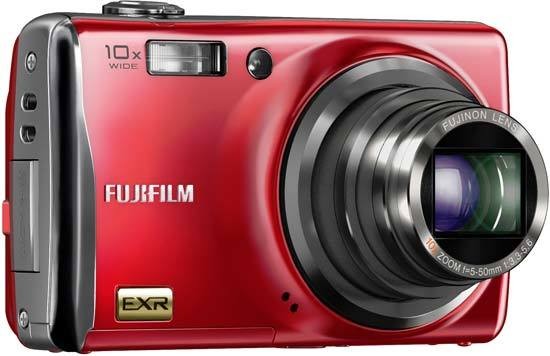 Conclusion
The Fujifilm F80EXR is a modest upgrade to last year's excellent F70EXR model, most notably adding more megapixels, a larger 3 inch LCD screen, HD movies, and face recognition. While all these new features make the F80EXR one of the best-specced cameras at its price-point, the 12 megapixel sensor delivers slightly worse image quality than its predecessor.

While most travel-zoom rivals now offer 12x and even 14x lenses, the F80EXR's 10x lens still offers a versatile 27-270mm focal range in a compact, stylish and well-made body. The ability to set the aperture and shutter speed (although slightly limited) is a major plus-point, although Panasonic and Samsung's competing models also provide a similar level of creative control. The HD video mode may not be full 1080p quality, but the 720p quality is more than adequate, albeit only with mono rather than stereo sound.

In a bid to keep up with the market-leaders, Fujifilm have also increased the screen size and megapixel count, but not entirely successfully. While the bigger screen estate is welcome, the 230K dot count is disappointingly low. Similarly the 12 megapixel sensor provides more resolution, but in direct comparison with the older F70EXR, does so at the expense of less fine detail in pictures taken at most ISO settings.

All of our previous lavish praise about Fujifilm's EXR mode applies equally to the F80EXR - it is as effective in practice as it is revolutionary in principle. The D-Range Priority (DR) mode in particular is literally a real eye-opener, recording much greater dynamic range and preserving more detail in the shadows and highlights than either the F80EXR's own high-resolution mode, or most other compact cameras that we've reviewed. And the 12 megapixel sensor does have the benefit of automatically increasing the EXR resolution to 6 megapixels, which some people believe is the optimum resolution for a digital camera.

Despite all the new features, the F80EXR retains the same very attractive official retail price of £229.99 / $299.95 as its predecessor, easily making it one of the most capable mid-range compact cameras around. It it wasn't for the slight drop in image quality, we'd be awarding the F80EXR top marks, but as it stands, this is still one of the best value and best performing compacts - highly recommended.
Ratings (out of 5)
Design
4.5
Features
5
Ease-of-use
4.5
Image quality
4
Value for money
5