Fujifilm FinePix F900EXR Review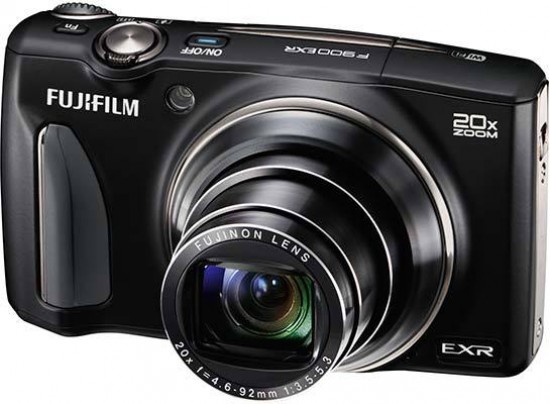 Introduction
The Fujifilm Finepix F900EXR is a new 16 megapixel travel-zoom compact camera with a 20x, 25-500mm zoom lens. Capable of auto-focusing in as little as 0.05 seconds, key highlights of the successor to the F800EXR include a 1/2 inch EXR CMOS II sensor, 8fps burst mode at full resolution, sensitivity up to ISO 12800, RAW image capture, wi-fi connectivity and full 1080p HD movies at 60fps. Other standout features include GPS functionality, a high-contrast 3 inch LCD screen, an intelligent digital zoom mode which doubles the telephoto range up to 40x, fast start-up and shot-to-shot times, a range of artistic filter effects, a customisable Function button and a built-in flash. The Fujifilm Finepix F900EXR is available now in black, red or blue for $399.95 / £249.95.
Ease of Use
The Fujifilm FinePix F900EXR is a larger-than-normal compact camera. It looks good on the outside with its slightly bulging lens eager to pop out and bring stuff closer for you to see. The slight grip on the right side curves to the grip of a curled forefinger while taking a photograph.
The top plate plays host to a discreet pop-up flash, silver shutter release button with a slim style zoom ring around it. The power button is located next to it and is flush with the body so you don't think that it's the shutter release by mistake. The same goes for the tiny Fn button. This button can be assigned a mode that you use more than anything else. If you're a slave to digital noise, then you might want to have it bringing up the ISO settings. You can also choose between the image size, quality, dynamic range, film simulation, metering (referred to as photometry), focusing modes, face detection and location information search. Whichever one you choose – and for whatever reason – it simply saves you having to enter into the menu systems.
| | |
| --- | --- |
| | |
| Front | Rear |
In the past, Fujifilm were known for their very easy to use menus with simple language and intuitive UI. Throughout the years as more features and technology have become available, the menus have become bigger and with more complex language. For the beginner, this can be quite intimidating and could put them off using it. It's unlikely that a beginner would buy a camera like this anyway, but if it's the family camera that is being bought, making sure everyone can use it is a must. Now, before you look elsewhere, we're talking about certain features such as Photometry. This option is known to everyone else as metering. No-one else uses that term on a camera and this is because the word "metering" is a lot easier to understand. Photometry even sounds complicated and could put some people off without looking at what it means.
The Fujifilm Finepix F900EXR is a weighty number. It is small enough to go in your pocket, but you'd better believe that you'll know it's there. It seems very well made with any moving parts given some reinforcement. The flash pop-up system is mechanical with a release button on the side of the camera for it to spring up. The top right shoulder is host to a command dial. It's positioned in a way that's easy to see and operable by your thumb and index finger.
| | |
| --- | --- |
| | |
| Top | Side |
One of the most interesting features of the Fujifilm Finepix F900EXR is the new sensor. There's a number of interesting areas of note. For example, the autofocus is a dual mode focusing system with Phase Detection and Contrast Detection AF. Fujifilm have put this on so that the camera can switch from one to the other depending on what the available light is like. You see, Phase Detection is faster at focusing, but Contrast Detection is more accurate in darker areas. The Hybrid AF system will automatically choose the optimal focusing system for the scene you're shooting.
Start up time from cold is incredibly fast. We managed to get the Fujifilm Finepix F900EXR powered on, focused and taking a picture in 1.6 seconds. That's great for those candid moments when out and about or when kids are around. There are a number of continuous shooting modes on the F900. Interestingly, Fujifilm say that the F900 EXR can shoot 8fps (frames per second) at full resolution, but there's no 8fps setting. Instead, you get 16fps which is shot at Medium setting and 11fps, 6fps and 3fps which are all shot at full resolution.
The Fujifilm Finepix F900EXR sports a 3 inch TFT LCD screen on the back which sits flush with the rest of the body. It utilises 920,000 dots (306,000 pixel) which is the highest specification currently. The menus are bright and clear which is good considering our previous concerns. There's only one menu available and it's accessed by pressing the Menu button on the back of the camera. The menu is split into two sections with three pages in each. You can scroll through the pages by pressing down or rotating the wheel around the navigation pad in a clockwise direction. Alternatively, you can press left on the pad which goes directly to the tabs of each page. You can then skip whole pages of options to get to where you want to be a lot faster. It's worth noting that if you do scroll through the pages, you can't access the set-up (blue spanner) menu. You have to go left into the tabs and scroll down that way. While only a niggle, it's little things like that which can frustrate you. Arguably it's not enough to put you off the camera, though.
| | |
| --- | --- |
| | |
| Memory Card Slot | Battery Compartment |
Playback can be accessed whether the Fujifilm Finepix F900EXR is switched on or  off. With the camera on, you can simply half press the shutter button (as though focusing) to go back to shooting. Images will appear full screen with no image data at all. Pressing the Disp button at the bottom of the camera will allow you to add various information to the screen. You can even get a histogram if you select the Detailed Information option. On top of that, it will show the ISO setting, aperture, shutter speed, film simulation, flash status, exposure compensation setting, date & time as well as dynamic range setting and the resolution.
In the box, you'll get a small plastic pack of paperwork which will include a basic manual to get you started. The full manual is found on the CD that's also located in the pack. It's available in various languages and so cuts down on printing, saving the trees. There's also FinePix Studio version 4.2 and a raw file converter for both Windows and Mac.
Below this pack, you'll discover the camera safely wrapped up with a lithium ion battery, charger, USB cable and a wrist strap. Companies don't offer memory cards these days, sadly, but the Fujifilm Finepix F900EXR does have an internal memory for storing a few photographs if you run out of external memory. It's worth noting that if you shoot at the highest quality, the camera will only store two photographs, so don't rely on it for anything important. It should only be used as a back-up plan.