Fujifilm FinePix HS10 Review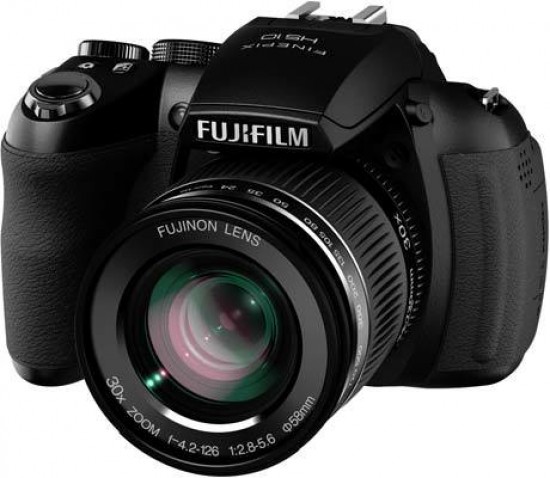 Conclusion
With a wealth of innovative features, shooting modes for every experience level, not to forget that amazing 30x zoom, the Fujifilm Finepix HS10 is one of the best super-zooms around and also a viable alternative to a DSLR camera. The HS10 only misses out on our highest award thanks to less than stellar image quality in low-light, slow RAW processing speeds and the high price tag.

The HS10 has been frequently compared to a DSLR throughout this review, and in most respects it's almost the match of any entry to mid-range model. Fujifilm are pitching the HS10 as an all-in-one alternative, with no need to buy or change lenses thanks to the 30x lens, which is remarkably distortion-free and admirably fast at either end. The manual zoom and focus rings further reinforce that DSLR feeling, as do the external flash hotshoe, shooting mode and command dials, tilting LCVD screen, full range of manual shooting modes and even RAW format support. In short, the HS10 is a great alternative to a fully-fledged digital SLR - and with 1080p movie recording on-board, it could also replace your video camera too.

There are a couple of areas where the Fujifilm HS10 just can't compete with a DSLR, though, most notably the pedestrian processing speeds for RAW files and the poorer image quality once you get above ISO 400. Having to wait a couple of seconds between every RAW image quickly becomes annoying, despite the headline-grabbing 10fps burst mode, and noise quickly rears its ugly head at ISO 800, becoming progressively worse throughout the rest of the ISO range. The average quality electronic viewfinder is also no match for even the cheapest optical viewfinder. The HS10 admittedly fares better in these areas when compared to other super-zoom compacts - just don't expect it to offer DSLR-like quality and performance and you won't be disappointed.

The price-tag of £439.99 / $499.95 again makes less or more sense depending upon what you're comparing it to. Taken as a super-zoom, it's easily the most expensive model on the market, but also the most capable in terms of features. As a DSLR doppleganger, the HS10 clearly makes a lot of economic sense if you want the DSLR handling experience but don't mind a drop in image quality or responsiveness.

The HS10 is Fujifilm's most advanced and most well-realised attempt at a do-it-all, Swiss Army knife camera, offering an awful lot of bang for your buck with not many compromises to dampen the overall experience, making it a well-deserved recipient of our Highly Recommended award.
Ratings (out of 5)
Design
5
Features
5
Ease-of-use
4.5
Image quality
4
Value for money
4.5