Fujifilm FinePix JZ500 Review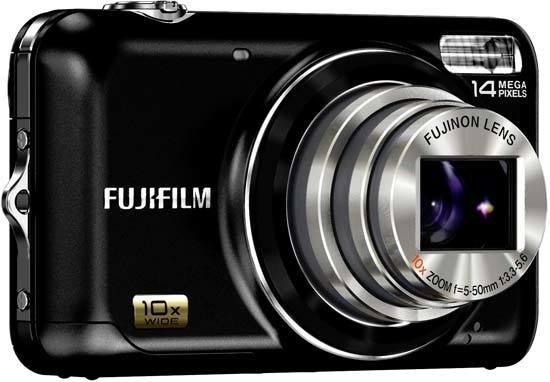 Introduction
The Fujifilm FinePix JZ500 is a new ultra-compact digital camera with a 14 megapixel CCD sensor, a 2.7 inch LCD screen and a 10x optical zoom lens (28-280mm focal length). For movie makers the JZ500 has the must-have feature of 2010, high-definition 720p video recording, with the welcome ability to use the 10x zoom during recording. Dual Image Stabilization, ISO 100 up to ISO 1600 at full resolution, Tracking Auto Focus, support for SD/SDHC memory cards, an Automatic Scene Recognition mode for beginners and even an Auto Dog / Cat Detection function complete the JZ500's main specifications. The Fujifilm FinePix JZ500 costs £179.99 / $249.95 and is available in black or silver.
Ease of Use
The Fujifilm FinePix JZ500 is a very compact metal-bodied point and shoot camera that's smaller than most other 10x zoom models. It's also cheaper too at £179.99 / $249.95, quite a lot less than both more fashion-orientated snapshot models and competing travel-zoom rivals. Size and pricing aside, this 12-megapixel camera is as much about user friendliness as creative flexibility. For those with kids or subjects that don't stay put its auto focus tracking ability will doubtless come in handy, as will its most prominent feature, the 10x optical zoom lens, which provides a versatile focal range of 28mm wide-angle to 280mm telephoto.
Given the telephoto lens reach of 280mm, image stabilisation is included, here the 'belt and braces' arrangement of CCD-shift anti shake plus high ISO speed (up to ISO 3200, albeit with a drop to 3 megapixels if straying above ISO 1600). In practice therefore with the Fujifilm FinePix JZ500 it's mostly a case of a half press of the shutter release button and the camera does the rest, particularly with Fujifilm here including an 'auto everything' scene recognition (SR) auto mode. Although far from infallible - if you're not paying close attention and it's presented with a busy scene it'll call up landscape when macro is needed and vice versa - it adds to the beginner-friendly feel.
The JZ500 introduces high-definition video for the first time to the Fujifilm J-series, capturing 1280 x 720 pixel footage at 24fps with mono sound, full use of the 10x zoom and a maximum recording time of 15 minutes per clip. Alternatively there are also 640 x 480 pixels and 320 x 240 pixels modes, also at 24 fps. Although there's no built-in HDMI port, you could use Fujifilm's optional HD Player Kit instead, which includes an HD card reader that connects the camera to your HDTV, and even a wireless remote control.
| | |
| --- | --- |
| | |
| Front | Rear |
Given its beginner market the Fujifilm FinePix JZ500's buttons and controls are for the most part large, particularly the familiar thumb operated mode dial on the rear. They're also sufficiently self-explanatory that the manual - a full version here on CD only - doesn't need to be digested before you're up and shooting. As for the remainder of the box contents, you'll need to supply your own SD, SDHC or SDHX card for image storage.
The front of the JZ500 looks much the same as any standard compact model; that's to say it's dominated by the lens, the barrel of which extends 0.75cms out from the front of the camera. The lens itself then extends by a further 4cms when zoomed to full 280mm telephoto. The lens offers respectable maximum apertures of f/3.3 at 28mm and f/5.6 at 280mm. Above the lens are the integral flash unit and an activity LED. Note that there's no hand-grip on the front of the JZ500, which does make it a little tricky to hold.
The Fujifilm FinePix JZ500's top plate houses the large On/Off button, partly recessed into the bodywork to prevent accidental activation, with the JZ500 powering up in just over a second - pretty quick for this class of camera - the rear LCD displaying a Fujifilm logo initially before blossoming into life. Also on top is the tactile shutter-release, encircled by a responsive lever for operating the zoom. Happily the former has a definite halfway point so that a premature capture is avoided, the camera giving an affirmative 'beep' when focus and exposure have been determined and the AF point highlighted in green dancing around the screen if either your camera or subject is moving. With a nudge of the zoom lever, the camera takes just under four seconds to move through the range from maximum wideangle to telephoto. Full resolution JPEG images are saved almost instantaneously when shooting in single shot mode, so no complaints there.
| | |
| --- | --- |
| | |
| Side | Front |
At the rear of the JZ500 we find the rest of the operational controls. Like the top plate, these are well laid out and their functions ably illustrated. Starting top right of the 2.7-inch, 230k-dot LCD screen, there's a ridged mode wheel featuring 8 settings. Starting with full auto mode and moving clockwise we come to one of the camera's main selling points, the aforementioned SR (Scene Recognition) auto, and, continuing in the same direction next alight on Program, the shooting mode with the largest amount of configurable options.
Next around the dial is a setting for the already mentioned video capture - note that there's no one-touch video-record button on this camera. With a successive turn of the dial we come to two Scene Position settings. These modes feature standard pre-optimised settings for 15 familiar scenes and subjects, accessed by pressing the 'menu' button at the camera's rear, and includes portraits, landscapes, sunsets, fireworks, plus the new cat and dog detection modes amongst its selection. These modes recognise up to 10 cats or dogs from an array of breeds (57% of the Fédération Cyno Logique Internationale (FCI) registered dogs, 80% of the Top 20 Dogs in the American Kennel Club (AKC) Ranking and 60% of The Cat Fancier's Association (CFA) breeds), although sadly not both species at the same time, and can even fire the shutter release when one of them looks directly at the camera.
Next up are two modes for improving low-light photos. The Natural Light mode forces the JZ500 to select a fast shutter speed in order to freeze subject movement more effectively, whilst setting a fast ISO speed without firing the flash for more natural results. It's an effective automatic way of taking photos of children indoors, for example. Natural Light and Flash is a little more exciting. When selected, the camera instantly takes 2 photos, one with flash, one without, giving you the option of which one to choose later (both are saved by the camera). And, with a further twist, we're back to full auto again.
| | |
| --- | --- |
| | |
| Memory Card Slot | Battery Compartment |
Directly below the shooting mode dial is the self-explanatory playback button, and underneath that a button for cycling through the various LCD display settings. Pressing this turns off the visible icons on screen and/or calls up a nine zone compositional grid when in capture mode, or, as it sounds, jumps back a step if you are poised to delete an image in playback mode but think better of it. Immediately below this again we have a four-way control pad/jog dial with a familiar menu/OK (set) button at its centre. Placed at the four points are icons for deleting images and setting the exposure compensation, the various self-timer options, plus macro and super macro settings.
Press the Fujifilm FinePix JZ500's central 'menu' button in anything but auto mode and you're presented with two clearly read screens of shooting options when in capture mode or review mode (if shooting using one of the auto settings, options are abbreviated to turning self timer or high speed shooting on or off, plus access to the set up menu). The set up menu itself is divided into three folders allowing the adjustment of operational volumes, screen brightness, and the ability to format the inserted memory card or internal memory.
Face detection, which biases the focus and exposure toward any faces in the frame, is activated in the main menu system, as is the Red Eye Removal setting. Joining face detection is Face Recognition, which allows you to register up to 8 different people, who are then automatically recognised by name when they appear in your pictures (up to five registered people on screen at the same time). Even better, the JZ500 will even prioritise the exposure and focus for a named subject if Face Recognition is turned on, making sure that your friends and family are always the centre of attention. In addition you can assign registered faces to different categories and also enter their birthday. When you playbakc your images, the new Picture Search Tool can use the Face Recognition data (name, birthday and category) to help you find and playback your photographs.
Thankfully Fujifilm have gone with the more widely available SD than retaining historical loyalty to the now outgunned (in terms of available capacity) xD-Picture Card, a slot for which is provided at the base of the camera where it's shared with the lithium-ion battery required for power. This means that if you're shooting with the camera on a tripod via the metal mount, you have to first remove the camera to remove the card, which is a bit of a pain but far from uncommon. The right hand flank of the JZ500 (when viewed from the back) features a plastic flap covering a combined AV out and USB port, below which is an eyelet for attaching the provided wrist strap. There are no controls on the left hand flank.