Fujifilm FinePix S1500 Review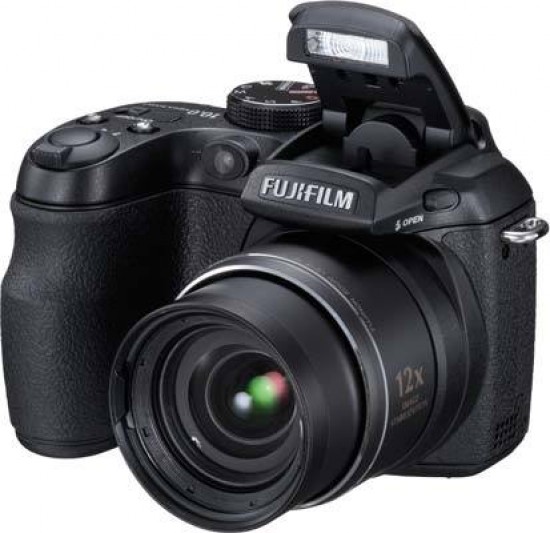 Introduction
The Fujifilm FinePix S1500 is a new super-zoom digital compact camera that looks and feels like a DSLR. Featuring a 12x zoom lens and 33-396mm focal range, 10 megapixels and 2.7 inch LCD screen, the Fujifilm S1500 offers full manual photographic control for the more experienced user, and Automatic Scene Recognition mode for beginners which recognizes six types of scene automatically and sets the appropriate exposure, focus, white balance and ISO. Dual Image Stabilization, an electronic viewfinder, ISO up to ISO 1600 at full resolution, high-speed shooting of up to 15 frames at 7.5 fps (at 2 megapixels), Tracking Auto Focus and Panorama Shooting mode complete the S1500's main specifications. With a competitive price tag of £219 / $249.95, the Fujifilm FinePix S1500 is one of the cheapest super-zooms available - but is it the best? Carry on reading to find out...
Ease of Use
In the Fujifilm FinePix S1500 its manufacturer has a bridge camera or 'super zoom' that, despite resembling a digital SLR that's been shrunk, shouldn't scare off those more used to operating pocket-sized point and shoots, or even camera phones. The cost is likewise unthreatening, which at a suggested UK asking price of an affordable £219 is less than more fashion-orientated 10 or 12 megapixel snapshot models. And, in the S1500, users are in theory getting an all-in-one photographic 'solution'.
For, size and pricing aside, this 10-megapixel camera is as much about user friendliness as creative flexibility, suggesting the family market is Fujifilm's target this time around. For those with kids or subjects that don't stay put its auto focus tracking ability will doubtless come in handy as will its most prominent feature in a 12x optical zoom (33-396mm equivalent). Might this be then, the ultimate beginner-friendly bridge?
Given the lens reach, image stabilisation is included, here the 'belt and braces' arrangement of CCD shift anti shake plus high ISO speed (up to ISO 6400, albeit with a drop to 3 megapixels if straying above ISO 3200). A self-explanatory wavy hand icon atop the camera indicates which button to use to turn stabilisation on or off, whilst face detection and automatic red eye removal has its own (combined) button too.
In practice therefore with the Fujifilm FinePix S1500 it's mostly a case of a half press of the shutter release button and the camera does the rest, particularly with Fujifilm here including an 'auto everything' scene recognition (SR) auto mode. Although far from infallible – if you're not paying close attention and it's presented with a busy scene it'll call up landscape when macro is needed and vice versa – it adds to the beginner friendly feel. And, if there's not time to set the photograph up manually, with a single button press an instant zoom feature crops in closer, providing either a landscape or portrait format image.
Also worth a mention up front is the S1500's high speed-capture capability – up to 15 pictures sequentially at 7.5 frames per second – albeit with, as expected, resolution dropping to two megapixels to achieve its headline-grabbing numbers. A compromise would be six sequential photographs at 3.3fps at a reduced resolution of 5 megapixels. At least that way a quality might be achieved you actually want to produce a print from.
Given its beginner market the Fujifilm FinePix S1500's buttons and controls are for the most part large (particularly the familiar mode dial up top). They're also sufficiently clear that the manual – a full version here on CD only - doesn't need to be digested before you're up and shooting. As for the remainder of the box contents, you'll need to supply your own SD or SDHC card for image storage, though thankfully the four AA batteries required for power are included.
| | |
| --- | --- |
| | |
| Front | Rear |
With the above in mind, let's take a virtual tour of the S1500, flagging up features and noting its performance as we go.
The front of the camera looks much the same as any bridge model; that's to say it's dominated by the lens barrel, the tip of which comes level with that of the grip when the S1500 is inactive, and extends by a further 2cm-3.5cm when active. Above the lens sits the forward sloping ridge housing the integral pop-up flash. A dedicated button for activating this spring-loaded mechanism sits to its right, a pin prick-sized hole for the built-in microphone just below.
Over at the other side of the lens is a portal housing the AF assist light, beneath which is the comfortably moulded grip, with some leather-effect padding to prevent fingers slipping. For anyone with average sized hands there's just enough room to squeeze three fingers around the grip, leaving your forefinger automatically hovering over the shutter release button situated at the front of its slope – your thumb pressed against the indented pad at the rear. That's to say that, whilst you certainly wouldn't want the grip to be any smaller, it feels about right.
The Fujifilm FinePix S1500's L-shaped top plate looks at once familiar and approachable, the largest control being a ridged mode wheel featuring 10 settings. Starting with full auto mode and moving clockwise we come to one of the camera's main selling points, the aforementioned SR (Scene Recognition) auto, and, continuing in the same direction next alight on SP (Scene Position). This mode features standard pre-optimised settings for 15 familiar scenes and subjects, accessed by pressing the 'menu' button at the camera's rear, and includes portraits, landscapes, sunsets, fireworks plus a natural light and museum mode amongst its selection.
Continuing clockwise around the dial we come to another of the Fujifilm's user-friendly features; namely its panorama mode, which allows the user to shoot a sequence of three images that the S1500 automatically stitches together in-camera – no additional software or technical skills required. A narrow portion of the previous frame is displayed as the user pans from left to right taking shots, so you can line up the joins with a reasonable level of accuracy. Though not essential, it's another fun extra that should appeal to the family target market, and will surely come into its own as an aide memoir for holiday vistas. After a little practice, surprisingly successful results can be achieved.
Next around the dial is a setting for video capture. Sadly here we don't get a High Definition option or any fancy extras, just the standard definition 640x480 pixels with sound. The extent of the optical zoom can be accessed in video mode, but unfortunately the microphone – located just above – picks up its operational noise. What's more of a surprise is that with a successive turn of the dial we come to a user-attributable custom setting, a feature more commonly found on a DSLR proper. Compounding this indication that the S1500 perhaps has something to offer the photo enthusiast after all, there follows the creative quartet of manual, amateur priority, shutter priority and program modes, allowing full access to manually selectable ISO speeds, quality settings and of course colour effects. And, with a further twist, we're back to full auto again.
| | |
| --- | --- |
| | |
| Pop-up Flash | Top |
Alongside the mode dial is a larger than average on/off slider, partly recessed into the bodywork to prevent accidental activation. Slide this to the right and the S1500 powers up in just over a second – pretty quick for this class of camera – the rear LCD displaying a Fujifilm logo initially before blossoming into life. There's also the option of an electronic viewfinder for shot composition – more on which later.
Forward of this slider are a pair of raised, identically sized buttons. To the left is a dedicated control for activating face detection – biasing focus toward faces in the frame naturally. Press it once to couple this with automatic red eye removal (if using flash obviously), or again to shoot without the red eye removal option. The button to the right is for switching on image stabilization via the dual IS mode. Like every other such system in existence, the one employed by the Fujifilm FinePix S1500 isn't infallible – it's tricky, if not impossible, to get a perfectly sharp image when shooting handheld at maximum telephoto even in seemingly ideal light conditions. But, given the focal range, its inclusion here is a must.
Forward again of these buttons is the shutter release button, surrounded by a lever for operating the zoom. Happily the former has a definite halfway point so that a premature capture is avoided, the camera giving an affirmative 'beep' when focus and exposure have been determined and the AF point highlighted in green dancing around the screen if either your camera or subject is moving. With a nudge of the zoom leader, the camera takes just under three seconds to move through the range from maximum wideangle to telephoto – the image displayed at the latter setting a bit wobbly, again when shooting handheld. Full resolution JPEG images are saved almost instantaneously when shooting in single shot mode, so no complaints there.
While that's it for the unfussy top plate, at the back we find the rest of the operational controls. Like the top plate, these are well laid out and their functions ably illustrated. Starting top right of the 2.7-inch, 230k-dot LCD screen we have an EVF/LCD button for alternating between the two features, though, with the larger screen literally staring you in the face when you pick the camera up, it's hard to see the S1500's target audience bothering to squint to use the EVF situated above.
Directly below this button we have an identically sized one for playback, and, to its right, one for Fujifilm's 'F' (for 'Foto') mode. As with the rest of the manufacturer's compact range, one press of this provides access to an abbreviated menu containing just the essentials: resolution and compression level, ISO setting and, arguably less essential (though I do really enjoy the look of the 'chrome' setting) its colour effects.
Immediately below this again we have a four-way control pad/jog dial with a familiar menu/OK (set) button at its centre. Placed at the four points are icons for deleting images, selecting flash modes (auto/slow synchro/forced flash), the continuous shooting modes (options more extensive than usually found at this level, plus macro and super macro settings. It's worth pointing out that when in capture mode the delete key also doubles up as the aforementioned image-cropping 'instant zoom' feature, presenting a choice of two successive landscape ratio crops and two portrait ones.
| | |
| --- | --- |
| | |
| Battery Compartment | Memory Card Slot |
Returning to the continuous shooting options, here as mentioned at the outset we have the ability to shoot 15 sequential images at two megapixels or less, six at five megapixels or less, blast away continuously while the shutter button remains depressed, store only the preceding three images before the shutter button was released (useful to pre-empt action), take three exposure bracketed shots or shoot continuously at full resolution. Though image quality isn't quite top notch, such settings do make up in part for the fact that when shooting in single capture mode, shutter delay is unfortunately quite pronounced.
Press the Fujifilm FinePix S1500's central 'menu' button in anything but auto mode and you're presented with two clearly read screens of shooting options when in capture mode or review mode (if shooting using one of the auto settings, options are abbreviated to turning self timer or high speed shooting on or off, plus access to the set up menu).
The set up menu itself is divided into three folders allowing the adjustment of operational volumes, screen brightness, ability to format optional SD/SDHC card or internal memory. Thankfully here Fujifilm has indeed gone with the more widely available SD than retaining historical loyalty to the now outgunned (in terms of available capacity) xD-Picture Card, a slot for which is provided at the base of the camera where it's shared with the four regular AAs required for power. Of course this means that if you're shooting with the camera on a tripod, you have to first remove the camera to remove the card, which is a bit of a pain but far from uncommon.
Located beneath this central four-way pad is a further (and final) pairing of buttons. On the left we have the self-explanatory 'display/back'. Pressing this turns off the visible icons on screen and/or calls up a nine zone compositional grid when in capture mode, or, as it sounds, jumps back a step if you are poised to delete an image in playback mode but think better of it. The final button to the right is for exposure compensation. Press this in any of the auto modes and a live histogram displaying the areas of brightness across the image is revealed. Press it again in any of the creative modes and the user not only gets a histogram but an adjustable exposure slider too.
While that concludes the controls at the rear, the right hand flank of the camera (when viewed from the back) features a unflash-y plastic flap covering a combined AV out and USB port, above which is an eyelet for attaching the provided shoulder strap. To the left hand flank and we find another eyelet at the top plus a built-in speaker near the base. The base of the Fujifilm FinePix S1500 meanwhile features – as expected – a screw thread for a tripod next to the large compartment housing the aforementioned media card and batteries.
For the most part then the Fujifilm FinePix S1500 is responsive to every button press and mode dial twist, our only grumble being the time that elapses between the user pressing the shutter button and the camera actually taking the shot when in regular single capture mode, though forewarned is forearmed and so it becomes less of an issue over time.
So what of the S1500's images? Do they live up to the camera's 'FinePix' moniker, or is the outlook less clear?