Fujifilm FinePix S2800HD Review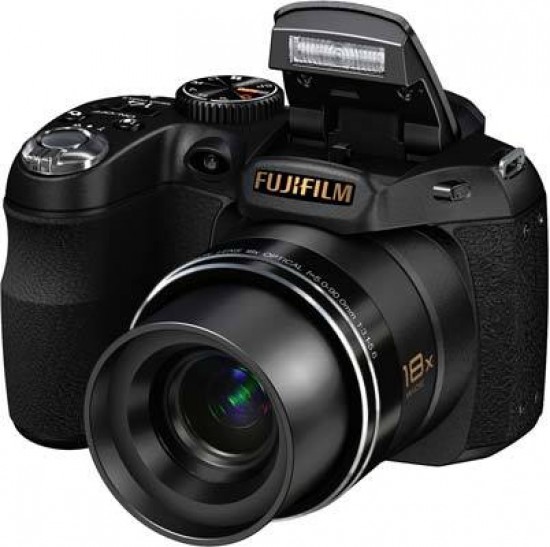 Image Quality
All of the sample images in this Review were taken using the 12 megapixe Finel JPEG setting, which gives an average image size of around 5.5Mb.
While the S2800HD's proportions ensure that it is a good fit for the palm, we found it hard to achieve a nicely crisp image when shooting at extreme telephoto setting nonetheless. Unfortunately the quality level of image the Fujifilm delivers at its worst appears to be no better than that of most snappers around the £100 mark; fine when there's plenty of available light and showing noticeable signs of struggle when there's not. Colours are slightly cool straight out of the camera, but then this at least means that they stay on the right side of naturalistic. However our daylight video clips were leant a distinctly bluish colour cast.
At wide angle there's pronounced barrel distortion visible (more so than when using Canon's 35x PowerShot SX30 IS for example, albeit that camera has a better lens), softening of detail towards the corners, and between areas of high contrast some rather alarming pixel fringing is noticeable without having to zoom in very far. Not that this is anything new of course; all compacts of the S2800HD's point and shoot ilk similarly struggle with these issues.
That said there were other times when the clarity of the image we got from this FinePix positively surprised us. One notable occasion was when selecting the slow shutter speed offered by the tripod-requiring night-time scene mode (found with a twist of the mode dial to 'SP') for instance; this produced far crisper results than a budget class compact has any right to.
In terms of low light performance, detail is well maintained up until ISO800, and at that setting and thereon in we're getting both a softening of detail and more gritty look to pictures as image noise creeps in not only to shadow areas but across the frame in general. At ISO1600 we're just starting to get a painterly effect, but in truth the performance at this setting isn't bad - usable at a push. Things get momentarily better at ISO3200 as a resolution drop, perversely, aids the overall appearance, before taking on a distinctly grim look at ISO6400 equivalent as colour and sharpness go awry and the picture begins to resemble a poorly tuned TV set.
Noise
There are 8 ISO settings available on the Fujifilm FinePix S2800HD. At ISO 3200 and 6400, the number of recorded pixels is limited to 3 megapixels. Here are some 100% crops which show the noise levels for each ISO setting:
| | |
| --- | --- |
| ISO 64 (100% Crop) | ISO 100 (100% Crop) |
| | |
|   |   |
| ISO 200 (100% Crop) | ISO 400 (100% Crop) |
| | |
|   |   |
| ISO 800 (100% Crop) | ISO 1600 (100% Crop) |
| | |
|   |   |
| ISO 3200 (100% Crop) | ISO 6400 (100% Crop) |
| | |
Sharpening
Here are two 100% crops which have been Saved as Web - Quality 50 in Photoshop. The right-hand image has had some sharpening applied in Photoshop. The out-of-the camera images are sharp enough at the default setting and don't really benefit from further sharpening in a program like Adobe Photoshop.
| | |
| --- | --- |
| Original (100% Crop) | Sharpened (100% Crop) |
| | |
|   |   |
| | |
Chromatic Aberrations
The Fujifilm FinePix S2800HD handled chromatic aberrations well during the review. Some little purple fringing was present around the edges of objects in high-contrast situations, as shown in the example below.
| | |
| --- | --- |
| Example 1 (100% Crop) | Example 2 (100% Crop) |
| | |
Macro
The Fujifilm FinePix S2800HD offers a Super Macro setting that allows you to focus on a subject that is 2cms away from the camera. The first image shows how close you can get to the subject in Macro mode (in this case a compact flash card). The second image is a 100% crop.
| | |
| --- | --- |
| Macro Shot | 100% Crop |
| | |
Flash
The flash settings on the Fujifilm FinePix S2800HD are Auto, Forced Flash, Suppressed Flash, Slow Synchro, and any of those modes combined with Red-eye Reduction. These shots of a white coloured wall were taken at a distance of 1.5m.
| | |
| --- | --- |
| Flash Off - Wide Angle (28mm) | Flash On - Wide Angle (28mm) |
| | |
|   |   |
| Flash Off - Wide Angle (420mm) | Flash On - Wide Angle (420mm) |
| | |
And here are some portrait shots. The Auto setting caused a small amount of red-eye which was removed by the Red-eye reduction mode.
| | |
| --- | --- |
| Flash On | Flash On (100% Crop) |
| | |
|   |   |
| Red Eye Reduction | Red Eye Reduction (100% Crop) |
| | |
Night
The Fujifilm FinePix S2800HD's maximum shutter speed is 8 seconds, which is fairly good news if you're seriously interested in night photography. The shot below was taken using a shutter speed of 3 seconds at ISO 200. I've included a 100% crop of the image to show what the quality is like.
| | |
| --- | --- |
| Night Shot | Night Shot (100% Crop) |
| | |
Panorama Mode
The Fujifilm FinePix S2800HD allows you to take panoramic images fairly easily, by taking the first shot, then lining up the edge of that with the next shot, and then repeating the process for the third and final shot. The camera does all the processing and stitching. The main catch is that the resulting image is of fairly low resolution and you really need to use a tripod to get the best results.