Fujifilm FinePix S3200 Review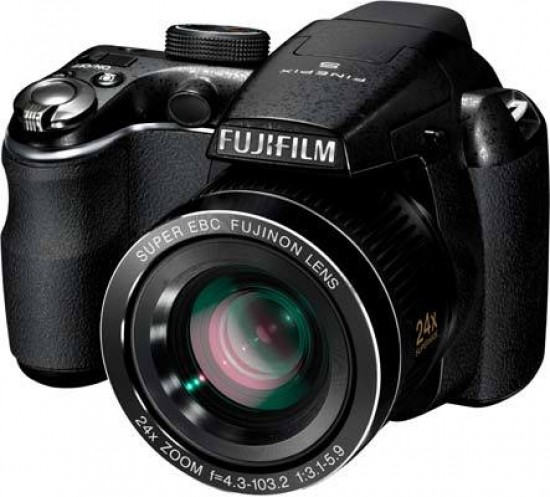 Introduction
Fujifilm are arguably one of the most popular names in super-zoom cameras today. The cameras they produce are consistently easy to use, good quality and take great pictures. In this test, we're taking a look at the FinePix S3200, a 14 megapixel DSLR shaped unit with a monstrous 24x optical zoom and command dials with manual overrides. The S3200 also offers dual image stabilization, a 3 inch LCD screen, an Electronic Viewfinder, 720p video, Motion Panorama shooting mode, Smile and Blink Detection, Face Recognition and Image Searching. The Fujifilm FinePix S3200 is available in black, priced at £149.95 / $249.95.
Ease of Use
Fujifilm FinePix superzooms have all got a similar design to them, incorporating a large chunky grip - which is great for holding the camera in one hand when it's not being used - a huge lens barrel with a built-in flash squatting over it, an electronic viewfinder (EVF) and plenty of buttons and switches to keep you entertained.
The S3200 is no different in the design stakes. The Fujinon lens is a Super EBC type, EBC meaning Electronic Beam Coating. It's a technique that's been used on Fujinon lenses for years and involves using an electronic pulse to lay the coatings over the lens. These layers reduce flare and ghosting which we'll be taking a look at throughout the test.
The 24x optical zoom ranges from 4.3 - 103.2mm or 24 - 576mm in 35mm terms. There's a ribbed ring on the lens barrel for holding while taking a picture. On higher specification cameras, this ring has been used as a zoom function and it's a shame that it's one on of the key selling features that's omitted on lower range cameras because it's very useful. The way that the zoom is operated is by the rocker switch perched on the grip with the shutter release button in the centre. It's easy to use but it's stepped and not as precise as a zoom ring.
| | |
| --- | --- |
| | |
| Front | Rear |
On the Fujifilm FinePix S3200's grip, there's a couple of buttons located behind the shutter release for face detection and drive modes. Interestingly, there are six different options in the drive button alone. It's a far cry from simply holding your finger down and letting the camera constantly take pictures. There is that option but it's called long period which is kind of gloomy sounding.
A large command dial bulges out of the top plate, towering over the small FinePix button like David and Goliath. The dial has the traditional PASM modes which are accompanied by a custom button, video, panorama mode, scenes (SP), scene recognition auto and standard auto. The dial is easy to move and clicks firmly into place.
Depending on the camera, the FinePix button will have more to offer. On the S3200, which is an entry level model, there are only three options for ISO, image size and FinePix Colour. On higher specification cameras, this latter option will adjust the colour responsiveness of the sensor to represent different types of film from Fuji such as Provia and Velvia. The S3200 has three options: Colour, Chrome and Black & White. The colour option is designed to look like a colour print, chrome looks like slide film and black & white speaks for itself.
The Fujifilm FinePix S3200 is a solid little camera with the speckled paintwork akin to DSLRs. There's no movement in the chassis or the lens at wide-angle. There is a degree of play when the lens is at full zoom and it makes a sound like it's coming loose but never does. On the battery door there's a lock to keep it closed and we think this is due to the pressure of the 4x AA batteries that push against it to keep touching the contacts.
| | |
| --- | --- |
| | |
| Top | Side |
The SD/SDHC memory card also goes in the battery compartment and after the introduction of SDXC, we're surprised not to see it on every new camera that's coming out. Saying that, SDXC cards cost on average £200 which is around the same price as the camera. It's probable that users of the Fuji won't spend another £200 on a memory card so the SDXC compatibility would be redundant.
A small button is situated next to the electronic viewfinder which flicks between using the EVF and the LCD screen on the back. The screen is bright and clear and easy to see except in very bright sunlight. The EVF is much lower resolution but it's also a lot smaller. There's a distinct amount of motion blur on the EVF but we still preferred to use it over the screen simply because a camera of this shape and size is easier to use when it's held tight in to the body.
As with any Fujifilm FinePix camera, the S3200's menus are very easy to use. Everything is laid out in a logical order and divided up into sectors for shooting and set-up. In playback, the menu changes slightly for the editing options. For a camera aimed at new-comers, it's unusual that Fujifilm have an option titled photometry instead of metering, a title which everyone knows and loves.
Playback should be shortened to play because that's exactly what you get to do. In the menu, there's a photobook assistant, you can search for images, mark pictures or video for uploading to YouTube and Facebook and even create a slide-show. If you took a picture of someone and struggled to get the shot only to have red-eye in it, there's an option to remove it in the menu.
| | |
| --- | --- |
| | |
| Memory Card Slot | Battery Compartment |
Start up time is around 1.5 seconds and we managed to start the Fujifilm FinePix S3200, focus and take a shot in just under 4 seconds. For subjects slightly out of the default focal plane, the camera can find focus in around half a second. Flash recycle times are fast enough: By the time we were ready to take another shot, the S3200 had charged the flash. Shutter lag is around 0.8 seconds which is around average for a digital compact camera.
Once we'd got used to using the Fujifilm FinePix S3200 and knew where the modes that we needed were, we could flick through them very fast as long as the camera wasn't doing anything else. If you know the camera back to front, you'll find it can take a while to get into certain modes and you'll be left waiting. We also found that while the S3200 was processing a photograph, we could go into the menu and choose a mode, but we couldn't access macro, flash or the self-timer on the back.
Fujifilm don't put a lot of paperwork in their boxes. With the S3200, there's warranty information, a basic manual and a driver CD that contains the full manual and Version 2.1 of FinePix Studio. To aid the camera, there's camera strap which is wider than what is provided with smaller cameras, 4x single use AA batteries, a lens cap and USB/HDMI lead.
After looking through the modes and features, the Fujifilm FinePix S3200 won't break any records but that's not the point of it. It's a camera that will be perfectly suited to a newcomer to superzooms or photography as a whole.