Fujifilm FinePix S3200 Review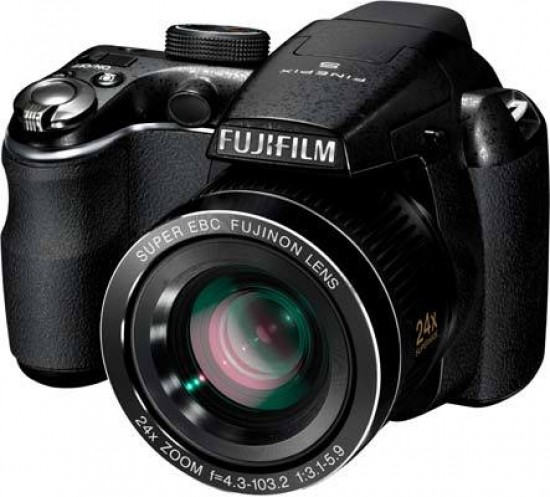 Image Quality
All of the sample images in this Review were taken using the 14 megapixel Fine JPEG setting, which gives an average image size of around 4Mb.
Colours from the Fujifilm FinePix S3200 are punchy and rich. Primary colours look nice especially. The camera produces the best results with subjects front lit. If the sun is in front of the camera, colours start to wash out and the metering begins to struggle. Occasionally we found that the S3200 would over-sharpen the whole picture. Couple that with an over zealous noise reduction facility and pictures take on a painted look.

You may think that's an ironic use of the term over-zealous, but in our ISO tests, we found noise starting to appear at ISO 200. When a camera has to drop resolution for the higher sensitivity ratings, it obviously has a problem with noise in the first place.

At the lowest settings, we rarely encountered a problem with image quality although we struggled in low light to get a sharp image because of the slower shutter speeds required. This is more noticeable at telephoto settings and it's worth taking the time to check the sharpness of the picture before moving on. We lost a few pictures because we thought they were sharp and they turned out not to be when we saw them bigger on a computer. The Fujifilm FinePix S3200's screen can be deceiving and with the zoom function on playback taking forever to start working, let alone actually zoom in, it's easy to get fed up and hope they're ok.

When we hit the right chord, pictures are lovely from the Fujifilm FinePix S3200 and we're pleased as punch with the results.
Noise
As we said, the low ISO settings are great. We couldn't find any noise at ISO 80, the pictures are sharp with good edge definition and not even any salt and pepper noise coming through. The same can pretty much be said for ISO 100 as well, but if we're to be really picky, edges do break up slightly at this setting. However, it needs to be noted that we view the test pictures at 100% magnification. Viewing them at normal size won't show this problem up at all.

Surprisingly, we found noise starting to creep in at ISO 200 with some salt and pepper noise in shadow areas. Again this is at 100% magnification and at normal size, it can't be seen. At ISO 400 we found evidence of colour invasion in dark and mid-tone areas - shown as green blotching on our test shots.
ISO 800 is the breaking point for the Fujifilm FinePix S3200. An aggressive attack on image quality comes as the signal is boosted beyond what the noise reduction system can cope with. Pictures take on a cast which gets stronger at ISO 1600. Hard contrast edges retain definition but softer edges start to blur.

The final two settings are at reduced resolution in a bid to remove a type of digital noise that's generated from the heat of pixels affecting neighbouring pixels. The cast from the lower settings has gone but at the expense of sharpness. At 3 megapixels, the picture quality simply doesn't cut the mustard.
| | |
| --- | --- |
| ISO 80 (100% Crop) | ISO 100 (100% Crop) |
| | |
|   |   |
| ISO 200 (100% Crop) | ISO 400 (100% Crop) |
| | |
|   |   |
| ISO 800 (100% Crop) | ISO 1600 (100% Crop) |
| | |
|   |   |
| ISO 3200 (100% Crop) | ISO 6400 (100% Crop) |
| | |
Focal Range
The Fujifilm FinePix S3200's 24x zoom lens offers a very versatile focal range, as illustrated by these examples:
| | |
| --- | --- |
| 24mm | 576mm |
| | |
Sharpening
The Fujifilm FinePix S3200 has 3 settings of sharpening: Soft, Standard and Hard. The camera is defaulted to the standard setting. We found that if you need to increase it to a harder setting, the Fujifilm gives perfectly good results. We sharpened the standard setting photograph in Adobe Photoshop CS4 and found that it gives similar results.
| | |
| --- | --- |
| Soft (100% Crop) | Standard (100% Crop) |
| | |
|   |   |
| Hard (100% Crop) |   |
| |   |
File Quality
The Fujifilm FinePix S3200 has 2 different image quality settings available, with Fine being the highest quality option. Here are some 100% crops which show the quality of the various options.
| | |
| --- | --- |
| Fine | Normal |
| | |
Chromatic Aberrations
We did get the occasional problem with chromatic aberration on pictures from the Fujifilm FinePix S3200 but the main problem we got was with ghosting. It wasn't a lot, just a thin white line around hard edges of contrast.
Example 1 (100% Crop)
Macro
When we conducted the macro test, we were surprised at how close the Fujifilm FinePix S3200 could get to the subjects. Macro is started by pressing the flower icon on the back of the camera. There's 2 options for macro which has a close focusing of 7cm and super macro which can get in to 2cm. In super macro, the zoom is disabled. Standard macro shows no signs of barrel distortion although as we moved out to the edges of the frame, sharpness started to peter out earlier than we expected.
| | |
| --- | --- |
| Macro Shot | 100% Crop |
| | |
Flash
The flash is a built-in pop up type and has a manual button on the left side to activate it if it's needed. The flash is very sympathetic to the exposure and doesn't bleach out unless you get too close.
| | |
| --- | --- |
| Flash Off - Wide Angle (24mm) | Flash On - Wide Angle (24mm) |
| | |
|   |   |
| Flash Off - Wide Angle (576mm) | Flash On - Wide Angle (576mm) |
| | |
Red-eye is removed by a software program which needs to be switched on in the main menu but we found that the camera copes well without it because the light is elevated high enough to avoid the problem.
| | |
| --- | --- |
| Flash On | Flash On (100% Crop) |
| | |
|   |   |
| Red Eye Reduction | Red Eye Reduction (100% Crop) |
| | |
Night
This is a sample of the Fujifilm FinePix S3200's ability in low light on a support. There are 2 options for night shooting either with a support or without. We opted for the support mode so the camera keeps the ISO low. The S3200 selected an sensitivity of ISO 200 and has produced a very good picture. Noise reduction has worked well and produced smooth results. Some detail definition is lost and sharpening looks to do overtime but this is only at full magnification. When viewed at normal size the pictures in low light look great.
Don't be put off by the wide aperture of f/3.1 that was used in our test shot, the size of the sensor means that the shallow depth of field normally associated with wider apertures isn't as harsh. In fact, the results give a depth of field equivalent of around f/11 on a 35mm size sensor.
| | |
| --- | --- |
| Night Shot | Night Shot (100% Crop) |
| | |