Fujifilm FinePix S4200 Review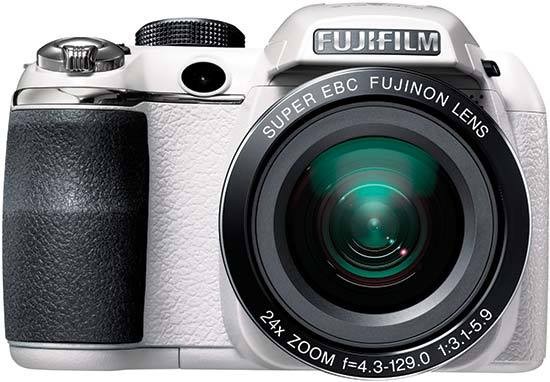 Image Quality
All of the sample images in this review were taken using the 14 megapixe Finel JPEG setting, which gives an average image size of around 6Mb.
Noise
Low ISO image results are great on the Fujifilm FinePix S4200. There's loads of details and no colour distortion at all. Edge definition is also very good. The good results spread through to ISO 100, which really goes without saying as it's only around a third of a stop difference. ISO 200 also shows promising results although to be highly critical, a smidgen of colour noise pokes through darker areas.
Normally on a camera with such a small sensor, we'd expect to see a distinctive loss of image quality around ISO 400 but the S4200 has kept it at bay to reveal a decent image in our ISO test. Sure, there's some drop in quality – that's to be expected. ISO 800 sees a definite drop in quality with massive amounts of noise affecting the image all over.  We did notice an interesting area of our test image. Right on the distance ring on the lens, there's what we can only described as a "sweet spot" where there's no noise.
Because of the noise problems, the Fujifilm FinePix S4200 drops the resolution at ISO 3200 and it helps to a degree. If you want to use the camera at this setting or ISO 6400, do it sparingly, preferably using flash at a lower ISO.
| | |
| --- | --- |
| ISO 64 (100% Crop) | ISO 100 (100% Crop) |
| | |
|   |   |
| ISO 200 (100% Crop) | ISO 400 (100% Crop) |
| | |
|   |   |
| ISO 800 (100% Crop) | ISO 1600 (100% Crop) |
| | |
|   |   |
| ISO 3200 (100% Crop) | ISO 6400 (100% Crop) |
| | |
Focal Range
The focal length of the Fujifilm FinePix S4200 is 4.3-103.2mm or 24-576mm in 35mm terms. The camera does suffer from barrel distortion at wide-angle and pincushion at full zoom.
| | |
| --- | --- |
| 24mm | 576mm |
| | |
Sharpening
The S4200 has an inbuilt sharpness option in the Main menu. There's definite difference between the three settings of Soft, Normal and Hard. We also sharpened the Normal setting using Adobe Photoshop CS4 and it gives a similar result to the Hard setting, obviating the need to use editing suites for this action.
| | |
| --- | --- |
| Original (100% Crop) | Sharpened (100% Crop) |
| | |
File Quality
The Fujifilm FinePix S4200 has 2 different image quality settings available, with Fine being the highest quality option. Here are some 100% crops which show the quality of the various options.
| | |
| --- | --- |
| Fine | Normal |
| | |
Chromatic Aberrations
We did find instances of chromatic aberration, but not many. However, the time we got to test the camera was particularly dull and so didn't get that much contrast. We noticed that most of the time we encountered chroma was on straight lines – not something normally seen in nature – and at the extreme edges of the frame.
| | |
| --- | --- |
| Chromatic Aberrations 1 (100% Crop) | Chromatic Aberrations 2 (100% Crop) |
| | |
Macro
The S4200 has two macro settings. The Macro setting allows you to focus closer to subjects and with the standard macro setting, you can get in as close as 7cm, compared with 40cm when out of macro mode. There's also a supermacro mode which allows you to get as close as 2cm although you can't zoom in this mode. Be careful what you shoot as well. Barrel distortion is more prevalent at this setting.
| | |
| --- | --- |
| Macro | Macro (100% Crop) |
| | |
Flash
The flash on the S4200 is a flip up type and the manual button to pop it up is on the left of the body. We think that because the flash is so much further away from the camera, it works as a red-eye removal system in itself. After all, red-eye is a reflection of the retina which then flares up and covers the iris. Red-eye reduction only reduces it to the pupil – but it's still present. Red-eye removal will remove the red-eye completely, usually via software.
At wide-angle, there's soft vignettes in the corners of the frame which harden and become more noticeable when the flash is used. At full zoom, the vignette disappears whether flash is used or not. Light is also spread pretty evenly at full zoom.
| | |
| --- | --- |
| Flash Off - Wide Angle (24mm) | Flash On - Wide Angle (24mm) |
| | |
|   |   |
| Flash Off - Wide Angle (720mm) | Flash On - Wide Angle (720mm) |
| | |
And here are some portrait shots. The Auto setting caused a small amount of red-eye which was removed by the Red-eye reduction mode.
| | |
| --- | --- |
| Flash On | Flash On (100% Crop) |
| | |
|   |   |
| Red Eye Reduction | Red Eye Reduction (100% Crop) |
| | |
Night
As with all cameras that we get with manual control, we produced better results at the night shot test than using the night shot mode. Simply put, we could control the ISO and more importantly, the white-balance. There's still a smidgen of noise even at ISO 64, but that's probably from the pixels heating up over the long exposure of three seconds.
The night scene mode couldn't cope with the strong street lights and the white of the snow. It opted for a higher ISO 200 setting (still within our range of satisfactory settings on the S4200) and a half second exposure. The camera used a lower ISO and longer exposure because we opted for the Night shot (Tripod mounted) setting.
| | |
| --- | --- |
| Night Auto | Night Auto (100% Crop) |
| | |
|   |   |
| Night Scene | Night Scene (100% Crop) |
| | |