Fujifilm FinePix T400 Review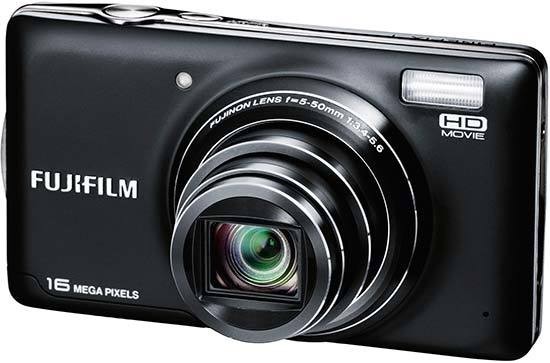 Conclusion
According to the Fujifilm website, the battery that comes with the FinePix T400 will take 160 pictures in one charge in Auto mode. That's not including using menus or playback etc. We barely managed 100 after a full overnight charge. Using the menu or looking at pictures in playback will use up more juice but surely not 40% of it's charge life? We don't think so, we think the battery we got for the test was a turkey. That aside, using the Fujifilm FinePix T400 is point and shoot simplicity. There's no manual controls to think about unless you want to start messing about with ISO and white-balance. Even the metering mode (known on Fujifilm menus as Photometry) is missing.

Because of the ease of use, the act of picture taking with the Fujifilm FinePix T400 is a breeze. We're not overly happy with the pictures though. We like the sharpness of the low ISO images and that noise isn't too noticeable until you get near the mid-section of the scale. It attacks fast then, though. Colours are good with primaries punchy but not over saturated. The dynamic range (how responsive the camera is to light and dark) is poor. We continuously got burnt out highlights and/or clouds with no detail. This is because the camera will - quite rightly - prioritise for the ground and get that looking nice.

For a plastic based unit, the Fujifilm FinePix T400 is made well enough. We wonder at the reasoning behind placing the zoom as a thumb movement and not on the index finger, but it's not an unwelcome action. In fact it's quite refreshing. It's a shame that the USB port is exposed as it's likely to get dirt and dust in it.

For the modest cost, the Fujifilm FinePix T400 a nice little camera. The lack of image quality - we assume - is down to the quality of the sensor for the price point they wanted the camera at. If you're a family looking for an all-round camera for holidays and such then the T400 isn't a bad little camera to own. On the whole, you'll be happy with the picture quality but have a look at the samples and think about the points we've raised. If it doesn't bother you, then the other aspects of the Fujifilm FinePix T400 are definitely more positive.
Ratings (out of 5)
Design
4
Features
3.5
Ease-of-use
4
Image quality
3
Value for money
3.5