Fujifilm FinePix X10 Review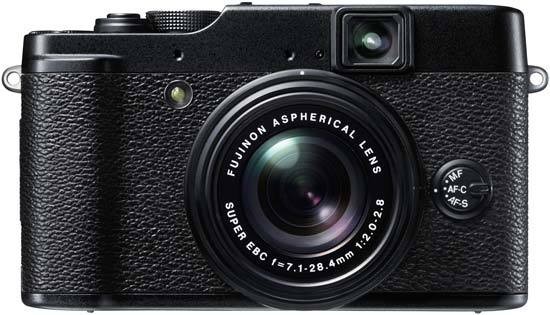 Introduction
The Fujifilm Finepix X10 is an advanced compact camera that offers a retro design, 12 megapixel 2/3-inch EXR CMOS sensor, a 4x, 28-112mm, f/2.0-2.8 zoom lens with a manual zoom ring, optical viewfinder, 1080p movie recording, 7fps burst shooting and a 2.8-inch LCD monitor with a resolution of 460,000 dots. Other key features of the Fujifilm X10 include an ISO range of 100-12800, full range of manual controls, Fujifilm's EXR shooting modes, optical image stabilisation, raw image capture, a hot-shoe, an integrated manual pop-up flash, film simulation modes, 360° motion panoramas, 1cm macro mode and an electronic level gauge. The Fujifilm Finepix X10 is available in black priced at $599.95 / £529.95.
Ease of Use
The Fujifilm Finepix X10 takes many of its design cues from its incredibly popular big brother, the X100, sharing very similar retro styling and control layout. The X10 is a classically styled camera that recalls film rangefinders from the past, with a beautiful retro design that can't fail to impress everyone that sees it, and definitely everyone that holds it. In an age where digital cameras are virtually ubiquitous, the Fujifilm X10 stands out by a mile thanks to it unique styling and bullet-proof build quality, not to mention a wealth of photographer-friendly features.
Where the X100 is very much a niche product thanks largely to its non-interchangeable 35mm fixed focal length lens and strong emphasis on a manual way of shooting, the new X10 is aiming at a wider market, instead sporting a 4x, 28-112mm zoom lens that will instantly appeal to more people. The Fujifilm Finepix X10's lens has a fast aperture of f/2.0 at the 28mm wide-angle setting and f/2.8 at full telephoto, which in combination with the extensive ISO range of 100-3200 at full 12 megapixel resolution makes the X10 well suited to low-light shooting, allowing you to hand-hold the camera in places where you'd usually be reaching for a tripod (if allowed) or other support, especially as the camera also features built-in optical image stabilisation.
The Fujifilm Finepix X10 is an amazingly well-built camera, with absolutely no flex or movement in its chassis thanks to the die-cast magnesium alloy top and base plates and machined control dials. At the same time, it's actually a little lighter than a first glance might suggest, weighing in at 350g with the battery and memory card fitted. Measuring 117.0(W) x 69.6(H) x 56.8(D) mm, it's not that much smaller than the X100 though, and is also larger than its principal rivals, making it best suited to life in a small camera bag or large coat pocket. There are some plastic buttons and controls on the X10, most notably the memory card / battery compartment door and the rear circular control wheel and buttons, but other that that the X10 offers incredible build quality considering its price-tag.
The X10 is supplied with a push-on, lined metal lens cap to help protect its 4x optic, although there's no way to connect it to the camera. You can use filters with the X10, but only by buying the optional LH-X10 Lens Hood and Adapter Ring set accessory, which allows you to fit 52mm filters. There's a subtle but effective hand-grip at the front of the X10 and a rubber thumb-rest on the rear, with your grip helped in no small part by the textured faux-leather surface that runs around the full width of the camera. Two small metal eyelets on either side of the body are used for connecting the supplied shoulder strap, which isn't quite as luxurious as the rest of the package. A metal tripod mount is positioned off-centre from the lens away from the memory card / battery compartment, so you don't have to remove the camera from the tripod to change either of them.
| | |
| --- | --- |
| | |
| Front | Rear |
At the heart of the X10 is a 12 megapixel 2/3-inch EXR CMOS sensor, a size that was used by several bridge-style compacts in the past but which has recently fallen out of favour. This sensor is larger than those in most compact cameras and promises to deliver better image quality, although not the equal of a compact system camera or a DSLR. Fujifilm's EXR sensor can be utilized in one of three ways by the photographer. There's a choice between shooting at full 12 megapixel resolution in High Resolution (HR) mode, or a 6 megapixel image in the Low Noise (SN) mode for shooting without flash in low light conditions, or the Dynamic Range (DR) mode to achieve an optimal balance between shadows and highlights. The latter offers five strengths ranging from 100-1600%. If you can't decide which is best for a chosen scene or subject, then just leave the camera on the scene-detecting EXR Automatic Mode and let it choose for itself.
We ran into some issues in bright sunlight when shooting in aperture and shutter priority modes, where the top shutter-speed limit of 1/1000th second at f/2 or f/2.8 often caused under-exposure. Unlike the X100, the new X10 doesn't feature a built-in Neutral Density filter, so you'll have to stop-down the aperture and sacrifice some depth-of-field to avoid blowing out the highlights. Alternatively you can switch to the Manual shooting mode, which rather bizarrely allows a faster shutter-speed of 1/4000th second. The X10 offers a fantastic close focusing distance of 1cm, so macro shooting is definitely on the cards.
The Fujifilm Finepix X10's auto-focusing speed is thankfully much quicker than the X100's, which isn't exactly the quickest in the world at around 1/4 second in good light. DSLR owners accustomed to the quick reactions of their phase-detection cameras will likely find the very slight delay of the X10's 49-point system as it locks onto the subject slightly annoying, but for everyone else the camera is more than fast enough for everyday shooting, especially as it's accurate virtually 100% of the time in both good and bad light. There is one small fly in the ointment though. Normal focusing is from 50cms to infinity at 28mm wide-angle, so if you want to get closer to your subject than that and still be able to auto-focus, you have to remember to select the Macro mode, which gets you as close as 10cms from your subject (with Super Macro Mode offering a focusing distance of just 1cm).
| | |
| --- | --- |
| | |
| Side | Pop-up Flash |
Manual focusing is activated by setting the focusing switch on the front of the camera to Manual and using the rear thumb-wheel to set the distance, with the LCD display automatically zooming in on the subject to help you judge the sharpness. There's a handy blue distance scale along the bottom of the LCD screen with a red bar indicating the the focusing distance and a white bar showing the depth of field, which actually changes in line with the current aperture - very handy. It takes a lot of turns to move up and down the distance scale, not helped by the rather un-responsive thumb-wheel, which makes manual focusing with the X0 much more of a chore than a pleasure.
The Fujifilm Finepix X10 offers not one, not two, but three ways of composing your images. In addition to the high-resolution 2.8 inch LCD monitor on the back, which has 460k dots and offers 100% scene coverage, the X10 also features an optical viewfinder. Optical viewfinders are something of a dying breed amongst modern cameras, so it's very refreshing to see X10 feature one, offering 85% scene coverage, diopter control, a bright display and zooming in and out as the focal length is changed. Note that the viewfinder is fixed in the 4:3 ratio, making it trickier to use with 3:2 or 16:9, and it also lacks any information markings, unlike the X100's very clever hybrid viewfinder. Still, we'd rather have an eye-level viewfinder than not, and we used it about 50% of the time when shooting with the X10.
In terms of operational speed, the Fujifilm Finepix X10 has some real standout highlights, but also a few weak points. Shutter lag is virtually non-existent on this camera, so once you have set the focus, you'll never miss the moment because the camera can't fire the shutter quickly enough. Continuous shooting speeds are also good, with a top rate of 10fps, although that's only when shooting JPEGs at the 6 megapixel M setting, with 7fps available for full-resolution 12 megapixel JPEG images. Note that if you're shooting RAW, the fastest possible rate is 7fps at 6 megapixels, rather limiting its usefulness. Shooting a single RAW + Fine JPEG takes about 6 seconds to record to the card, although thankfully you can take another shot almost straight away. Taking a 7 frame 12 megapixel JPEG burst only took the camera a few seconds to save, during which time you can't take any more pictures.
| | |
| --- | --- |
| | |
| Front | Top |
One area in which the Fujifilm Finepix X10 excels is its handling, thanks in no small part to the numerous external controls that make changing the key settings a breeze, especially when holding the camera at eye-level. Surrounding the lens is a manual zooming ring, with 6 markings including Off, 28, 35, 50, 85 and 112mm. This ring performs two functions - it powers the camera on by turning it from Off to the 28mm setting, denoted by a definite click, and turns the camera off again by turning it in the reverse direction. Very clever.
It also allows you to quickly zoom the lens and set the focal length by turning it, with a short and tactile movement that works particularly well when you hold the camera up to eye-level. It's a little more awkward to use when holding the camera at arms length though, where a more conventional zoom lever would be preferable, not helped by the lack of any markings on the horizontal zoom scale that appears on the LCD screen. All in all, though, the manual zooming ring works very well, practically begging you to hold the camera up to your eye.
On top of the X10 are tactile dials for changing the exposure compensation and the shooting mode, the tiny Fn button which by default provides quick access to the ISO speeds, but can be customised to suit your own needs from one of 10 different settings, a small but responsive shutter release button with a thread for a very traditional mechanical cable release - there's no need to buy an expensive dedicated accessory for this camera - an external flash hotshoe for suitable dedicated external units, and finally the camera's built-in pop-up flash, which cleverly only appears when a flash mode is selected and which has a range of 50cm - 7m at ISO 800.
| | |
| --- | --- |
| | |
| Memory Card Slot | Battery Compartment |
The X10's LCD screen is large enough at 2.8 inches and of sufficiently high resolution (460k dots) to match the rest of the camera's high specification. I actually found myself using it less than with a DSLR, due to the ability to use the optical viewfinder, and you could conceivably turn off the LCD altogether to help eke out the 270 shot battery life even further. The LCD screen does have a handy Info view which presents all of the key settings at once, or you can switch to the Standard or Custom Live View modes, with the latter offering a multitude of customisable options. To make the camera less obtrusive, there's a Silent menu option which turns off the speaker, flash, AF-assist lamp and most importantly the artificially-created shutter-release sound, instantly making the X10 perfectly suited to candid photography.
The Fujifilm Finepix X10 betters its big brother, the X100, by being able to record 1080p movies at 30fps with stereo sound, turned on by selecting the Movie option on the shooting mode dial. There are also several slow motion options - 70fps at 640x480 pixels, 120fps at 320x240, and 200fps at 320x112. You can set the aperture and shutter speed before recording begins, but not during, and you can also set the Film Simulation mode, so black and white footage is possible. Center or continuous auto-focusing is possible, but unfortunately you can't manually focus at all, which rules out some creative effects, and face detection can be enabled. There is a HDMI port for connecting the X10 to a high-definition TV, although as usual there's no cable supplied in the box. Also missing is a paper copy of the otherwise helpful manual, which is supplied on CD-ROM instead, along with the consumer MyFinepix software the slow and rather unintuitive RAW convertor (essentially a specially customised version of the commercial Silkypix application).
The X10 has a logical rear control layout. There's a vertical row of four buttons on the left of the LCD screen for image playback, exposure modes, focusing types, and white balance. On the right are the rear control dial and customisable AFL/AEL button, a circular control wheel which can be used to change the shutter speed and aperture and select other settings, and four options around it for setting the drive mode, flash mode, self-timer and focusing mode. In the middle of the control wheel is the Menu button, which accesses the Shooting and Set-up main menus. Underneath are two buttons, the first for changing the LCD display or going back, and the second for enabling the camera's RAW format. Although this lets you quickly switch from JPEG to RAW and back again, most X10 users will probably shoot in RAW or RAW+JPG anyway, so it feels a little redundant, especially as you can't customise it to another setting.
The Fujifilm Finepix X10 takes the compact camera to the next level, with a luxurious and intuitive design, class-leading build quality, quick responses and enough features to satisfy most photographers. Now let's take a look at its image quality...