Fujifilm FinePix Z800EXR Review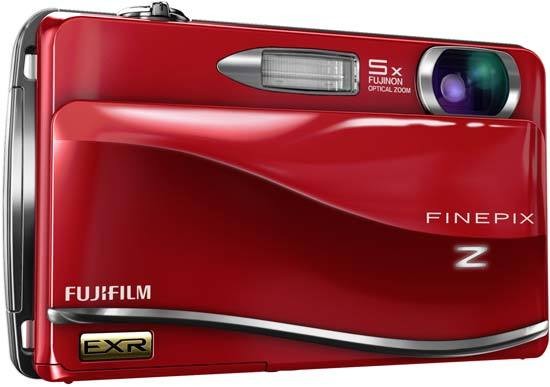 Introduction
The Fujifilm Finepix Z800EXR is a stylish new 12 megapixel compact camera with a 36-180mm, 5x zoom lens. Featuring Fujifilm's next generation EXR technology with hybrid high-speed autofocus, the Z800 EXR switches between phase detection AF and contrast AF depending on subject and light levels, promising DSLR-like focusing speed. Other highlights of the Z800EXR include a next generation EXR sensor, improved image stabilisation system, high-resolution 3.5" touch-sensitive LCD screen, ISO levels of up to 1600 at full resolution, and 720p HD movies. The Fujifilm Finepix Z800EXR is available in matt black, red, gold or shell pink for $229.95 / £229.99.
Ease of Use
First impressions of the new slim-line 12 megapixel Z800EXR from Fujifilm, just 16.9mm in depth at its thinnest point, are good. The metal build pocket model has a gently undulating wave-like curve design and sliding faceplate mechanism that both protects the lens when slid shut and activates the camera when slid open. It looks and feels like it should cost more than its manufacturer's £199 asking price, and of course web pricing will be more affordable still.
An externally stacked image stabilized 5x optical zoom, equivalent to 35-175mm on a 35mm camera, is accessible with a twist of a lever on the top plate, but remains hidden within the body at all times to maintain the camera's sleek proportions. It's not often we get more than what we bargained (or paid) for, so in that respect the Z800EXR is a pleasant surprise from the off. For the fashion conscious it's available in the deceptively serious matt black we had in for review, or a more lascivious scarlet. But at the end of the day it's a point and shot snapper pure, but perhaps not quite so simple. For it includes much of the new technology showcased on the equally new F300EXR model higher up the FinePix range. For that reason we'll be touching again on some aspects already covered in our review of that camera.
For the Z800EXR's proposed outlay meanwhile you also get a wow factor when you turn the camera over. Its entire backplate is given over to a 3.5-inch touch panel wide aspect ratio LCD screen. This means that the only physical controls on the camera are limited to the capture/playback button, shutter release button and zoom lever that ergonomically surrounds it. All are located on, and slightly set into, a narrow chrome strip that runs the length of the top plate and drops down at either side. The user interface is also dual direction, which means for example the direction of the menu button is switched depending on how the camera is being held. Basically the display can flip from horizontal to vertical format, at which point the camera takes on an iPhone-like air.
With the camera loaded with all the Fujifilm innovations we'd expect, including its manufacturer's proprietary triple use Super CCD EXR sensor, now in its second generation, operation is straightforward. That is, once you've familiarized yourself with where all the functions that would normally have readily identifiable physical controls are to be found in the new 'virtual' world. The audible 'dink' as you select each subsequent virtual button and feature can quickly become annoying, so it's good that the sound can be muted if so desired.
| | |
| --- | --- |
| | |
| Front | Rear |
For those not already up to speed re: the properties of Fujifilm's Super CCD EXR sensor meanwhile, it can be utilized in one of three ways by the photographer. There's a choice between shooting at full 12MP resolution in High Resolution (HR) mode, alternatively choosing wide Dynamic Range (DR) mode to achieve optimal balance between shadows and highlights, or Low Noise (SN) mode for shooting without flash in low light conditions. If you can't decide which is best for a chosen scene or subject, then leave the camera on scene-detecting EXR Automatic Mode and let it choose for itself. It appears to be the exact same 1/2-inch EXR chip utilized in the Z800EXR as in its F300EXR sibling.
The markets for each are subtly different however. This is illustrated by the fact that the innovation that is being flagged up on this model is a new Pet detection technology that can detect up to ten four legged friends in a scene. Good for dog shows perhaps, or recording a pack of wolves. We also get standard human Face Detection and Recognition functionality. Likely to get more use by those with families is an auto release mode also found on the F300EXR that fires the shutter when the camera detects the subject is looking directly at the lens. Fujifilm suggests this is ideal for photographing never-sit-still children and babies. HD movie capture makes an expected appearance, here at 720p resolution with mono sound, while for low light shooting up to ISO3200 equivalent is offered.
Another feature shared with the F300EXR, and unexpectedly so at this snapshot level, is phase detection auto focus (as on Sony's newest A33 and A55 DSLRs) for near instantaneous captures - Fujifilm says officially 0.158 second, equating to a blink of your eye - plus a new hybrid auto focus system to measure light and contrast. This chooses between phase detection auto focus, best suited to bright high contrast situations says Fujifilm, or contrast auto focus for dark, low light scenes. So with the Z800EXR you're getting DSLR-like technology in point and shoot compact clothing. Plus, there's a new 360° Motion Panorama Mode incorporated for sweeping landscapes, and also, in playback mode, there's a chance to rate your favourites by allocating stars to them. So, as noted, you're getting most of the new innovations introduced on the F300EXR for £130 less.
So, from the front the Z800EXR looks like a capable rival to take on the Sony T-series Cyber-shots of this world. Indeed we prefer the understated look of the Fujifilm, particularly in its black incarnation, the 'Z' logo dashingly cut into the background like the mark of Zorro.
| | |
| --- | --- |
| | |
| Front | Top |
Slide this portion of the faceplate down and with an audio 'sparkle' the camera is ready for action in around two seconds, internally lens automatically at its widest setting and attendant flashgun exposed to the world. It must be said that, as with its Cyber-shot rivals, it's easy to get a stray fingertip peeping into shot whilst you're still familiarizing yourself with the camera, because the lens is located top right of the face plate rather than more centrally placed. So when gripping it in both hands the inevitable happens. In terms of a grip, well there's no real concession to a grip at all, so it's good job there's a wrist strap provided in the box to prevent the Z800EXR flying out of your grasp if fingers are slippery.
The top plate meanwhile features just a built in mono microphone, button for alternating between capture and playback modes, plus a shutter release button encircled by the rocker switch for the 5x zoom.  It takes between two and three seconds to get from maximum 35mm equivalent wideangle setting to 175mm telephoto end, and the transition is jerky and staggered. There's also some mechanical noise, and, though this is not in our opinion as intrusive as on the F300EXR, here Fujifilm has chosen to nevertheless disable use of the optical zoom when shooting movies. The lens merely stays put at the point you left it when recording commenced which is a shame. Take a still image meanwhile and, with the camera locking onto target near instantly (but not quite), this is committed to memory in around two seconds. If we didn't know that both were using the same chip, we'd swear the performance of the Z800EXR feels faster than that of the F300EXR.
With a built in speaker on the left hand side of the camera - if viewed from the back - and combined USB and AV output port clever hidden beneath the almost seamless chrome strip to its right hand side (no mini HDMI output here, as on the F300EXR), it's the back of the camera where all the business takes place.
| | |
| --- | --- |
| | |
| Memory Card Slot | Battery Compartment |
When you first activate the camera and try a few exploratory plods there very rapidly appears to be an almost bewildering away of options floating about the screen, but bear with it and the Z800EXR slowly starts to reveal its riches, with 'home' and 'back' buttons to help users' navigation. Start with the toolbars either side of the main 4:3 ratio image and drill your way in.
Apart from the EXR modes, scene and regular auto mode there's access provided to Fujifilm's film simulation modes, as on the F300EXR and previous FinePix generations. The choice once again is between the well-saturated colours of 'Velvia' mode, the default natural-looking setting of 'Provia', black and white or sepia - but no soft and gentle 'Astia' for portraiture this time. Natural light and natural light with flash option also makes a re-appearance on a Fujifilm camera, and here we get a 'touch and shoot' option. Simply touch your subject when and where it appears on screen and the camera's shutter will fire. Very responsive the screen is too. Rather more sophisticated than your average sub-£200 model then.
The base of the Z800EXR features a centrally located screw thread for the attachment of a tripod and, to the side of this is a narrow compartment that pulls off the trick of housing both a slot for optional yet essential memory card plus supplied lithium ion rechargeable battery. Fujifilm says the life of the supplied NP-45A cell is just 170 shots, which is poor by any standards, and is one of the few black marks against this value for money model.
But we may be jumping the gun. We haven't yet come to image quality. So how does the Z800EXR measure up where it counts? Can this minnow take on the big boys?