Fujifilm FinePix Z900EXR Review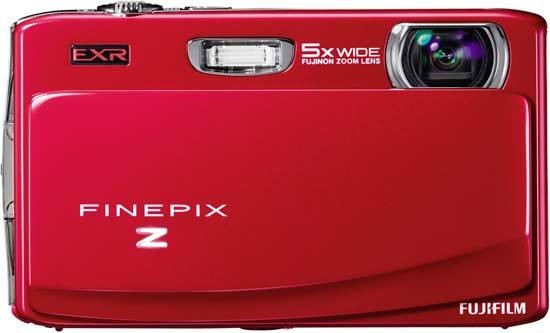 Image Quality
All of the sample images in this Review were taken using the 16 megapixel Fine JPEG setting, which gives an average image size of around 5.5Mb.
Image quality on the Fujifilm FinePix Z900EXR digital compact camera is very good in real life situations. What we mean is that for everyday use, you'll find that the Z900EXR gives cracking shots. We found that the metering, although good in most situations, did have trouble in complex light or with hard highlights and shadows in the frame. We tried using the dynamic range boost but it had little effect. We found that colours are recorded accurately in the Z900EXR. Primary colours such as red and green are rich and nicely saturated. We're suckers for a good blue sky and we loved how the Fujifilm produced pictures with blue sky in.
Noise
The sensitivity on the Fujifilm FinePix Z900EXR ranges from ISO100 to ISO6400. We're pleased as punch with the low ISO results. ISO100 is very smooth with no colour noise showing through at all in dark areas and there's nice sharpness to fine edges. We found a small amount of salt and pepper noise poking through at ISO400 which messes around with fine edges slightly and this problem gets worse at the ISO800 setting. However, we'd normally expect to see colour noise coming through at this stage but we can't. Green blobs of colour do show through at the ISO1600 setting but it's tolerable. Image detail has broken down severely at ISO3200 and colour noise starts to invade the mid range tones being seen most where darker parts overlap lighter tones. At ISO6400, the camera reduces the resolution to reduce noise but so far the camera has produced much better results than other cameras with CCDs fitted. What reducing the resolution does is keeps the noise performance akin to what the lower ISO3200 setting does.
| | |
| --- | --- |
| ISO 100 (100% Crop) | ISO 200 (100% Crop) |
| | |
|   |   |
| ISO 400 (100% Crop) | ISO 800 (100% Crop) |
| | |
|   |   |
| ISO 1600 (100% Crop) | ISO 3200 (100% Crop) |
| | |
Focal Range
The Fujifilm FinePix Z900EXR's 5x zoom lens provides a focal length of 28-140mm in 35mm terms, as demonstrated below.
| | |
| --- | --- |
| 28mm | 140mm |
| | |
Sharpening
As we mentioned before, CMOS sensors aren't as sharp as CCD sensors. However, we found that pictures were sharp enough although loading the pictures into Adobe Photoshop CS4 and using the standard sharpening did bring out the detailed areas of photographs better.
| | |
| --- | --- |
| Original (100% Crop) | Sharpened (100% Crop) |
| | |
Chromatic Aberrations
We struggled to find any chromatic aberration on the pictures we took during the test which we are extremely pleased with. We found some on the macro test shot of the Compactflash card towards the edges of the frame but it's still a very good result.
Example 1 (100% Crop)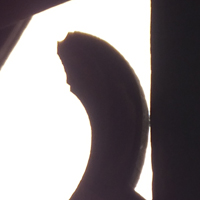 Macro
The Z900EXR has a close focusing performance of 9cm which isn't all that spectacular on paper. However taking a picture of a simple Compactflash card, we found that it filled the frame nicely. Centre sharpness is great although that sharpness does start to soften out at the edges.
| | |
| --- | --- |
| Macro Shot | 100% Crop |
| | |
Flash
We found that in program mode with the ISO at a low setting to minimise noise, that the flash wouldn't compensate more to give a more balanced result. The only time it did this was in the natural light & flash mode in the program menu.
| | |
| --- | --- |
| Flash Off - Wide Angle (28mm) | Flash On - Wide Angle (28mm) |
| | |
|   |   |
| Flash Off - Telephoto (140mm) | Flash On - Telephoto (140mm) |
| | |
We found that the red-eye reduction feature on the Fujifilm FinePix Z900EXR eliminated most red-eye in the picture.
| | |
| --- | --- |
| Flash On | Flash On (100% Crop) |
| | |
|   |   |
| Red Eye Reduction | Red Eye Reduction (100% Crop) |
| | |
Night
It seems that the Fujifilm FinePix Z900EXR has an amazing noise reduction facility that can really be seen when using the night shot mode for shooting at night versus the program mode. In program, the camera doesn't automatically add the right amount of noise reduction because it doesn't analyse the picture like it does in the scene modes. Because of this, even at ISO100 we got a lot of noise due to the long exposure but the night scene shot is much smoother. However, the night scene mode also underexposed the image by a large margin. It was dusk in our test and the camera has made it look like night.
| | |
| --- | --- |
| Night - Program Mode | Night - Program Mode (100% Crop) |
| | |
|   |   |
| Night - Scene Mode | Night - Scene Mode (100% Crop) |
| | |