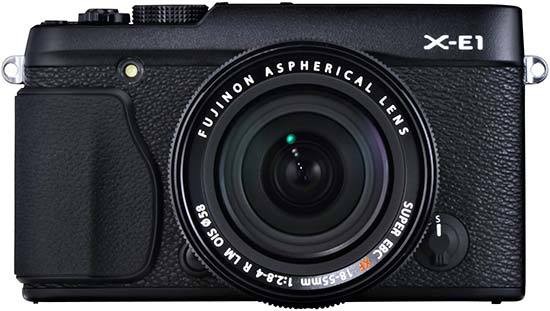 Conclusion
Smaller, lighter and significantly cheaper than the X-Pro1, whilst offering the same outstanding and image quality and impeccable handling, there's certainly an awful lot to like about the new Fujifilm X-E1. The main sacrifice is the removal of the innovative Hybrid optical/electronic viewfinder, replaced instead by one of the highest resolution and best electronic viewfinders currently available - indeed the X-E1's viewfinder is so good that we hardly missed using the X-Pro1's optical finder. Although not as fast as some compact system cameras (most notably the Olympus OM-D E-M5), the X-E1 is certainly responsive enough to capture most candid moments, although we'd probably stop short at out-and-out sports photography.

The X-E1 delivers exactly the same excellent image quality as its big brother. Noise is noticeable only by its almost complete absence throughout the ISO range of 100-25,600, while the Dynamic Range function helps to boost contrast and detail. The new 18-55mm lens is also worthy of mention, with the fast maximum apertures making it easy to creatively throw the background out of focus, and delivering sharp results throughout the focal range. The X-E1 is certainly right up there with the best APS-C sensor cameras on the market, and some full-frame models too.

The Fujifilm X-E1 feels even more like the natural interchangeable lens evolution of the incredibly popular X-100 camera than the X-Pro1 did, offering refined, intuitive handling, fantastic image quality, premium build quality and five high-quality lenses on launch. It addresses most of the key faults that afflicted the X-Pro1 when it was initially launched - slightly sluggish auto-focusing, slow write speeds, and the hybrid viewfinder which didn't lend itself so well to interchangeable lenses - at a much more attractive price point.

Retailing for £749 in the UK and $1000 in the US for the body-only, or £1149 / $1399 with the new 18-55mm f/2.8-4 OIS lens, means that you can buy the X-E1 with a great kit lens for less than the body-only launch price of the X-Pro1 (although obviously this is now significantly less). It also pits the X-E1 directly against the Olympus OM-D E-M5 and the Sony NEX-7, both of which are great cameras, but both of which are quite different in their approach. The Fujifilm X-E1 is so much more than just a cut-down, cheaper version of the X-Pro1 - it's a compelling camera in its own right.
Ratings (out of 5)
Design
4.5
Features
4.5
Ease-of-use
5
Image quality
5
Value for money
4.5