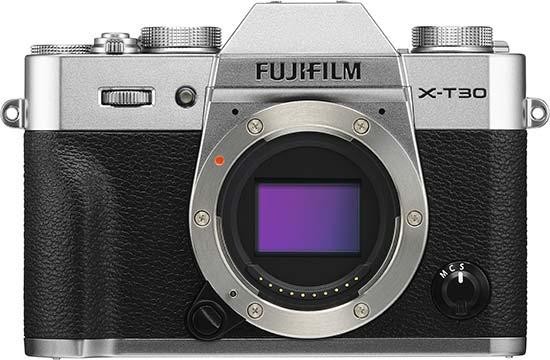 First Impressions
The Fujifilm X-T30 is a new APS-C mirrorless camera, offering 26 megapixels and using the Fujifilm XF lens mount.
We were shown a pre-production version of the X-T30 by Fujifilm ahead of today's launch. We've shot some sample JPEG and RAW images with the camera and got some hands-on time with the X-T30.
So read on for our first impressions of the new Fujifilm X-T30 APS-C mirrorless camera...
Fujifilm firmly believe that APS-C is still the best balanced system for most photographers, with medium format reserved for their professional users.
The X-T3 was released last year to great acclaim. It's the 4th generation of Fujifilm mirrorless cameras and is suitable for all types of photography and cinema.
Fujifilm pointed out that the X-T20 is actually the best selling X-series camera ever. Designed as a lifestyle camera, the X-T20 was popular because it was a good looking camera that took great quality images, at a more affordable price-point than the X-T3.
The new X-T30 is part of what Fujifilm are calling "Generation 4.1", because in a few ways this camera is slightly more advanced than the X-T3! Fujfilm are billing it as "The Little Giant".
The X-H1, X-T3, X-Pro 2 and the new X-T30 now constitute Fujifilm's mainstream APS-C camera line-up.
Key Specifications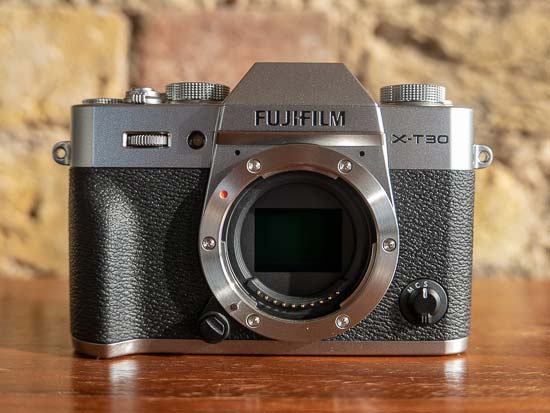 Here's a list of the key specifications for the X-T30:
26.1 megapixels, low pass filter
2.36-million-dot, 0.39-inch OLED electronic viewfinder, 100fps frame rate
Tilting 3-inch touchscreen LCD with 1.04-million-dot resolution
ISO 80-51200
425 AF points
Improved Face and Eye AF
30fps, 1.25x crop, 16M image / 20fps / 8fps mechanical burst shooting with continuous AF/AE
DCI 4K video at up to 30p, 6K sampling
4:2.2 10-bit via HDMI, 8-bit to SD card
1080p video at 60fps
Bluetooth and wi-fi connectivity
Pop-up flash
Single SD memory card slot
USB battery charging
380-shot battery life
Size: 118.4mm (W) x 82.8mm (H) x 46.8mm (D)
Weight: 333g
Design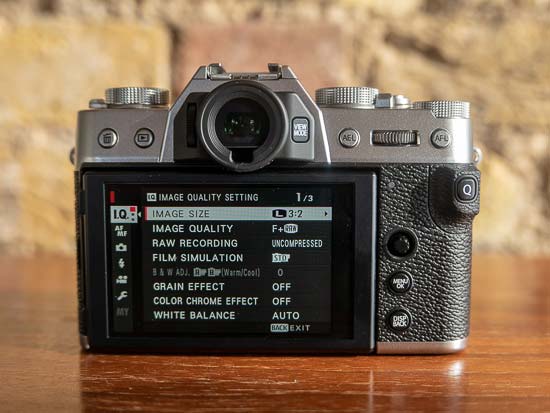 The small size and weight is one of the key attractions of the new X-T30, especially in comparison to the larger X-T3 and X-H1 cameras. It weights a mere 383g including the battery and memory card, 333g body only, and measures 118.4mm (W) x 82.8mm (H) x 46.8mm (D).
Fujifilm have subtly tweaked the design of the X-T30, which offers slightly adjusted ergonomics to its popular predecessor.
There's a new grip design on the front, and on the rear the traditional D-pad has been replaced by a focus joystick. While this is a welcome change, we immediately noticed in our hands-on with the camera that the joystick is positioned too low for natural use, especially if you're used to the joystick position on the X-T3.
We're also not huge fans of the new position of the Q.menu button, which has been embedded into the top of the rear thumb-grip.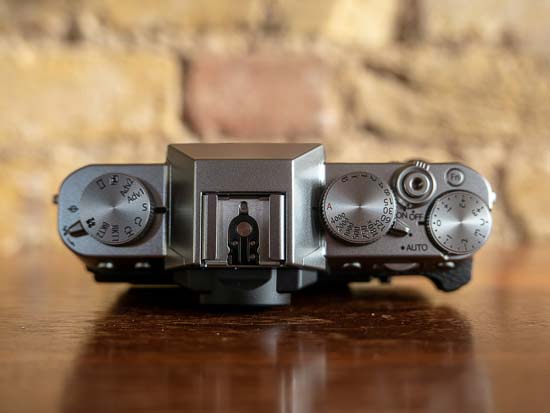 The X-T30 now has a slightly thinner rear screen - 1.3mm thinner than the one on the X-T20 - and offers a faster touchscreen response, something that will also becoming to X-T3 in a future firmware update.

There's also a brighter EVF than on the X-T20, with a faster frame rate of 100fps, while the pop-up flash has thankfully been retained.
Note that officially we were using a pre-production camera and the design may change before the final launch, although we wouldn't expect too many tweaks to the body at this late stage.
Megapixels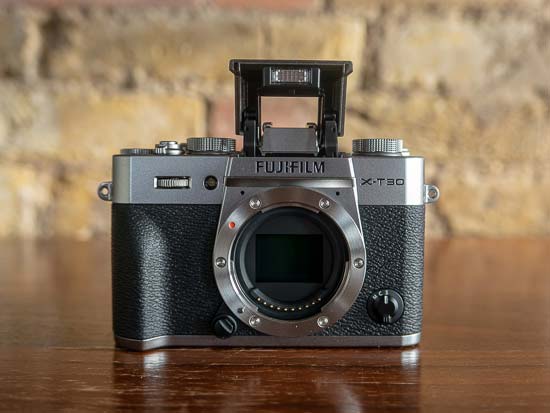 The X-T30 has exactly the same 26.1 megapixel sensor and processor as the X-T3, so expect to see very similar image quality from the X-T30 - you can judge for yourself by checking out our X-T30 sample JPEGs, RAWs and videos.
ISO Speed
The X-T30 highest native ISO speed is 12,800, which can be expanded to ISO 51,200 if required, exactly the same as the X-T3.
Autofocusing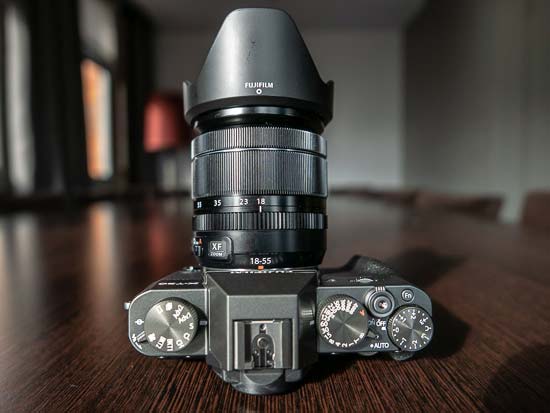 Autofocusing is one area where the X-T30 represents a major leap forwards for the Fuji X-series, and where it currently outperforms the X-T3 and X-H1 cameras.
The X-T30 offers improved face AF during both movie recording and stills, and it also detects obstacles better without moving the AF box.
The Eye AF tracking has a new, easier to understand GUI, whilst the new face select function allows you to use either the touch LCD or focus lever to quickly switch between faces in the frame.
Fujifilm also claim that the X-T30's AF system offers 300% faster autofocusing on a subject moving from from far to near or near to far.
Electronic Viewfinder
The Fujifilm X-T30 uses exactly the same sized viewfinder as the previous X-T20, a 0.39-inch OLED unit with 2.36-million-dots, but this time around it's brighter and has a faster frame rate..
LCD Screen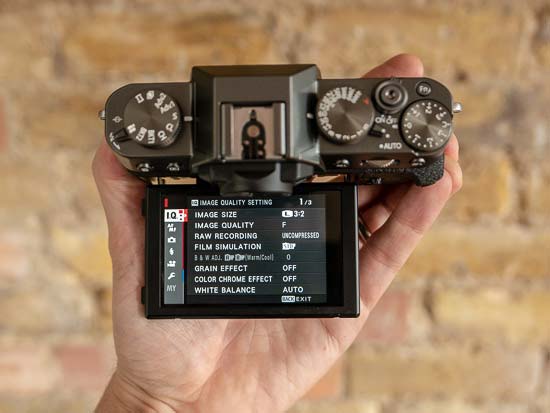 There's a 3-inch touchscreen display on the rear with 1.04-million-dot resolution, which can be tilted up and down, making it ideal for shooting from more unusual angles, but sadly not so suitable for vlogging
Burst Shooting
In terms of burst shooting, the X-T30 can shoot at 30fps using the electronic shutter with a 1.25x crop applied, resulting in a 16 megapixel image. There are also "slower" 20fps and 10fps modes available using the electronic shutter, or 8fps with the mechanical shutter.
Note that the number of recordable images in a single burst is much lower than on the X-T3, as the buffer is about half the size on the X-T30 - it can record 26 JPEGs / 17 RAWs for the 30fps mode, 32 JPEGs / 17 RAWs for the 20fps mode, 81 JPEGs / 18 RAWs for the 10fps mode, and 90 JPEGs / 18 RAWs for the 8fps mode in a single burst.
4K Video
The X-T30 is capable of shooting DCI 4K video (4096x2160 pixels) at frame rates of 29.97p/25p/24p/23.98p at 200Mbps/100Mbps quality for up to 10 minutes, using a full 6K readout with no cropping. Full 1080p recording is also available up to 60fps.
Memory Card Slot
The new camera features a single UHS-II memory card slot, unlike the more expensive X-T3 model which has dual card slots.
Battery Life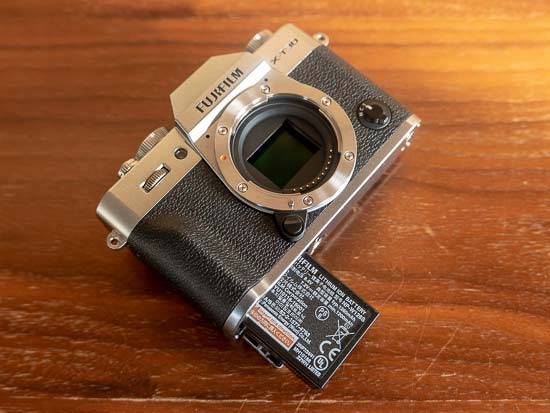 The X-T30 uses the same NP-W126S Li-ion battery as the X-T20 camera, providing a CIPA rated life of 380 shots. You can also recharge the camera via its USB port, as well as using the supplied charger.
Connectivity
The Fujifilm X-T30 offers two different connectivity options:
Bluetooth
Creates a constant, low-power connection between the X-T30 and a smartphone/tablet to transfer images and video using the Fujifilm Camera Remote smartphone app

Wi-fi
Remotely control the X-T30 via a 2.4Ghz wi-fi connection using a smartphone or tablet and the Fujifilm app, and transfer images and video
Colours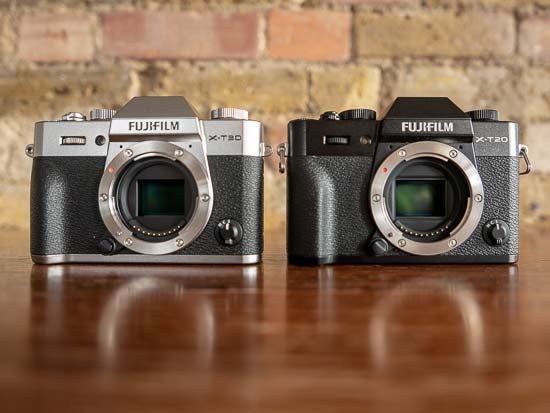 The Fujifilm X-T30 will be available in three different colours - Black and Silver will be available from the 20th March 2019, and the new Charcoal Silver colour will be released in May 2019.
UK Pricing
X-T30 body only - £849
X-T30 with XC 14-45mm lens - £899
X-T30 with XF 18-55mm lens - £1199
US Pricing
X-T30 body only - $899
X-T30 with XC 14-45mm lens - $999
X-T30 with XF 18-55mm lens - $1299
Initial Conclusion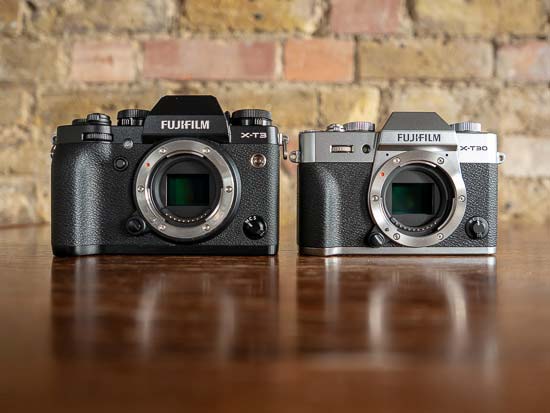 The new Fujifilm X-T30 offers a lot of the key features of the flagship X-T3 camera in a much smaller, more portable pacakage, and it even dares to out-perform its bigger sibling in some ways too! We can't see any reason why the X-T30 won't continue to be the best-selling Fujifilm camera in the X-series range...
So what do you think? Leave a comment on the new Fujifilm X-T30 mirrorless camera below...