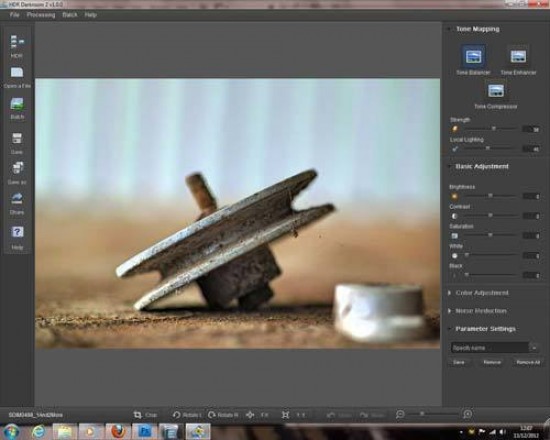 Conclusion
Since the HDR boom happened a few years ago, it's started to slide off a little. It's fair to say every photographer will take bracketed images when they shoot just in case they want to do a HDR image when they get back. But we're unsure just how much it's at the forefront of people's minds when they're out shooting these days. Then a program like this comes along which can inspire the user to get back out there and start shooting three of each scene again.
HDR Darkroom 2 costs $59 which is around £33. This is great value considering the amount of programming and expertise that seems to have gone into it. To get the Pro version, it will cost you $89, which is about £55.  The main differences are that the Pro version needs a screen resolution of 1280x800 while the Standard version needs only 1024x768 (a more typical resolution), the light and colour controls are expanded to include curves, shadows and highlights. Other features include Sharpening, Chromatic Aberration compensation and Lens compensation to correct barrel distortion or pincushion. Finally, the colour space management is wider in Pro than the Standard version. White balance has also got a pipette sampler and an auto feature.
Whichever version you opt for, you can be rest assured that HDR Darkroom 2 will get you thinking about HDR a lot more. Unless you're already a HDR photographer of course. If your interest in HDR is on the wane, this program certainly could revitalise your interest. We've certainly had ours rekindled and can't wait for some annoyingly complex light to come our way.
The price is pretty good for what it gives you. $59 (£33) for a stand alone program that does all this is impressive. Amusingly, you can upgrade to Pro for $30 which is a whopping discount of 0%. If you're in the market for a very good HDR program, then HDR Darkroom 2 is certainly one to look at.
Ratings (out of 5)
Features
4.5
Ease-of-use
4.5
Value for money
4
Your Comments