Huawei P30 Pro Review
More Pages
Image
Quality
Sample
Images
Product
Images
Product
Specs
Rating &
Conclusion
First Impressions
We attended the global launch of the Huawei P30 Pro, the company's brand new flagship smartphone. Ahead of our full review, here are our detailed first impressions of using the latest Huawei premium device...
Huawei P30 Pro Colours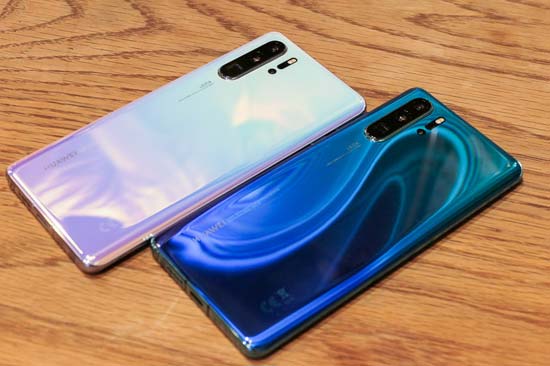 Just like previous Huawei smartphones, the P30 Pro has a very attractive finish. It'll be available in a range of colours, depending on the territory that you're in. We got the opportunity to have a look at the Aurora and Breathing Crystal colourways, but there will also be "Amber Sunrise", and for those who prefer things a little more understated - standard black.
Huawei P30 Pro Dewdrop Notch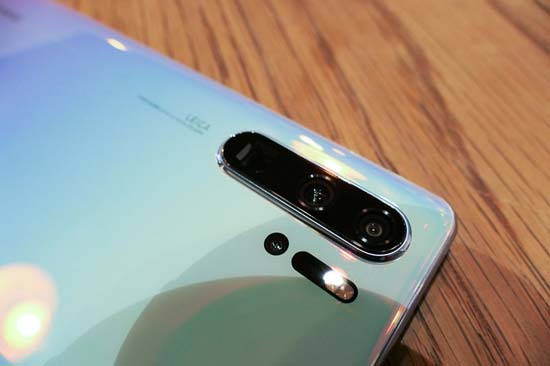 Compared with last year's P20 Pro, the P30 Pro is a little bigger - with a 6.47-inch curved OLED 2K screen. This year also sees the introduction of a "dewdrop" notch - this sits in the middle of the top of the screen and is designed to use as little as possible of the screen space. Huawei's sub-brand Honor debuted the "hole punch" notch in the Honor View 20, but this has an arguably more elegant appearance while using a similarly small area size. Using a much smaller notch potentially means that face detect won't be as swift as we see with the Mate 20 Pro, but that's something we'll test out when full review samples become available.
Huawei P30 Pro Camera App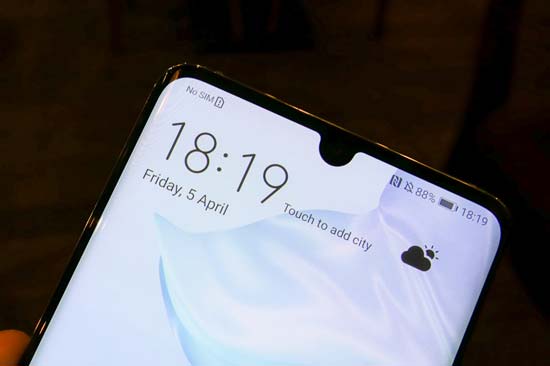 We have only had a limited time with the P30 Pro so far, but Huawei has kept the same native camera app as we've seen before in the P20 Pro and the Mate 20 Pro. That means you get something which is extremely well-featured and gives you lots of control without having to use third-party options.
If you're a beginner, or just want to take a simple picture, the Huawei P30 Pro.s Standard photo mode gives you the chance to simply point and shoot. You can elect to leave Artificial Intelligence switched on and let the phone tweak settings or output depending on what it detects in front of it. If you want to get more involved with your photography, there's a Pro mode which gives you the option to change a wide range of parameters such as shutter speed, white balance and so on (you can't adjust aperture since that is fixed by the lens).
As well as these more straightforward modes, there are additional options, such as Night mode, Aperture, and Portrait. All of these are said to have improvements when compared to previous Huawei models, but we'll need to wait until we've got our hands on a full sample before making any final judgements there. A new mode enables a "silky water" effect and works in a similar way to handheld Night mode, combining a series of short exposures together to create the effect of shooting a long exposure.
Huawei P30 Pro Lenses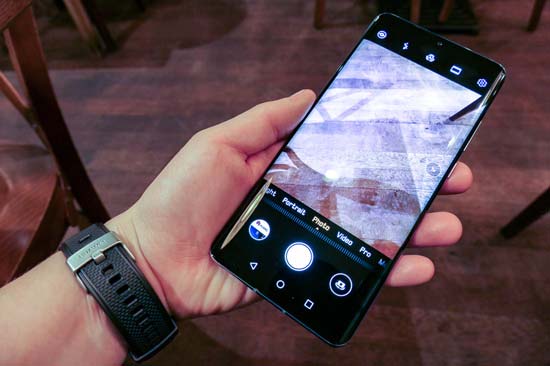 Flipping to the back of the phone and you'll see the four Leica lenses which are now adorning the back of the camera. Three out of the four are arranged in a row along the left hand side of the device, similar to the P20 Pro. Here there is a standard 40MP sensor and lens, a super-wide angle lens and a 5x optical zoom lens. Gone is the dedicated monochrome sensor camera as found on the P20 Pro, which some people will be sorry to see go - but it was felt that the wide-angle lens was more popular.
Huawei says that the super wide angle lens is now wider than that found on the Mate 20 Pro and features improved rectilinear correction, so that should see better results - again we'll need to see how it fares when we've had a chance to use it properly. Mechanical optical image stabilisation has been introduced to both the standard lens, and the 5x optical zoom lens - which should be very useful for keeping those longer length shots sharp, as well as keeping 4K video stabilised for the first time.
Huawei P30 Pro Time of Flight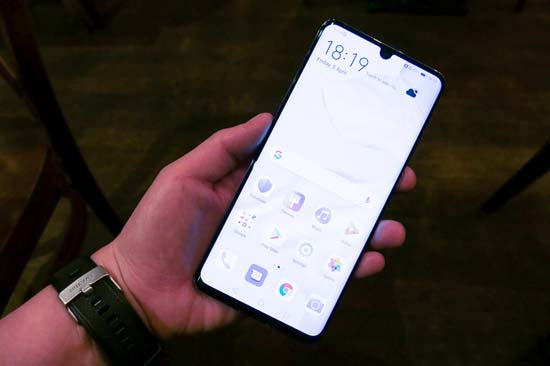 The fourth lens is a new "Time of Flight" (TOF) lens. This is used to measure light and therefore create a depth of field map. Huawei says this should help the phone to create "DSLR Super Portraits" which rival the use of conventional cameras - it'll be interesting to put that to the test.
Each of the sensors has been redesigned, and now features a RYYB construction (as opposed to the usual RGGB). Huawei says this is because more light is available in the yellow spectrum, and therefore low-light image quality will be improved from previous generation phones. We'll be putting this particular claim thoroughly through its paces just as soon as we can.
Huawei P30 Pro Early Verdict
In recent years, Huawei has become the go-to name for those looking for the very best in smartphone photography. With the P30 Pro, early indications are that it's looking like it'll be another fantastic performer at a competitive price and with attractive looks.
With a 40 megapixel main camera, a 5x optical zoom, and an improved wide-angle lens, the P30 Pro would seem to offer something for everybody. It remains to be seen how the TOF works in practice, but we're extremely intrigued to find out.
Watch this space for a full Huawei P30 Pro review as soon as possible...
Image
Quality
Sample
Images
Product
Images
Product
Specs
Rating &
Conclusion