Kodak Easyshare M5370 Review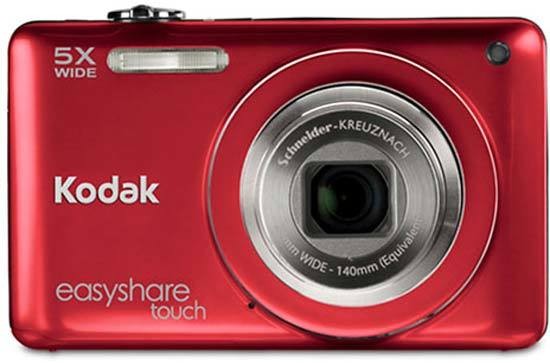 Introduction
The Kodak Easyshare M5370 is a touch-screen digital compact camera with a 16 megapixel CCD sensor, 5x optical zoom lens with a 28mm wide-angle setting, and 720p HD video recording. Using an accelerated share system that now incorporates direct upload to social networking sites such as Facebook and video uploading to YouTube, the Kodak Easyshare 5370 costs around £109.99 / $159.95 and is available in blue and silver, red and black.
Ease of Use
From the front, the Kodak Easyshare M5370 is a good looking little compact. The 5x optical Schneider-Kreuznach lens sits cosily to one side of the body with a longer than usual flash situated in the top left just under the shutter release button. This could cause issues with a finger masking the flash during picture taking but we'll see how that gets on throughout the test.

The curvy edges lead to the top of the M5370 which is simple in its execution. The power button is sat flush with the top plate to avoid embarrassingly turning it off by accident from straying fingers. This trendy approach hasn't been carried along because the shutter release and zoom bulge out and make the camera look poorer quality than it actually is, mainly because the shutter button and zoom trigger look like they've been taken off an older camera as though Kodak are cutting corners in the build and design. A small red video button sits just to the right of the shutter release and makes for a nice splash of colour in an otherwise monotone camera.

There are only two buttons on the back for playback and sharing. Frankly these could've been installed into the touchscreen so there's no reason for them to be there. Still, many users prefer to have at least some tangible buttons to press.
| | |
| --- | --- |
| | |
| Front | Rear |
Kodak could be held responsible for the sharing mindset we've seen on a lot of cameras recently. The Easyshare system has been around since 2001. Using a (Kodak) universal dock, the camera could be linked to any computer that a dock was connected to. Removable templates meant that anyone with a Kodak camera could use the dock by placing their own template on it. This principle of sharing has evolved into incorporating social networking sites such as Facebook, Twitter and YouTube. Sharing on the M5370 is done using one of the physical buttons on the back. It's been coloured red for ease of identification and will automatically upload pictures you've tagged for transfer on to the site when an internet connection is available.
Face recognition is available on the Kodak Easyshare M5370. It takes the usual face detection system that one step further by allowing you to register people's faces into a database on the camera. When that face is detected, the camera will prioritise it over all other faces in the frame. Kodak have even linked this in to the Facebook uploader and will automatically tag your friends that are named in the face recognition system. The camera can save up to 20 faces but can only recognise five at a time.
It's possible to edit your pictures in camera and the effects are good fun to use. You can adjust the colour tone of the picture, add blur to the background, paint in colours using a brush or add a border giving a look like it's printed on film. There are also several Kodak film simulations which can be found by pressing the mode button and choosing the middle option. You can choose from iconic film types such as Kodacolor, Ektachrome, Kodachrome, T-Max, Tri-X and Sepia.
| | |
| --- | --- |
| | |
| Front | Top |
Since Panasonic introduced Intelligent Auto, every man and his dog has a system that will now recognise the scene and adjust the camera settings for you. For example, if the Kodak Easyshare M5370 detects a face in the frame, it switches itself into portrait mode then turns on face detection and automatic flash with red eye reduction. Kodak is no different except they call it Smart Capture. It utilises all different areas of picture-taking such as: face detection, flash control, focusing, motion detection, ISO and expanded dynamic range. The latter will give more balanced exposures with less contrast, more detail from shadows and less burn out on highlights.
We're surprised to see only 720p video quality on the Kodak Easyshare M5370. It's still HD video but not Full HD. The great thing about the M5370 is that the LCD screen is nice and bright. Unfortunately, it's let down by the menu system that keeps popping down from the top of the screen like an annoying sun-visor. Confirming a button on the menu makes it retract only to come back down with a sub-menu. It takes more time than necessary and while it looks good, it needs to be faster.
The overall build quality of the M5370 is to a high standard for the price, such as the metal casing and Schneider Kreuznach lens. There's nothing fitted to it that makes the camera stand out - likewise there's nothing missing that we'd expect to see. The screen is responsive enough for a camera touch-screen and the buttons are firm.
The menu of the Kodak Easyshare M5370 is a bit higgledy piggledy with the resolution in the settings tab and film effects in the mode menu. It makes navigation more difficult to get used to which is a shame. There's also no written explanation of what some modes are, such as the five dots arranged in a domino pattern which is the sharpness setting.
| | |
| --- | --- |
| | |
| Memory Card Slot | Battery Compartment |
If you're in a rush to get a picture with the M5370, forget it. Start up time from pressing the power button to focusing and taking a picture is around 6 seconds. The big part of the time is taken up by the menu system booting up. It takes around 2/3rds of the time just to sort the menu out before the camera will focus. Pre-focused, the camera will take a picture in around 0.08 seconds which is typical of a digital compact camera today. We couldn't find a burst mode to test.
The Kodak Easyshare M5370's playback button allows you to see the pictures you've already taken. When the screen opens, the home page will show. It categorises all the pictures into date, face recognised, most recently taken etc.
There are some editing options which are actually quite catchy. They're accessed via the edit icon which has an icon of a pair of scissors. The three additional options are crop, effects and magic touch. The latter will automatically do what it can to enhance pictures which works well enough on well exposed pictures but if they're too dark or have a strong colour cast, it does struggle.
In the effects there are 2 more options in a sub menu and each of those options has even more options. Photo effects has 3 available called Spot colour which will remove the colour of something such as a background, Tint which adds a strong colour cast and background blur which is similar to what some other companies provide such as Fujifilm and Panasonic. The Decorative tab allows you to add a border or text to your pictures.