Kodak EasyShare Z980 Review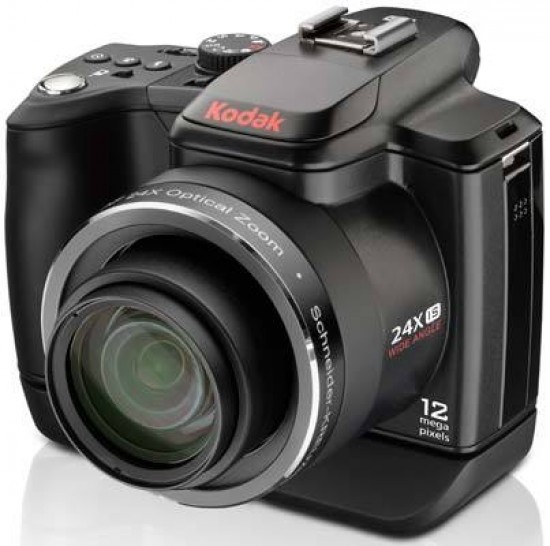 Conclusion
The Kodak EasyShare Z980 super-zoom camera offers a lot on paper, but some serious flaws make it hard to recommend to either beginners or more experienced users alike.

Image quality is at the heart of any camera, but unfortunately it's also at the top of the Z980's list of problems. Noise is evident even at the slowest ISO speed of 64, and it will become apparent even in prints at ISO 400 and faster, limiting the Z980 to hand-held use in good lighting conditions only. It also has a tendency to over-saturate the colours, even in the default Natural Light mode - some people may like this effect, but it certainly isn't accurate. And all of our test photos suffered from an over-aggressive smearing of fine detail. One of the Z980's key features, its RAW mode, couldn't make up for the sub-standard JPEG images, thanks to slow processing times, the inability to record both a RAW and JPEG image at the same time, and the lack of a serious development tool, even the one provided by Kodak in the box. The 24x zoom lens suffers from a general lack of sharpness and obvious barrel distortion at wide-angle settings.

The Kodak EasyShare Z980 also suffers from some rather "curious" design decisions. Adding the supplied vertical grip is promoted as a benefit, but in our view it only makes an already big camera even larger and heavier. The reliance on using a mechanical switch to turn on the second shutter release button (itself a strange inclusion) and the inability to automatically switch the LCD display between portrait and landscape when you do is all rather 1999, rather than 2009. Add a too-small Jog Dial and too-unresponsive zoom button, poor electronic viewfinder and low-resolution LCD screen, and it all adds up to a mish-mash of a user experience that will frustrate the majority of users, both beginners and keen shutterbugs alike.

All of these issues might be forgivable (just) if the price was right, but sadly it isn't. $399 / £379 is only a little bit cheaper than the Z980's main super-zoom rivals - ultimately we'd definitely save the extra cash and shop elsewhere. While the Kodak EasyShare Z980's list of key specifications looks promising, in reality it simply doesn't add up as an overall package.
Ratings (out of 5)
Design
3.5
Features
4.5
Ease-of-use
3.5
Image quality
2.5
Value for money
3