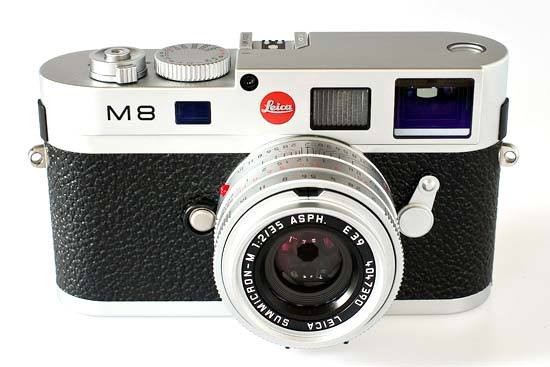 Introduction
The Leica M8.2 is the updated version of the M8 the first digital rangefinder from the company to be based on the famous analogue M-series cameras. Instead of a full-frame - 35mm form factor sensor, the M8.2 like the original M8, features what's sometimes referred to as APS-H sized sensor, much like that used by the Canon EOS 1D-without-the-s series cameras.

As the Kodak made sensor is smaller than a single 35mm frame, the M8.2 has the inevitable field view crop - in this instance though the crop factor is less than the ubiquitous APS-C size sensors at 1.33x. Principal differences then between the M8 and M8.2 include a quieter, less vibration-prone shutter mechanism with charging delay, scratch-proof sapphire crystal LCD cover, viewfinder frame lines aligned to cover the sensor at 2m rather 0.7m and some cosmetic changes.

The body covering material on both chrome and black models is a traditional-looking synthetic leather vulcanite, while the black chrome of the M8 model has been replaced with a discrete black paint finish and black motif instead of the more noticeable Leica red-dot. Another welcome improvement is the new charger, it's a much more compact unit and is even supplied with an 12-volt adaptor to use in the car. In most other respects the M8.2 is identical to the original M8 and might seem quite minor, but these are all carefully considered improvements, aimed at advanced (albeit very wealthy) users and imaging professionals.

While the market isn't exactly brimming with rangefinders, the launch of the new Micro Four Thirds Pen E-P1 from Olympus, DMC-GF1 from Panasonic and to a lesser extent both the Sigma DP1 and DP 2 compacts, are all likely to appeal to the user for the same reasons. As each model has their own benefits and disadvantages, the Leica M8.2, retailing at £3900 / $5999 is a very serious commitment - read our expert review to see if this investment is worth the risk.
Ease of Use
Like the M-series 35mm coupled rangefinder cameras before it, the M8 and M8.2 share a very similar and not unattractive design that goes back to the iconic M3 from the 1950's. Measuring 139mm (w) x 80mm (h) x 37mm (d) and weighing around 600g with battery and SD (HC) card, the M8.2 is similar in size and weight to the current 35mm aperture priority M7, and manual mechanical MP. For all that, it still looks much chunkier than those models. That's most likely due to the lack of wind-on lever but that didn't stop Epson from adding one on their earlier (Cosina made, Voigtlander Bessa R2 based) R-D1. Still, it does look a little odd without one, especially if you're accustomed to a 35mm M, but it only takes a couple of days to get used to it. Although the M8.2 is quite compact, even with one of the smaller lenses fitted it's not small enough to stash in a pocket; that is unless you walk round in a trench coat. 
As you might expect from a hand-assembled German camera, the workmanship, materials and construction are all first rate. Indeed you won't find a better made camera  else where. The body is made from magnesium alloy and the top and bottom plates are made from brass. The black paint finish wears quite easily, but the silver chrome finish is very durable. However unlike magnesium alloy DSLRs these plates are prone to denting.
As a nod to the film M cameras (and indeed cameras of the 1950's) the bottom plate must be removed to replace the SD(HC) card and charge the Li-ion battery. It's not as onerous as it sounds, especially if you're using a large capacity card, and the battery, while quite small, lasts reasonably well on a full charge.
We were recharging the battery every other day or so, with a lot of quite heavy (much of it unnecessary) use. With prudent use, expect up to 500 shots per charge. A small circular LCD panel on the top plate, shows the battery state and remaining shots on the card up to 999 frames (if your card is large enough - it's compatible with SD-HC up to 32GB).
We were supplied with the Leica Summicron 35mm f/2 ASPH (aspherical), a reasonably fast (wide-aperture) manual focus lens. It has the equivalent field of view of a 50mm in 35mm terms, and at £1800 is another (equally important) part of the investment equation. Leica lenses, M-mount especially have very good residual values when it comes to resale, and it's not unheard to sell the lenses at the prices paid several years later.
| | |
| --- | --- |
| | |
| Front | Rear |
Of course, you're likely to want a couple, maybe three; a wide-angle, standard and tele, so you could to be committed to a system of around £10,000 / $16,500 without too much difficulty, in choosing at least. Summicrons have a maximum aperture of f/2, which is considered mid-speed, Summarits are more affordable, if 'slower', but, from what I've heard have as good optical performance. Leica also make some very 'fast' Summilux lenses as well as the Noctilux 50mm f/0.95, but you'll likely need to re-mortgage.
The range of Leica M lenses isn't as a vast as say the Canon or Nikon lens range for their DSLRs; they currently cover 16-135mm (21-175mm -equivalent). And there's no zoom, but Leica has a Tri-Elmar 16-18-21mm lens with three focal lengths covering 21-28mm in effect. It goes without saying the lenses are a match to the body in terms of mechanical construction (and as we'll see) in optical performance.
Although the reviewed 35mm Summicron is very small and compact, it does in fact weigh quite a lot (340/245g silver chrome/ black finish), thanks to the aluminium exterior and heavy-duty brass helicoids. It's superbly mounted with the smoothest focusing you'll likely ever come across. The crescent shaped focusing aid is something of a hallmark for Leica M lenses, and it really helps as the ring is not knurled and rather thin.
Somewhat out of character perhaps was the very slight play in the aperture ring, but that could no doubt be fixed with a service. When mounted to the body, a quick procedure due to the very short throw, the M lens was rock-solid; such is the precision.
The M8.2 is coupled rangefinder and uses a combination of windows and frame lines to view and focus the image; you don't look through the taking lens when composing. There a number of advantages to this, and a few drawbacks, but a quick look through the viewfinder will surely make a lasting impression. The viewfinder image is large and brighter than any DSLR, and the rangefinder patch in the centre of the finder is sensitive and accurate for focusing, even in quite low-light levels.
With any one lens fitted there are a pair of frame lines present; 24/35mm, 28/90mm, 50/75mm. Ultra-wide angle lenses need a clip-on finder. You can select the frames yourself by moving what looks the self-timer lever on the front of the camera. The field of view of 35mm used in this review, for instance, occupies the inner frame-lines of the finder, around the central two-thirds of the viewfinder image. The outer is for use with the 24mm.
| | |
| --- | --- |
| | |
| Front | Top |
This works rather well with the somewhat low 0.68x viewfinder magnification, and the surrounding view allows you to anticipate the moment better than the classic DSLR, for example. But it can work against with longer focal length lenses, for instance, the 90mm frame is quite small by comparison.
Another disadvantage is that, occasionally, the frame lines don't quite cover the sensor area. Although the M8.2 has automatic parallax correction, if you focus on a subject at less than 2m you can find the viewfinder shows more than the captured image. All the same, overall with the 35mm f/2, I found the benefits easily out-weighed the disadvantages. Viewfinder info is a bit sparse. The shutter speed selected is shown as is over and under exposure when used in manual metering, but as there are no electronic contacts for the lenses, there's no aperture indication.
Around the back the M8.2 has a not so large 2.5-inch LCD, and the M8.2 adds a scratch resistant cover to that over the older M8. Although it's perfectly adequate for most menu selection and playback duties, it's not particularly detailed (at 230k dots) and it's not that legible in bright sunlight. The on-screen interface is a little sober, but it's straightforward and intuitive. There are two menus; the main menu for setting up and a image parameter menu, for everyday settings.
If I have a gripe it's that each selection must be confirmed by pressing the SET button, if not, the selection isn't made and can lead to mistakes at first. This is more of an issue when using exposure compensation; there's no easy to do it. Not all of the main menu is shown at once, so you need to scroll down using the large, thin command ring. Be that as it may there's not that many choices, certainly when compared to the dizzying array of features found even on entry-level DSLRs.
To give you an idea, the M8.2 adds an Auto-ISO option over the original M8; there is no Live View, nor HDR or multi-segment metering options, not even exposure bracketing. The ethos is on picture taking, not features.   Nevertheless the Auto ISO is quite versatile as you can choose both a maximum ISO setting and exposure time.
The latter has a sub-menu where you can choose either to leave the camera to select an appropriate speed to prevent blurring (based on the focal length) or you can set the shutter speed yourself. Not exactly high-tech but welcome nonetheless. As we'll see with the noise tests, the M8.2 also lacks on-board noise reduction, Leica leave that and the decisions to you, and in part the Capture One 4 bundled software.
| | |
| --- | --- |
| | |
| Battery Compartment | Memory Card Slot |
There are the usual image parameter choices and the like as well simultaneous Raw (DNG) and Jpeg capture and an option to tag images as sRGB, Adobe RGB and ECI RGB (used for pre-press, as an alternative to ARGB). Another option you may not have come across with other digital cameras, unless you own an M8 perhaps, concerns the choice of UV/IR filters to correct colour shifts.
Leica M lenses are set quite close to the sensor and while the Kodak imager uses off-set micro-lenses to combat corner shading, it lacks both an anti-aliasing filter and uses only a very thin UV/IR filter. While this leads to high resolution imaging from Raw files, moiré is removed in-camera via anti-aliasing processing during Jpeg encoding, noticeably lowering micro-contrast.
Moiré is reduced during Raw conversion in Capture One, but there's not much that can be done processing-wise with the IR contamination seen under mainly tungsten light sources. Black synthetic fabrics are usually rendered with a strongly purple cast, but it can also mean magenta-tinted skin tones.
Leica's answer is to fit a UV/IR blocking filter on the lens, such as B+W's made to order 436 filter, but this in turn can lead to new colour casts in the corners of the frame. Providing you're using a new or retro-fitted 6-bit coded lens, which allows the M8.2 to identify the lens in use (it's an optical system of black and white dots - there are no built-in CPUs), the additional casts and any corner shading is largely removed by the image processor.
In truth, the otherwise excellent printed manual doesn't make it entirely clear what settings you should use, and if the Raw files are altered in any way. I assume they're not, judging by the results, and the UV/IR setting should be selected when using the additional filter. We weren't supplied with a filter for review, so couldn't test the effectiveness, but with the UV/IR option selected the colour of out-of-camera Jpegs look better than unprocessed Raw files. Either way, IR contamination is almost impossible to correct satisfactorily in post.
While this sounds like a deal breaker, it's less of a problem than you might imagine. If you regularly shoot under incandescent lighting, you should invest in a filter. Four user profiles are available, and are easily accessed from the secondary, image parameters menu, so one could be set-aside for this.