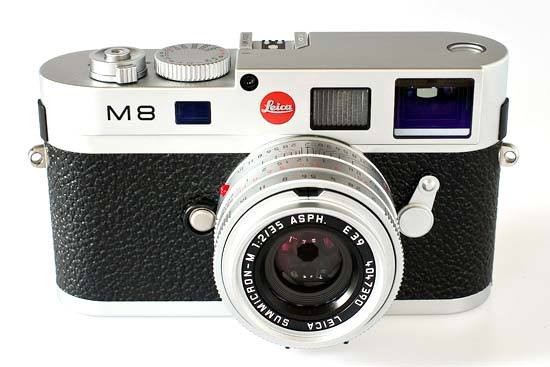 Image Quality
All of the sample JPEG images in this Review were taken using the 10 megapixel Fine setting, which gives an average file size of around 5MB.
As you might expect picture quality was a real highlight, especially at ISOs up to including ISO 640, easily matching more modern rivals with resolutions of around 15MP. Above that sensitivity and the dynamic range drops behind that of the best pro DSLRs, such as the Nikon D3, meaning some care is needed with exposure to get the best from the files.
Exposing for the shadows helps lower noise levels overall, though expect to see some highlight clipping with contrasty scenes. Shooting Raw provides greater latitude, but workflow overhead ay not be suitable for everyone. Colour saturation drops quite markedly above ISO 640 too, but as much of the noticeable noise is chroma, and detail is well preserved right up to ISO 2500. Shooting black and white looks very good and much better than colour images.
Unlike nearly every other high-end model, the M8.2 doesn't have any noise reduction options for Jpeg output. And as it uses a CCD it's unlikely to have any noise reduction applied to Raw files either. It's a choice Leica made during the design and it's up to you how you want to reduce its effects. Of course the bundled Capture One from Phase One does a good job with Raw files, and newer versions also work well with Jpegs too.
Chromatic aberrations are very low though you may see some when images are viewed at 100-percent (actual) pixels. It's not a real issue. Out of camera Jpegs aren't as detailed as Jpegs from Raw, in the main due to the in-camera Anti-aliasing algorithm (Moiré fringe detection). The M8.2 lacks the true AA (moiré) filter of rivals – another reason why Raw files are more detailed.
Noise
The M8.2 has 5 ISO settings, rather oddly starting at ISO 160 up to ISO 2500. It maybe easier to think of them as running from ISO 200-3200. Indeed, the sensor seems slightly more sensitive than Leica state, so it would be fitting to think in those terms. Here are some 100% crops showing noise levels for each ISO setting, with out-of-camera Jpegs cropped using PS CS4 on the left, and Jpegs from Raw (DNG) using Capture One on the right.
| | |
| --- | --- |
| JPEG | RAW |
| ISO 160 (100% Crop) | ISO 160 (100% Crop) |
| | |
|   |   |
| ISO 320 (100% Crop) | ISO 320 (100% Crop) |
| | |
|   |   |
| ISO 640 (100% Crop) | ISO 640 (100% Crop) |
| | |
|   |   |
| ISO 1250 (100% Crop) | ISO 1250 (100% Crop) |
| | |
|   |   |
| ISO 2500 (100% Crop) | ISO 2500 (100% Crop) |
| | |
Sharpening
Here are two 100% crops which have been Saved as Web - Quality 50 in Photoshop. The right-hand image has had some sharpening applied in Photoshop. The out-of-the camera images are just a little soft at the default sharpening setting. You can change the in-camera sharpening level if you don't like the default look.
| | |
| --- | --- |
| Original (100% Crop) | Sharpened (100% Crop) |
| | |
|   |   |
| | |
Chromatic Aberrations
The combination of the Leica M8.2 and the 35mm Summicron lens handled chromatic aberrations exceptionally well during the review, with just a little purple fringing present around the edges of objects in high-contrast situations, as shown in the examples below.
Example 1 (100% Crop)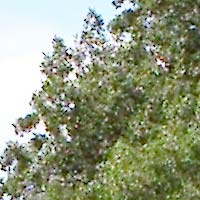 Macro
Although Leica make a dedicated macro lens capable of focusing to just xxm, there's no way the 35mm Summicron lens can be described as being suitable for macro work; it focuses to 0.7m which is fine for close portraiture and the like, but it's not going to do well in our CompactFlash card test.
| | |
| --- | --- |
| Macro Shot | 100% Crop |
| | |
Night
The Leica M8.2 has a maximum shutter speed of 30 seconds in aperture priority mode. Thsi shot was taken using a shutter speed of 30 seconds at ISO 160.
| | |
| --- | --- |
| Night Shot | Night Shot (100% Crop) |
| | |