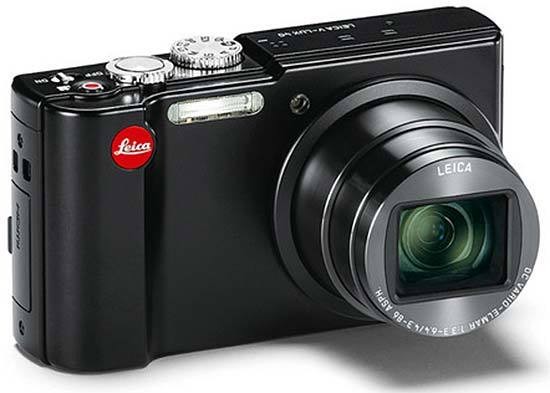 Introduction
The V-Lux 40 is Leica's premium travel-zoom compact camera, featuring a 20x 24-480mm lens, 14.1 megapixel high sensitivity MOS sensor, 1080p Full HD movies at 50/60fps, 3 inch touch-sensitive LCD screen and fast burst shooting at 10fps with continuous auto-focus. The Leica V-Lux 40 offers a 23-point multi-area autofocus system, A, S and M exposure modes, Intelligent Auto and a variety of scene modes, Intelligent Resolution function which digitally boosts the zoom ratio to 40x, 3D still images, and Creative Controls, HDR, Panorama Shot, Creative Retouch and Auto Retouch modes. An upgraded Light Speed auto-focus system, Venus Engine VI processor, and the POWER O.I.S. anti-shake system complete the headline specifications. The V-Lux 40 is available in black, brown, red, white and silver for £549.99 / $699.99 and is supplied with a comprehensive software package comprising Adobe Photoshop Elements 10 for still-image processing and Adobe Premiere Elements 10 for video editing.
Ease of Use
If you want to own a Leica camera with that famous red dot logo, then the V-Lux 40 is currently one of the least expensive ways of going about it. It's a premium-feel metal construction travel zoom, shorthand for the fact that it incorporates a very usefully broad 20x optical reach. Here that offers the 35mm equivalent of an ultra wide 24-480mm, yet within pocket sized dimensions.
This particular Leica offers a new 15.3-megapixel 1/2.33-inch CMOS sensor, which outputs 14.1 effective megapixel stills, Full HD 1920x1080 pixels video with stereo sound. Also on board are 'Creative Control' mode digital effects - such as the colour boosted Pop Art-like 'Expressive' setting - one of our personal favourites on dull days - plus built-in GPS antenna for tagging pictures with the location in which they were taken. As I live on a bend in the river, GPS units always seem to give the opposite bank as the location and so it is here - but at least there's consistency.
In stills mode on the Leica V-LUX 40 it's possible to zip from maximum wideangle to extreme telephoto lens setting in three to four seconds, so we were able to be lining up a wide variety of shots nigh instantly - a flexibility much missed if you then go back to using a standard 3x or 5x zoom on another camera. In video mode the zoom can also be utilized and adjusted once recording has commenced, thankfully. That said, adjustment response times when recording moving footage are more sluggish and steady to help minimize the operational buzz of the lens adjustments being picked up by the stereo microphones residing on the Leica's top plate. Again this is consistent with most snapshots in its travel zoom class.
If this all looks and sounds familiar that's because not only are the basics largely unchanged from previous iterations, but also that this Leica is to all intents and purposes a re-badging or perhaps more fairly 're-imagining' of the Panasonic Lumix DMC-TZ30, part of a long tradition of Leica using the latter's electronics know-how in a trade for its own world-renowned optical expertise.
| | |
| --- | --- |
| | |
| Front | Rear |
Over and above this, Leica is bundling Photoshop Elements 10 and Adobe's video package Premiere Elements 10 on CD Rom with the camera, to take some of the sting out of the predictably steep £550 UK asking price. By way of further differentiating it the camera also comes with a two-year warranty and one-year accidental damage cover, though we have to pay £63 or £80 extra if we'd like a classy leather pouch or case to go with it; on e isn't included in the box. Add in deliberately limited distribution for Leica products and a hand built, solid-feel chassis with serious looking matt black paint job and you have a prestige item sure to get any well-heeled photo fan emitting a little drool.
All the above being said, and eye-catching red logo aside, the Leica V-LUX 40 is more functional in appearance than sexy. It's boxier and less curvy than the TZ30 and rather wider at 28mm in depth than compacts with lesser zooms, even though it can still be handily squeezed into the pocket of your jeans for those spur-of-the-moment snapshots. And at the end of the day, despite a smattering of manual controls and custom modes, a rather pricey point-and-shoot camera is what the Leica V-Lux 40 is. Overall proportions are 105x59x28mm and it weighs a comfortable 210g, inclusive of battery.
While there is a handgrip of sorts, it's more fashionably flattened curve, the shiny surface of the camera meaning that fingers do still skate about on its surface. A square pad of nine tiny raised nodules falls under the thumb at the back to provide some degree of purchase, though we found our thumb more often resting on the switch for flicking between capture and playback modes alongside it.
The flattened handgrip does at least force the user to dig in their nails to form a hold, thus preventing fingers straying in front of the built-in flash positioned alongside. Next to this on the faceplate, and tucked close to the lens barrel - retracted within the body when not in use - is a small porthole housing the self-timer/AF illuminator bulb.
| | |
| --- | --- |
| | |
| Side | Top |
The Leica V-LUX 40's top plate also features a recognizable array of chrome controls. We get a traditional raised shooting mode dial with program, aperture priority, shutter priority, and manual shooting options nestling alongside two user attributable custom modes, a 3D mode (results only viewable on a suitably featured wide panel TV), a collection of pre-optimised scene mode settings, the aforementioned Creative Mode option, and subject recognizing auto option. The action of said dial is stiff enough to accidentally avoid slipping from one setting to its neighbour when retrieving the camera from a pocket.
Large and obvious too is the raised shutter release button encircled by a lever for operating the zoom, complete with a prominently chunky forward facing lip that would give Mick Jagger a run for his money. To the right of this are two further controls: a traditional on/off switch - again stiff enough to avoid accidentally activating the camera when retrieving it or putting it away, plus, ranged level with the top plate's surface, a red record button.
In the expected absence of any optical or electronic viewfinder, pictures and video are framed up via the standard 3-inch, 4:3 aspect ratio back plate LCD, which here offers respectable if now unremarkable 460k-dot resolution, perfectly viewable in most conditions. Like its Panasonic doppelganger the screen is also a touch screen, though that isn't immediately obvious from the small operational icons displayed, or indeed the dimensions of the monitor itself.
Another thing the Leica V-LUX 40 has in common its co-development partner is the fact that, at the back, the Leica V-Lux 40 offers up a generous amount of physical buttons, pads, dials and switches alongside their virtual equivalent. The upshot is that you don't actually need to use the on-screen buttons at all if desired. That being said we consistently found that alternating between both 'hard' and 'soft' controls can work well in terms of speeding up access to essential functions - with virtual finger tap driven options such as touch shutter and touch focus literally on hand if you need them.
Apart from the switch for swapping between capture and playback - which, while practical, also means that a half press of the shutter release when in playback mode doesn't throw us back into capture mode - below we find a small button marked exposure/map and beneath that a more familiar four-way command pad with central menu/set button. Ranged around this at points north, east, south and west are settings for exposure, flash, macro mode and self-timer options.
| | |
| --- | --- |
| | |
| Memory Card Slot | Battery Compartment |
Below this dial again are a separate display and Quick Menu buttons that will be familiar to any Panasonic Lumix user/owner. A case in point: press the latter and a toolbar appears across the top of the screen, offering manual adjustments including the likes of ISO, white balance and resolution. On this camera - as with those of its development partner - it's easy to get at what you need, making for a more 'fluid' handling experience. This Q.Menu also doubles up as a delete or 'back' button if in playback or menu modes respectively.
The base of the Leica V-LUX 40 meanwhile features a screw thread for a tripod positioned slightly off center and a catch protected cover for a compartment housing both battery and whichever capacity or type of SD media card you care to insert.
In terms of power the V-Lux 40 is driven by a rechargeable lithium ion battery that is, as is more often than not becoming the case for pocket cameras, charged within the camera itself, with just a USB equipped cable and mains plug provided. With a battery life of up to 260 shots from a full charge we didn't feel too short changed, as features such as integral GPS suck juice faster than a thirsty toddler. Which is pretty fast by any standards you'd care to choose.
While the left hand flank of the Leica V-LUX 40 - if viewed from the rear - is devoid of any ports or features whatsoever, the right hand side of the camera offers up a recessed lug for attaching a wrist strap, and there is a covered port for both HDMI and USB cable just below.
Overall the Leica V-LUX 40 feels well built if rather traditional and uniform in its approach. It looks serious and sophisticated - which somewhat belies the fact that it is actually an easy to use point and shoot camera. But what of the pictures produced? Do they transcend what a pocket camera is usually capable of or play true to form? Read on to find out.