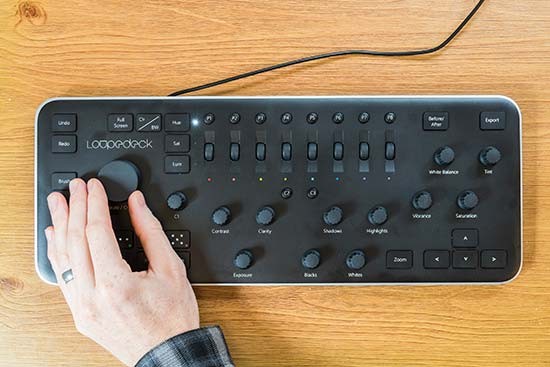 Conclusion
Loupedeck trumpets its unique exclusivity for use with Lightroom. This simplicity ensures the hardware works flawlessly, while the focused design makes for a speedy marriage between Loupedeck and user.
The dials feel good in the hand, especially the large rotate/ crop dial. However, the buttons/ keys feel a tad on the cheap side. Nothing major, they could just be more tactile and responsive.  
While everything works, we feel a few tweaks to the handling would make a Loupedeck even more helpful. Flexibility over the dial's editing speed would be handy, plus a greater degree of customisation for the controls.
The price of a Loupedeck is a bit on the high side when compared to the competition, especially considering many of the alternatives work with multiple apps. However, the Loupedeck is quicker to get to grips with, which is an important consideration for this type of product. 
Casual Lightroom users may struggle to justify getting a Loupedeck. Yet for those that spend significant periods of time staring at Adobe Lightroom, moving their cursor over the screen to make all those tweaks to image after image after image, well the Loupedeck could well make the task that much more enjoyable.
Ratings (out of 5)
Design
3
Features
3
Ease-of-use
4
Value for money
3
Your Comments