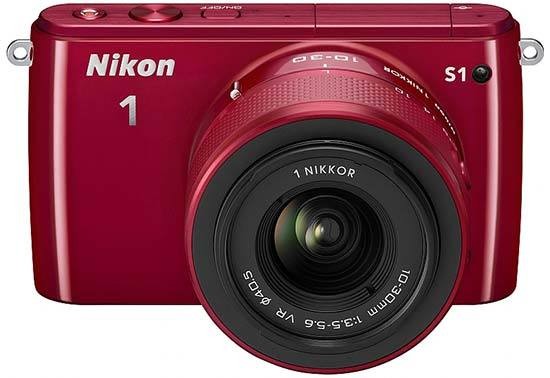 Conclusion
The Nikon 1 S1 is the new entry-level model in Nikon's compact system camera range, but it's a surprisingly capable camera that offers virtually all of the same features as the mid-range J3 model at £100 / $100 cheaper. There are a couple of caveats though, namely the all-plastic construction and more crucially the non-stabilised 11-27.5mm kit lens - the J3 has a metal body and ships with the better 10-30mm lens with vibration reduction. Still, we'd recommend the new S1 above the J3 for people looking to trade up to the new breed of mirrorless interchangeable cameras.

It's difficult to tell the S1 and J3 apart when viewing them side-by-side, something that's further borne out when using them. We actually prefer the S1 in terms of handling thanks largely to its more prominent thumb-grip, which helps you to get purchase on the otherwise smooth exterior. The J3 does benefit from having a physical shooting mode dial and support for RAW+JPEG shooting, but otherwise the two cameras are virtually indistinguishable in design and performance. The S1 also uses the same 10 megapixel sensor as the older J2, rather than the new 14 megapixel sensor in the V2 and J3.

In good light the Nikon S1 is as fast as anything on the market when it comes to auto-focus speed. Even if you compare it to pro SLR cameras with fast-focusing lenses, the Nikon 1 S1 comes out favourably, both in terms of sheer speed and accuracy. Its headline-grabbing 60fps burst mode might not be quite as useful as it may sound, but the fact that it can also shoot at 15fps and keep the subject in focus is pretty sensational, especially if you consider that we are talking about a camera that's a lot smaller than a typical SLR.

While the Nikon 1 S1 is a good fit for beginners, it's not so well-suited to serious amateurs. The S1 is a very small, high-quality, discreet and generally fast camera but its interface is quite clearly not geared toward users who like to take full control of the picture-taking process. Most of the features these photographers want are there, but too many of them are buried within the menu, which is bound to be a source of frustration to any power user. The V2 is a much better fit for prosumers (with a price increase to match).

All-in-all, though, the new S1 is a logical addition to the Nikon 1 family. Available at a slightly cheaper price than the J2 was on launch and offering most of the J3's features and performance, the Nikon 1 S1 should extend the appeal of Nikon's mirrorless range.
Ratings (out of 5)
Design
4
Features
4
Ease-of-use
4
Image quality
4.5
Value for money
4