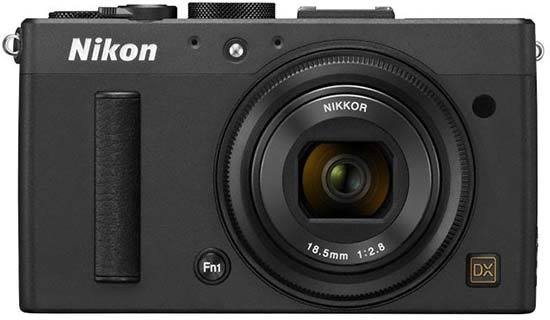 Introduction
The Nikon Coolpix A is a new premium compact camera aimed firmly at the keen enthusiast photographer. The Nikon A has exactly the same DX-format 16.2-megapixel CMOS sensor as the Nikon D7000 DSLR but with no optical low-pass filter for maximum sharpness. There's also a 28mm fixed focal length lens with a maximum aperture of f/2.8, sensitivity range of ISO 100 to 25600, full range of creative PASM shooting modes, Full 1080p HD video recording with stereo sound, a burst mode of 4 continuous shots per second, a 3-inch 920,000-dot LCD screen and an optional optical viewfinder (DF-CP1). The Nikon Coolpix A is available in black or silver for £999.99 / $1099.95 / €1199.00.
Ease of Use
The Nikon Coolpix A is the most advanced and most expensive Nikon compact camera to date, offering a proven DSLR sensor and similar user interface in a small and well-made body - indeed, this is the smallest camera with an APS-C sensor currently on the market. You can easily carry the Coolpix A around in a trouser or shirt pocket, as it measures 111.0 x 64.3 x 40.3 mm and weighs less than 300g with the battery and memory card fitted, which isn't that much larger than the Nikon P330 or Sony CyberShot RX100 compacts. It's also crucially quite a lot smaller and lighter than one of its main rivals, the Fujifilm X100S, although that camera does offer a built-in optical/hybrid viewfinder that's a very expensive optional extra on the Coolpix A, not to mention a faster f/2 lens.
The Coolpix A has a fixed lens with a wide-angle focal length of 28mm, which is plenty wide enough for sweeping landscapes and street photography. The lens has a maximum aperture of f/2.8 at the wide-angle setting, which when paired with the Coolpix APS-C sensor creates some nicely blurred backgrounds but is perhaps a little slower than expected. The Coolpix A doesn't have an anti-shake system, although with such a wide lens and very good results at higher ISOs, we didn't really miss it.
The Coolpix A feels very solidly constructed yet at the same time pleasingly lightweight, encased in a tough aluminum alloy with a top surface covered by magnesium alloy. It definitely has a very high level of build quality that befits its premium price. There's no flex in the chassis and all of the controls have a DSLR-like feel to them. We wish that the shooting mode dial was lockable, as it frequently go knocked out of position when stored in a pocket, but otherwise everything feels bullet-proof.
| | |
| --- | --- |
| | |
| Front | Rear |
On the front of the Coolpix A is the 28mm lens complete with manual focusing ring and a filter ring that accepts a lens hood or 46mm filters. Top-left of the lens is a single bulb which doubles-up as the self timer and the Coolpix AF assist lamp, flanked by holes for the stereo sound. Also on the front of the Coolpix A is a small but helpful vertical leatherette strip that acts as a handgrip for your right hand, with just enough room for three fingers. Used in conjunction with the similarly textured thumb-grip on the rear, it allows you to get a secure grip the camera and be able to confidently use it one-handed. The Function button is a customisable button that can be set to one of 11 key camera settings. Over to the right of the lens is a circular window for the optional infrared remote receiver. Completing the front of the Coolpix A is a gold DX logo that proudly hints at the camera's sensor size.
The Coolpix A has a small and neat built-in flash, activated by a switch on the rear of the camera, which pops-up above-right of the lens and therefore provides a little more clearance and less chance of unwanted red-eye in your photos. We found that the built-in flash unit was fine for a bit of fill-in, with respectably quick recycle times and adequate range. Also located on top of the Coolpix A is an external hotshoe for an optional flashgun, should you require a more powerful Speedlight than the built-in unit.
Next to this is a Shooting mode dial that's very similar to what you'd find on a consumer-level DSLR. Ranged around this are settings for the Coolpix Auto, Program Auto, Shutter Priority, Aperture Priority and Manual modes, plus Scene modes and two U options, which stands for User Settings. This allows you to access a saved menu settings configuration, allowing you to quickly swap between the camera's current settings and a preconfigured one.
| | |
| --- | --- |
| | |
| Pop-up Flash | Side |
The Coolpix A has a slightly springy shutter button, with the camera taking about 1/4 second to determine focus and exposure but with no discernible shutter delay thereafter. The contrast-based auto-focus system is respectable enough for a compact camera but certainly not as quick as the Fujifilm X100S or Nikon's 1 series compact system cameras. This is surrounded by a lever for turning the camera on and off, with a green LED briefly lighting up to signify the power is indeed on. Give it a press and the Coolpix A powers up very quickly in around 1/2 second, the lens barrel extending to the 28mm setting and the rear LCD blinking into life.
Maximum resolution JPEGS are stored by the Nikon Coolpix A in three seconds. In continuous shooting mode it can capture 4 frames per second for up to 26 Large sized, Normal quality JPEGs. As you'd expect the Coolpix A supports the RAW file format as 14-bit uncompressed .NEF files, complete with in-camera processing.
Completing the Coolpix A's top-plate is a large, unmarked, thumb-operated dial for setting the shutter speed when the shooting mode is set to Shutter Speed Priority or Manual, or alternatively for setting the exposure compensation. We'd have welcomed the ability to customise its use, though - it would be nice to be able to set the aperture this way, for example, as the navigation wheel on the rear that does change this setting has a nice action but isn't as intuitive for anyone who has used a DSLR before. Still, dual controls for setting the aperture and shutter speed is very rare on any compact, so kudos to Nikon for including both on the Coolpix A.
| | |
| --- | --- |
| | |
| Front | Top |
The rear of the Coolpix A has a 3-inch LCD screen with an impressively high 921,000-dot resolution, providing more than enough detail for you to be able to determine whether you have a sufficiently crisp image. Directly above are tiny autofocus and flash recycling lamps. To the left is a vertical row of four buttons which in turn set the exposure compensation, ISO speed (this button can also be customised to suit), and two buttons for zooming in and out of an image during review or digitally increasing and decreasing the focus magnification in either auto or manual focus mode. There's also a clever in-camera virtual horizon that displays the horizontal inclination on the LCD monitor, useful for ensuring that your landscape shots are straight.
Over to the right of the LCD screen are self-explanatory buttons for image playback and the menu system, which is very DSLR-like and clear and easy to navigate. Press this when in any of the shooting modes and there are three menus, Playback, Shooting, Setup, Retouch and Recent Settings. Irritatingly there's no external button for controlling the screen display, just a menu option, and more seriously there's no one-touch Movie Record button, with the Movie recording option inexplicably buried away within the Release menu.
The Nikon Coolpix A can record full 1080p, 1920x1080 pixel HD movies at 30fps with stereo sound. It also offers a 720p mode at 1280x720 pixels (30 fps). Movies can be played back on a HDTV via the built-in HDMI connector, although as usual there's no suitable cable supplied in the box. The Coolpix A supports the CEC feature for HDMI which enables playback control using your TV's remote control. You can change the aperture and shutter speed before shooting a movie, but not during, and you can only manually focus before the movie starts, which rules out direct control of more creative effects.
In playback mode, Coolpix A offers a broad range of retouching tools, including post-capture D-lighting (useful if you forgot to turn on Active D-lighting before capture), red-eye correction, trimming, monochrome conversion, different filter effects, colour adjustments, image resizing, image overlay, in-camera raw processing, quick auto retouching, straightening of crooked pictures, lens distortion correction, perspective control (reduction of keystoning), and fisheye, miniature, colour outline and colour sketch effects. Many of these functions make it unnecessary to buy specialised computer programs or plug-ins and spend hours in front of a computer to achieve a desired/popular effect. Interval timer shooting is a powerful feature and something that isn't offered by the Coolpix A's rivals.
| | |
| --- | --- |
| | |
| Memory Card Slot | Battery Compartment |
Underneath is the circular scroll wheel with an 'OK' button at its centre. The circular wheel is a feature that has been "inspired", shall we say, by some of Nikon's main rivals. As previously mentioned, this is principally used to set the aperture, forming an intuitive partnership with the thumb-controlled dial, as well as moving the single AF point around the frame and performing the more mundane tasks of moving through menus and selecting options.
At the bottom right of the rear of the Coolpix A are two buttons. The most interesting is the "i" button, which is arguably at the heart of the Nikon Coolpix A's ease-of-use. It lets you quickly check and change vital shooting information, displaying virtually all of the camera's main settings on the large rear screen, with 14 available in total. Used in conjunction with the two customisable Function buttons, it's possible to quickly access almost all of the camera's key settings, although we did miss having a thumb-operated AE/AF Lock button on the rear. The button to the right features the familiar trashcan icon for deleting images on the fly and completes the rear of the Coolpix A.
As far as connectivity goes, there is a Mini HDMI ports on the right-hand side of the camera when viewed from the back., and connections for a GPS unit/wired remote control and USB 2.0 cable on the left, all sheltered behind two sturdy plastic doors. Completing the Coolpix A's external controls is a handy switch for setting the focus mode, with AF, Macro and MF options on offer. The focus range is 50 cm (1 ft 8 in.) - infinity in the AF mode, and 10 cm (4 in.) - infinity in the macro autofocus mode, so if you want to get closer to your subject than 50cm and still be able to auto-focus, you have to remember to select the Macro mode first.
On either side of the camera are metal eyelets for attaching the supplied shoulder strap. The bottom of the Coolpix A houses an EN-EL20 Rechargeable Li-ion battery that's only good for around 230 shots, an SD card slot, holes for the monaural speaker and a metal tripod mount that's a little off-centre from the middle of the lens.